Who ever said growing up means giving up on yourself? All you need to feel fresh and young again are some nice workout clothes and a trip to the gym!
You might have heard of high-intensity interval training before, which includes a mix of short bursts of intense exercises and longer moderate ones. Although they can be brutal, they have been proven to reverse the effects of aging.
So, instead of sitting on the couch binging Netflix, try these trainer-approved, high-intensity interval training workouts that will get you feeling rejuvenated and 10 years younger.
[Photos: Shutterstock]
Squat and rear lunge
Personal trainer and Shape writer Jessica Smith recommends starting out with a moderate exercise first. Try the squat and rear lunge: "Stand with your feet hip-width apart, hands clasped behind your head," Smith says. "Then, push your hips back behind you and bend your knees to lower into a squat, then quickly step back into a rear lunge with your left leg. Step back into your squat and return to standing. Continue for one minute, alternating legs each time you lunge."
Side-to-side lunge chop
Another moderate exercise Smith recommends is the side-to-side lunge chop. To do this, follow Smith's guidelines: "Stand with your feet together, hands clasped, and your arms overhead. Take a wide step to your right, and bend your right knee, chopping your arms to your right foot. Push off your right leg and return to standing, reaching arms overhead. Do as many reps as you can for one minute, alternating sides each time."
Plank pike jump
You should be mixing up your workout with some high-intensity exercises. One exercise Smith advises to try is the plank pike jump: "From a full plank position, bend your knees and jump your feet into your hands, landing in a crouch on the balls of your feet. Jump up and extend your legs back out to your plank position. That's one rep. Repeat as quickly as you can for one minute."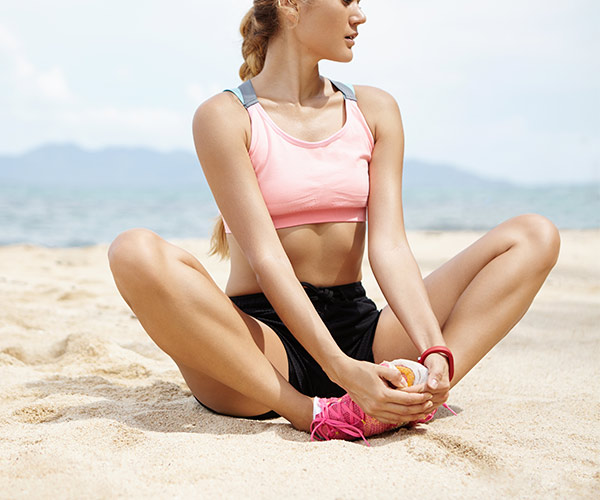 Hip stretch
You should always finish your workout with a cool down stretch. Smith suggests trying a hip stretch. Here's how to do it, according to Smith: "Sit with one leg crossed in front of the other, lean forward ,and reach your arms to the floor. Hold the stretch for 30 seconds and then switch the leg that is crossed in front. Hold again for another 30 seconds."