Contrary to some of the unhealthier messages we hear every day, eating your way to a flatter belly and weight loss is the way to go. Focusing on what you eat and when you eat are far more important for weight loss than focusing on what you can't or shouldn't eat. And when you don't deprive yourself of good food — and include healthy, anti-inflammatory foods in your diet, you are on the right track toward weight loss.
Here are four anti-inflammatory foods doctors say you should eat to get rid of belly fat.
Shutterstock
Anti-inflammatory foods are foods that contain special antioxidants and other nutrients that are great at combatting inflammation in the body. Chronic inflammation is to blame for a number of issues, including increasing the risk of cardiovascular disease, diabetes, and obesity. It's also one of the big reasons why some people struggle to burn stubborn fat around the midsection.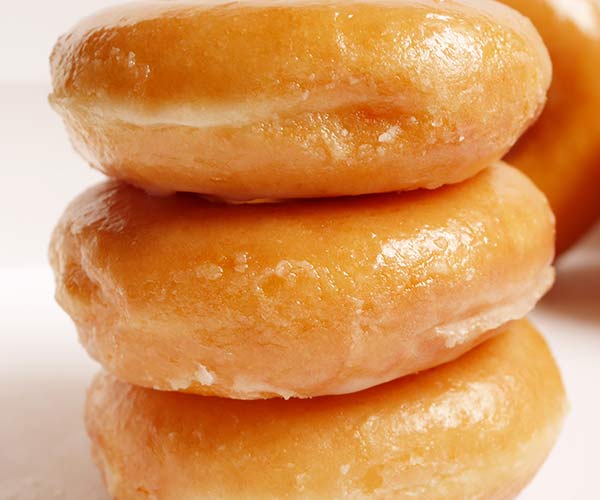 Shutterstock
Knowing which anti-inflammatory foods you can eat to help curb inflammation is important — but so is having an awareness of the foods that can cause inflammation. According to Harvard Health, these are five examples of inflammatory foods to avoid or eat less frequently:

Refined carbohydrates, such as white bread and pastries
French fries and other fried foods
Soda and other sugar-sweetened beverages
Red meat (burgers, steaks) and processed meat (hot dogs, sausage)
Margarine, shortening, and lard
And here are four of the best anti-inflammatory foods.
Shutterstock
Tomatoes

Packed with a natural carotenoid called lycopene, tomatoes have an anti-inflammatory effect on cells, according to studies. There is also proof that cooked tomatoes are better than raw ones because the process of cooking them unleashed its anti-inflammatory properties.
Shutterstock
Nuts

Include a handful of nuts in every day foods that you eat like oatmeal or on top of fish and chicken dishes and you'll instantly gain anti-inflammatory benefits.

According to Health.com, one study found that: "people who ate nuts five or more times per week—and people who swapped in three servings of nuts per week in place of red meat, eggs, or refined grains—had lower levels of CRP and IL6 than those who almost never ate nuts."
Shutterstock
Olive Oil

There are so many health benefits you'll experience when you swap vegetable or canola oil for heart-healthy olive oil. This amazing, versatile oil is rich in a monounsaturated fat called oleic acid that has been shown to have anti-inflammatory properties and have beneficial effects on genes that are linked to cancer, according to Healthline.
Salmon

An excellent source of omega-3 fatty acid, salmon should be at the top of your list of anti-inflammatory foods.

"The marine omega-3 fatty acids nip inflammation in the bud before it ignites. They really help to tamp down inflammation in the body on a cellular level," Kim Larson, a Seattle-based nutritionist and Academy of Nutrition and Dietetics Spokesperson, told the Arthritis Foundation.

And if you get tired of eating salmon each week, feel free to switch things up with other anti-inflammatory fish like tuna and anchovies.