Breakfast is the most important meal of the day, and that means it needs to be optimized with nutrient-rich foods and drinks to help your metabolism get off to a strong and steady start.
Need help figuring out what you should be eating for breakfast in order to lose weight? Experts say that having eggs in the morning is not only great for burning calories, but also for combating inflammation!
Shutterstock
Eggs get their metabolism-boosting benefits from being rich in vitamins and minerals. They have vitamin D to help your body burn fat instead of store it. They're also a good source of vitamin B12, which helps your body break down fat cells.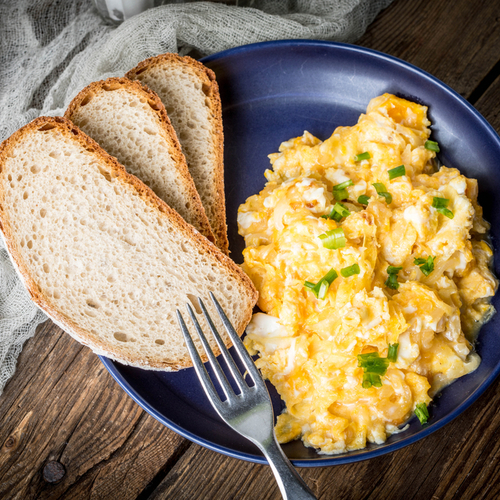 Shutterstock
"Eggs are known for being high in protein and loaded with vitamins, but it turns out that the yolk also contains, choline, a metabolism-boosting nutrient that can help with weight loss. "Choline has a part in many functions within the body including metabolism, nerve function, and brain development," Brooklyn-based registered dietitian Allison Knott, MS, RDN, CSSD, tells Eat This, Not That!
Shutterstock
The protein and healthy fats in eggs also give you a sense fullness that lasts. When your belly is satisfied it's easy to skip snacking on empty calories. Multiple studies show greater weight and fat loss for people who eat eggs in the morning versus those who choose high carb options like bagels.
Shutterstock
Nutritionists recommend making omelets to reap all the health benefits of eggs. Not only are they simple to make, but they also make it easier to incorporate nutrient-dense vegetables, too.
Combine one whole egg with 2 eggs whites for a protein-filled omelet that will stabilize your blood sugar and give you selenium, an antioxidant that protects cells from damage caused by inflammation. Fill it with healthy veggies like kale, broccoli, peppers, and mushrooms to give your metabolism an extra calorie-burning boost.
Shutterstock
There are other anti-inflammatory foods and drinks that make excellent additions to your breakfast--starting with green tea! "It's the healthiest thing I can think of to drink," Christopher Ochner, Ph.D., a research scientist in nutrition at the Icahn School of Medicine at Mount Sinai Hospital, tells WebMD.
Shutterstock
Some weight loss experts say that having a side of anti-inflammatory fruits like pineapples can also help with weight management. That's because the tropical fruit contains enzyme bromelain, which is an anti-inflammatory and has been proven to eliminate swelling in the body and is used to treat all sorts of inflammation conditions.
The fruit is rich in antioxidants, vitamin C, vitamin B1, potassium, and manganese, too!