A healthy weight loss meal contains nutrient-rich fruits and vegetables and lots of fiber and protein. But, those who cook for themselves know that making the perfect well-balanced meal can require a lot of time and effort. Thankfully, there are things like crockpots that can help cut your prep and cook time and allow you to enjoy a nutritious meal without the hassle.
Need some new recipes to help you stay on track with your weight loss efforts? Here are some of the best fat-burning crockpot recipes that are loaded with anti-inflammatory ingredients to boost your metabolism and keep your body nourished: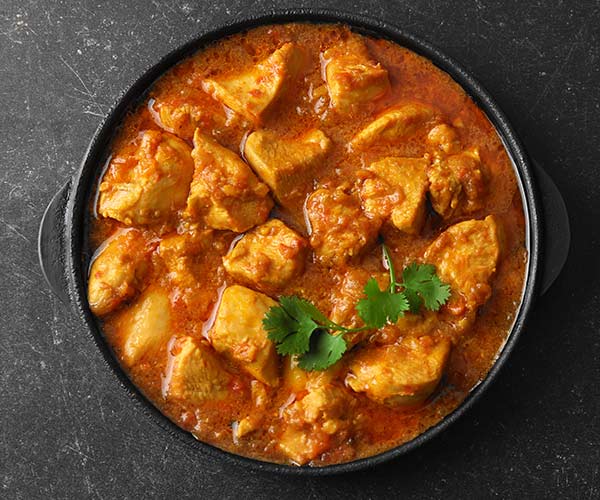 Shutterstock
Chicken is one of the best sources of lean protein there is. Eating more ensures that your body will be filled with the energy it needs to build muscle and burn calories. Try this tasty Slow Cooker Chicken Curry recipe from the Food Network--it's so easy to make!
Ingredients:
2 tbsp red wine vinegar
1 tbsp all-purpose flour
1 tbsp tomato paste
2 tsp garam masala, plus more for sprinkling
2 tsp Madras curry powder
2 cloves garlic, halved
One 14.5-ounce can diced tomatoes
One 1-inch piece fresh ginger, peeled and cut into pieces
Kosher salt and freshly ground black pepper
1 pound red skinned potatoes, cut into 1/2-inch pieces
2 pounds chicken thighs, skin removed (about 8 thighs)
One 5-ounce package baby spinach
1/2 cup chopped fresh cilantro, plus extra for garnish
Hot cooked jasmine rice, naan bread, chutney and/or Greek yogurt, for serving
Shutterstock
Slow Cooker Clean & Light Stuffed Peppers
Get your protein fix with these colorful Stuffed Peppers from Kim's Cravings. Add the lean protein of your choice and fill your peppers with brown rice and assorted veggies to make the best dinner ever!
Ingredients:
4 large bell peppers (any color)
1 lb. lean ground meat (chicken, turkey, beef, bison)
1 cup cooked brown rice or quinoa
1 (14.5 oz.) can diced tomatoes, drained (or black beans, or corn)
1 tsp garlic salt
1 tsp chili powder
½ tsp cumin
½ tsp pepper
2 cups low-sodium fat-free broth (vegetable, chicken or beef)
Optional toppings; fresh cilantro, guacamole, salsa, Greek yogurt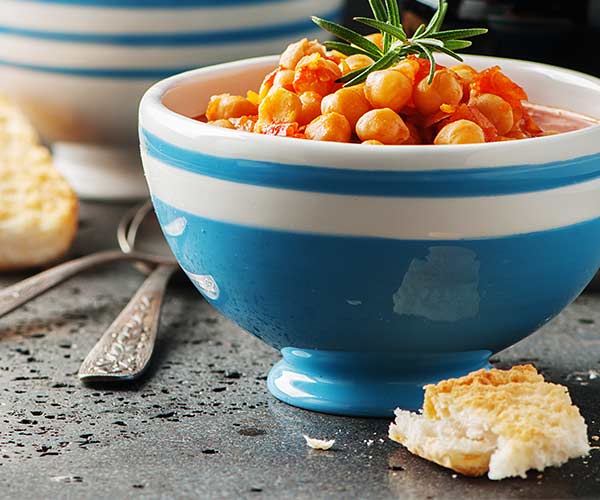 Shutterstock
Whether you're a vegetarian or just prefer a night off from meat and fish, this slow cooker crockpot chickpea stew is a hearty alternative. Cabbage, zucchini, and parmesan give it texture and zest — and you can use whole-wheat pasta or quinoa, too!
Ingredients:
2 cans chickpeas 15 oz. each, garbanzos
6 cups diced "hard" vegetables E.g. carrots, celery, parsnips, onions, fennel, celery root
2-3 cloves garlic minced
1 1/2 teaspoons dried rosemary
1 1/2 teaspoons dried oregano
1 1/2 teaspoons dried basil
1 large bay leaf or 2 small bay leaves
4-6 inches Parmesan or Romano cheese rind tied in cheesecloth so it is easy to remove
1-28 ounce tomatoes with their juice whole or diced
4 cups vegetable broth
1 tablespoon olive oil
2 cups cabbage ribbons thinly sliced
2 cups zucchini diced or quartered and sliced
1/2 teaspoon Tabasco or similar hot sauce
3/4 cup small pasta
Parmesan or Romano cheese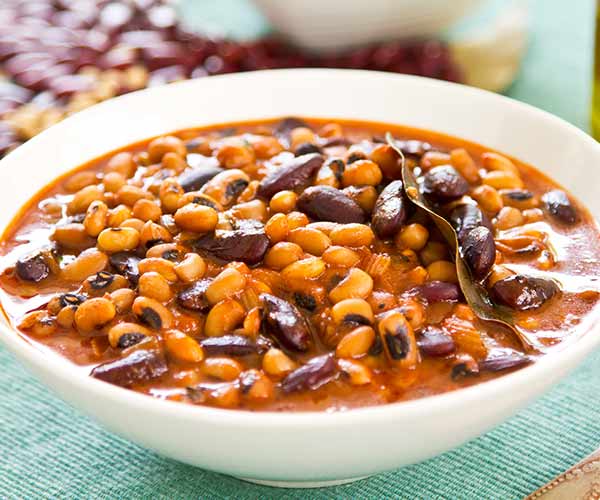 Shutterstock
This hearty bowl of chili is filled with nutrient-rich vegetables and is free of unwanted sodium and calories. The real fat-burning all-star is cayenne pepper, which helps speed up the metabolism.
Ingredients:
1 onion, diced
2 garlic cloves, minced
1 green bell pepper, chopped
1 cup fresh or frozen corn kernels
1 zucchini, diced
8 ounces mushrooms, sliced
3 cups diced tomatoes, fresh or packaged in BPA-free cartons
3 cups cooked kidney or pinto beans or 2 15-ounce cans low-sodium or no-salt-added kidney beans
½ cup water
2 tbsp chili powder
2 teaspoons cumin
½ tsp oregano
Dash of cayenne pepper or to taste