Anti-inflammatory foods and drinks are amazing for your health because they help balance bacteria in your gut and reduce your risks of health conditions and diseases that include obesity, cardiovascular disease, and diabetes. One of the best anti-inflammatory food options around also happens to be one of the simplest to make.
Shutterstock
With so much focus lately on anti-inflammatory foods and drinks, it can be easy to assume a beverage that is good for your gut and helps burn fat must naturally include 100 different types of herbs, flowers, and fruits, none of which could possibly be found at your nearest grocer.

While it's true that a dash of turmeric will always add anti-inflammatory benefits to your diet, one of the greatest beverages for your system is so simple you can make it with your eyes closed.
Shutterstock
Warm Water With Lemon

There's no doubt you've read and heard about countless celebrities who start their days with a tall glass of warm water with lemon. It's wise to be skeptical of most things celebs push (because endorsements are all around us), but this is one beverage that defies trends and is spot-on healthy and good for you.
shutterstock
Lemons are an incredible source of vitamins, minerals, phytonutrients, and antioxidants, according to Live Science — and they contain a wealth of vitamin C and folate.

"Vitamin C plays a role in immunity and helps neutralize free radicals in our body," Alissa Rumsey, a New York City-based registered dietitian, certified strength and conditioning specialist and spokesperson for the Academy of Nutrition and Dietetics, told Live Science. "Folic acid is said to aid in preventing strokes and may contribute to helping cardiovascular health by lowering homocysteine levels."
Shutterstock
In addition to helping to prevent sickness and disease by boosting your immune system, lemons provide a low-calorie way to flavor plain water, Rumsey says, which may spur you to hydrate more often — and that alone can help with weight loss.

But there's more.

According to a 2017 Scientific Reports, juice-based diets with lemon improved intestinal microbiota and helped with weight loss outcomes.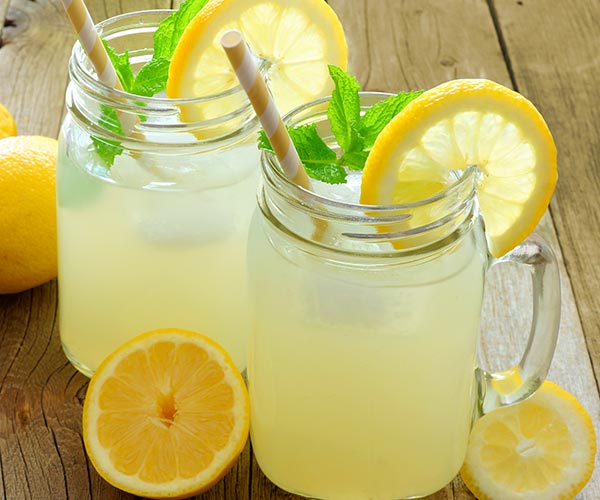 Shutterstock
TRY IT: Lemon Ginger Detox Drink

If you want to whip up a truly delicious lemon water drink that improves digestion, helps with weight loss, and goes beyond plain water and lemons, this Lemon Ginger Detox Drink hits the spot. It includes just three ingredients:

Water
Lemon
Grated ginger
Shutterstock
No matter what you decide to add to your water with lemon (cucumber slices are also healthy and refreshing), drink it first thing in the morning and it will cleanse your digestive system, prepare your body for healthy foods and drinks, and make you feel energetic and ready to take on the day.