The foods we eat play a crucial role in our waistlines, which is why it's always recommended to fill your plates with nutrient-rich fruits and vegetables and lean proteins to ensure you're getting the vitamins and minerals needed to promote a healthy, fast-working metabolism. Experts say that it's also a good idea to follow an anti-inflammatory diet as studies reveal a link between chronic inflammation and stubborn belly fat.
"Chronic inflammation occurs when our body responds to unwanted substances in the body, like excess fat cells that accumulate in the belly area," Sidney Fry, MS, RD, writes for MyFitnessPal Blog. "This imbalance, or stress, causes our bodies natural defense system — inflammation — to kick in and release even more chemicals to try and fight it. In small doses, inflammation is a good thing. But over time, you end up with too much of it. Our bodies aren't designed to be on high alert all the time."
Thankfully, anti-inflammatory foods aren't hard to come by. In fact, most of the fruits and vegetables that we eat contain some sort of inflammation-fighting nutrients. "The best foods to eat are high in protein and good fats, which keep your blood sugar steady and provide energy from nutrient-dense sources that will keep you satiated," says culinary nutrition expert, Andrea Wien.
Not sure which ones are the best for your waistline? Here are four that experts swear by:
Shutterstock
Salmon
Salmon helps your body burn off fat rather than store it and reduces inflammation thanks to ample amounts of omega-3s. Choose wild versus farmed salmon because it has more omega-3s.
Shutterstock
Blueberries
Blueberries have been found to significantly decrease inflammation because of their high levels of antioxidants called flavonoids. Studies also suggest that the powerful fruit's anthocyanins can even help neutralize the inflammatory effects of high-fat, high-carb meals by effectively turning off inflammatory and immune genes. These little guys are also a rich source of vitamin C and resveratrol, which is a polyphenol with anti-inflammatory effects that prevent free radicals in the body.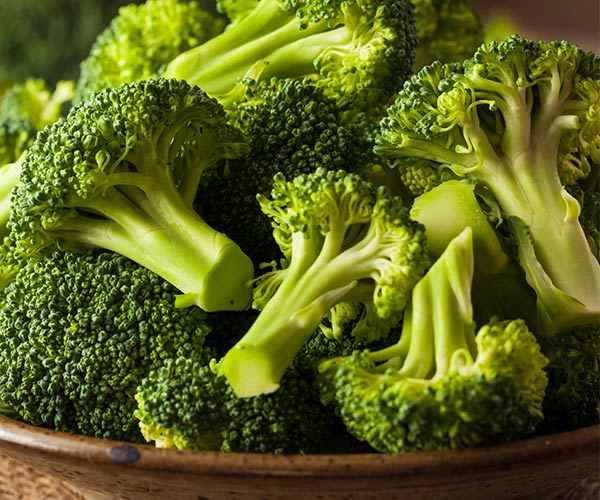 Shutterstock
Broccoli
We know everyone has mixed feelings about broccoli, but fitness experts say that it's one of the best vegetables to eat for weight loss. That's because it's loaded with vitamin K, which can help regulate your body's response to inflammation!
Shutterstock
Avocado
Avocados are more than a tasty spread for toast. The acids and antioxidants found in avocados can aid your overall health in more ways than just weight loss-- they also help rheumatoid arthritis and osteoarthritis symptoms.