Getting flatter abs is a fitness goal for many, and it's also one of the more difficult places on your body to target.
But a stronger core can be achieved, no matter what your age, by combining a healthy diet that is low in sugar and high in protein and quality carbs and fats, workouts that consist of both fat-burning cardio and strength training, and lifestyle changes like getting more rest and finding ways to curb stress.
These foods that help curb inflammation can help. Here are five anti-inflammatory foods doctors swear by to get a flat stomach over 50.
Shutterstock
Avocados

If the idea of eating more of a fatty food like avocados to burn fat sounds absurd, it truly isn't — avocados are packed with essential monounsaturated fats that keep you fuller for longer so that you are less likely to snack on unhealthy foods.

Avocados are also an amazing source of vitamins and minerals like vitamins E, C, and K, folate, magnesium, and potassium.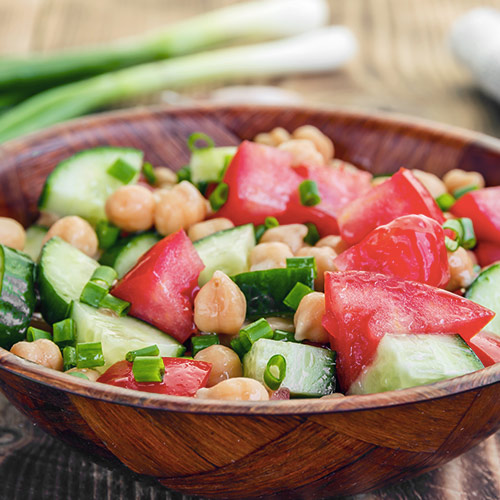 Shutterstock
Tomatoes

Containing a wealth of potassium, vitamin C, and an anti-inflammatory antioxidant called lycopene, tomatoes curb inflammation in the body that can lead to diseases and obesity. They're low in calories, high in nutrients, and can be added to everything from salads to sandwiches to soups.
Shutterstock
Chickpeas

Chickpeas and other beans and legumes are some of the healthiest plant-based proteins you can eat for your health, weight loss, and inflammation. Chickpeas are high in protein, fiber, and iron — providing a feeling of fullness and long-lasting energy that digests slowly and keeps you satisfied for hours.
Shutterstock
Quinoa

Replace rice with quinoa once in awhile and benefit from all nine essential amino acids, fiber, protein, B vitamins, and more. This versatile food can be added to stews, soups, or eaten as a side dish mixed with veggies and a dash of anti-inflammatory turmeric.
Shutterstock
Salmon

Salmon, and other wild fatty fish, are low in calories and contain high amounts of healthy omega-3 fatty acids and protein to give you both short and long-term fuel. Always choose wild salmon and other fish over farm-raised options.