If you are what you eat, then we want to eat healthy (with a few pieces of dark chocolate on the side). Eating is what will help you lose weight – even on your belly. Choosing a variety of foods in a rainbow of colors and nutrients all contributes to your appearance. Make sure your menu includes proteins, fibers, good fats and good carbs. Even better, these foods should be anti-inflammatory. Inflammation in the body leads to hormonal imbalances that increase abdominal fat and make weight loss difficult. Here are ones we love.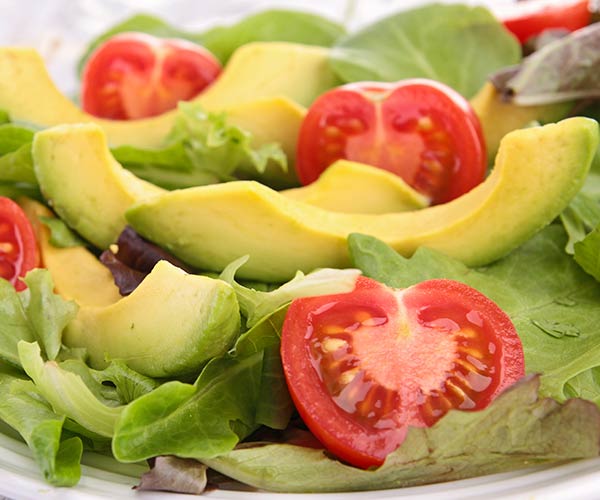 Avocado
Avocados are ah-mazing! First off they're creamy and delish. Second, they're loaded with potassium, magnesium and heart-healthy fats. "Avocados help decrease your appetite by making you feel fuller for longer," says Michelle Alley, a nutritionist at iFit. They're also an anti-inflammatory naturally high in unsaturated fatty acids, fiber, vitamins A, C, E, K, and many B vitamins. But don't go overboard. It just so happens people can easily fall into an avocado pit. Here are the facts for one avocado: 250 calories, 23 grams of fat, 17 grams of carbs, 13 grams of fiber, 4 grams of protein. Try and consume avocado with some protein and veggies. We like dipping red peppers into our guac. Alley says another way to keep avocados in check is by using single serve, 100-calorie cups. "It helps if you view avocados more as a healthy fat like olive oil than as a fruit," she says.
Turmeric Tea
Start your morning or chill out in the afternoon with an anti-inflammatory drink that detoxifies cells and facilitates fat loss – especially on your tummy. Dr. Lisa Davis, chief nutrition officer at Terra's Kitchen, says the fat that sits on your abdomen is no ordinary fat. Aside from being really frustrating, she says that abdominal fat is, "metabolically active tissue that unleashes harmful inflammatory molecules associated with cardiovascular disease and diabetes." Turmeric counters this. It contains curcumin, a natural anti-inflammatory and antioxidant compound.
Salmon
"Eating wild Alaskan salmon decreases inflammation in the body," says Stacy Goldberg, a nutritionist at savorfull. A big reason is the omega-3 fatty acid that helps your body burn off fat rather than store it. The omega-3 fatty acids in salmon are healthy fats that directly inhibit inflammation. Reducing inflammation could raise your levels of serotonin - the hormone that helps you achieve restful sleep. Research shows that people who don't sleep soundly are more likely to gain weight and also have difficulty shedding extra pounds. Choose wild versus farmed salmon because it has more omega-3s.
Walnuts
Walnuts are another anti-inflammatory food high in omega-3 fatty acids. Melissa Groves, an RD at Avocado Grove Nutrition & Wellness, says a recent study showed that people who ate walnuts felt less hunger and had better impulse control when exposed to tempting foods. "Other studies have shown that people who eat nuts weigh less than people who don't, even though they eat more calories overall," she says. "They were also less likely to gain weight over time." A handful of walnuts make a healthy afternoon snack and can also be incorporated into an anti-inflammatory dinner. Sauté or bake salmon, then top it with a dash of olive oil, chopped walnuts and fresh parsley.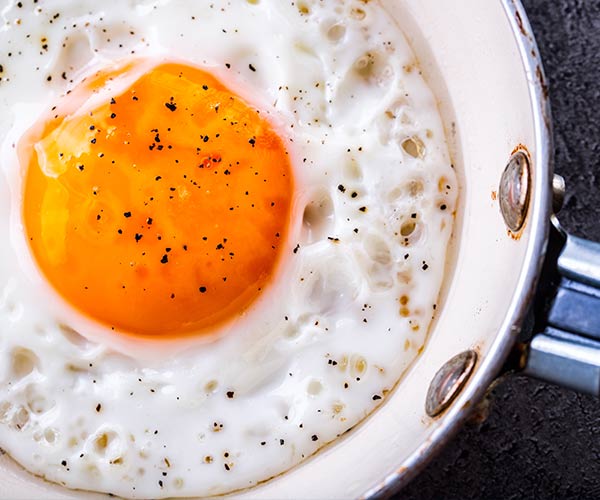 Eggs
Don't pigeonhole eggs as just breakfast food. You can eat them any time of day! Anti-inflammatory eggs deliver the vitamin D you need to help burn fat instead of store it. That sounds like a good quality in any meal. They also have vitamin B12 to help your body break down fat cells. Andrea Wise, a Chicago-based nutrition coach, says to avoid eating only the whites. The real body benefits are in the sunny yolks. The protein and healthy fats in eggs give you a sense fullness that lasts. Studies have show that people who eat eggs for breakfast lose more weight and fat than people who opt for bagels and cereal.
[Photos: Shutterstock]