We all know the saying, you are what you eat! Our diet plays a huge role in the overall health of our bodies, especially when it comes to our skin. "The foods you eat should be packed with vitamins and minerals," says dermatologist Dr. Cynthia Bailey. "When most of the foods you eat are nutritionally rich foods, your skin will be its healthiest and most beautiful." These are the foods women with clear skin routinely eat to maintain their glowing complexion.
[Photos: Shutterstock]
Tomatoes
Tomatoes are filled with vitamin C and antioxidant-rich lycopene. It's no wonder the popular natural skincare line Yes To made a line of products with tomatoes! "Tomatoes are good for helping reduce sun damage," says dermatologist Dr. Jessica Wu. "They're high in the antioxidant lycopene, which helps fight free radicals."
Sweet Potatoes
Sweet potatoes are rich in beta-carotene, which gives the vegetable its signature orange color. Our bodies convert beta-carotene into vitamin A, or retinol, which is essential to skin health. Dermatologist Dr. Jeannette Graf refers to retinoids as "the single most important class of ingredients for healthy skin."
Berries
Berries like raspberries, blueberries, and blackberries are great for the skin because of their rich antioxidant content. "Opt for berries in rich colors, such as red, purple, and black," says nutritionist Dr. Kimberly Snyder. "These types tend to contain the highest levels of antioxidants, which prevent free radicals from aging our skin."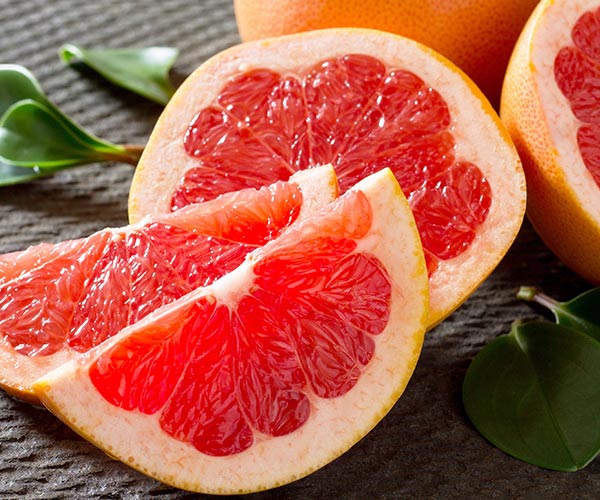 Grapefruit
Grapefruits and other citrus fruits like it are filled with vitamin C, which is essentially an antioxidant in and of itself. "Internally, grapefruit is a great example of a fruit that is loaded with skin-protective antioxidants and also has a high water content, which helps keep your skin's barrier (the outer layer) hydrated and more resistant to wrinkle-causing free-radical damage from the sun and daily pollution," says dermatologist Dr. Howard Murad.
Salmon
Omega-3 fatty acids are key to healthy, youthful-looking skin, and salmon has TONS of it! According to dermatologist Dr. Joshua Zeichner, omega-3 fatty acids "help keep the skin foundation strong and wrinkle-free."
Brazil Nuts
Brazil nuts are one of the most selenium-rich foods you cant eat. "Selenium is a trace mineral and vital nutrient for our cells. It is highly anti-inflammatory and is considered to be a stronger combination when partnered with vitamin E (found in foods such as almonds) to fight free radicals—the harmful and highly reactive molecules released by skin in response to environmental factors like UV rays and smog," says dermatologist Dr. Sarah Jackson.
Kale
Kale is a leafy green rich in vitamins K, C and A. "The vitamin K in kale helps to reduce the dark circles under your eyes and 'tightens' your skin, thereby reducing fine lines and wrinkles," says dermatologist Dr. David Bank.
As Dr. Wu says, the foods you put in your mouth are just as important as the stuff you apply to your skin. Be sure to incorporate these foods into your diet for clear, glowing skin!