There are so many great reasons to add or keep that cup of coffee in your morning routine. Containing a wealth of antioxidants, coffee can fight cell-damaging free radicals, give your metabolism a sweet boost, and make you feel alert, alive, and ready to take on the day.
But the ingredients you add to your coffee can make or break this otherwise healthy beverage. Get the most out of your cup of Joe with this one anti-inflammatory ingredient nutritionist say you should start adding to your coffee for a flat stomach.
Shutterstock
The number of options you have when it comes to ingredients you can use to add flavor and richness to your cup of coffee seems infinite these days. Old standards like milk and creamer continue to be popular, but coffee drinkers also expect to find soy, almond, or cashew milk offered at the local coffee shop.

If you're trying to lose weight or get flatter abs, substituting one coffee ingredient for another is a small change that can add to your goals.
Shutterstock
Black coffee may be the purest, most antioxidant-rich and low-in-calories option on the table, but the bitter taste isn't for everyone. If you can't bring yourself to enjoy your coffee with a sweetener like sugar or a sugar substitute, there are options that are healthier than either choice and that boast anti-inflammatory benefits.
Shutterstock
Adding sugar to coffee is common, but it also contributes zero nutrients, raises blood sugar levels (and will then send you crashing later on in the morning), and puts you closer to reaching the recommended daily sugar limit — all before you've even started your day.

According to the American Heart Association, women should consume no more than 6 teaspoons, or 100 calories, or added sugar each day. Limit your sugar intake, which will only help you achieve the flat abs you want faster, and choose this anti-inflammatory coffee ingredient instead.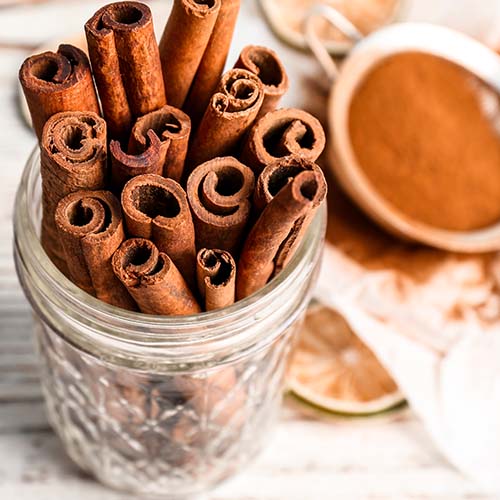 Shutterstock
Cinnamon

Looking for a way to add flavor and intrigue to your coffee, without piling in tablespoons of sugar? Reach for a cinnamon stick or ground cinnamon.

According to one study, cinnamon and ginger were found to reduce inflammation in the body and alleviate sore muscles when given to female athletes. This is incredible news if you are spending time at the gym or engaging in DIY home exercises — faster recovery means better results.

Ginger and coffee are probably not winning combos (though, never say never), but cinnamon and coffee are the perfect duo.
Shutterstock
Considered one of the most effective, healthy, anti-inflammatory spices, cinnamon has health benefits that extend even beyond the ability to reduce inflammation in your body, ward off sickness, and reduce muscle and joint pain.

Rich in antioxidants, cinnamon can cut the risk of heart disease, improve your sensitivity to insulin, which controls your metabolism and promotes weight and fat loss, and lowers blood sugar levels, according to Healthline.
Shutterstock
You may find that sprinkling cinnamon directly on your coffee just results in your cup containing annoying grinds.

This Cinnamon Spiced Coffee recipe, which takes five minutes to whip up and tastes amazing (and contains just 36 calories) is the solution to that problem.

Here are the five ingredients you'll need (feel free to omit brown sugar):

Ground dark roast coffee
Firmly packed brown sugar
Cinnamon, ground
Pure vanilla extract
Water