Smoothies are like milkshakes without the fat, sugar and calories. That's as long as you use a good recipe. Many of the pre-made or made-to-order varieties in cafes are loaded with sugary fruit juice, "healthy" add-ins and protein powders that have a laundry list of unpronounceable ingredients. Making a smoothie at home is simple and insures you know exactly what you're sipping. We like recipes that call for anti-inflammatory fruits, veggies, nuts and seeds. Inflammation in the body leads to hormonal imbalances that increase fat and make weight loss difficult. No thanks. We'll have these smoothies instead.
Blackberry Coconut Fruit Smoothie, A Sweet Pea Chef
We love blackberries and buy frozen bags to enjoy the flavor and health benefits year-round. Eating whole fruits means getting ample fiber for few calories. Alix Turoff, a New York City nutritionist and trainer, says berries have a high fiber- and a low sugar-content compared to other fruits. For example, raspberries and blackberries have 8 grams of fiber per cup! And an icy berry makes a great smoothie. Another bonus: Berries have lots of water to battle bloat. The water and fiber help food move through your system quickly before you suffer from gas and puffiness. "Studies suggest berries may actually assist in weight loss because they contain compounds that could increase the production of leptin, the appetite suppressing hormone," says Dr. Luiza Petre, MD, director of the Medi-Weightloss Clinics. Cheers to that!
Cherry Almond Smoothie, Suburban Simplicity
If you don't eat tart cherries, please start. Many experts have coined them one of the most potent anti-inflammatory foods you can consume. Combine them with anti-inflammatory almonds and almond milk. They deliver a fiber and protein combo that keeps you full for the longest period of time and on the fewest calories. This recipe calls for protein powder. Always opt for one that is low-sugar, low-cal and with the fewest ingredients. Mix in chia seeds just before serving. They have a high concentration of plant-based omega-3s that have been shown to increase good cholesterol and decease the bad. They also reduce inflammation, which in turn reduces storage of fat. It's basically like a cherry pie in a blender but way healthier...and with spinach. Oh we didn't mention that? You'll never even know it's there.
Tropical Green Smoothie, Averie Cooks
The creator of this smoothie wants you to feel like you're sitting on a beach with no cares in the world. That's why it tastes like a pina colada. It starts with pineapple that's loaded with potassium – the number one fighter of belly bloat– plus lots of enzymes to ease digestion. Word of warning: always use fresh pineapple. Avoid the canned cubes because they're loaded with excess sugar and that's exactly what you're trying to void when chasing away those last 5 pounds. Banana and mango round out the tropical flavors while delivering anti-inflammatory nutrients and vitamins. We think this smoothie is pretty sweet as is but you can add a dash of honey and a splash of vanilla if you're in the mood.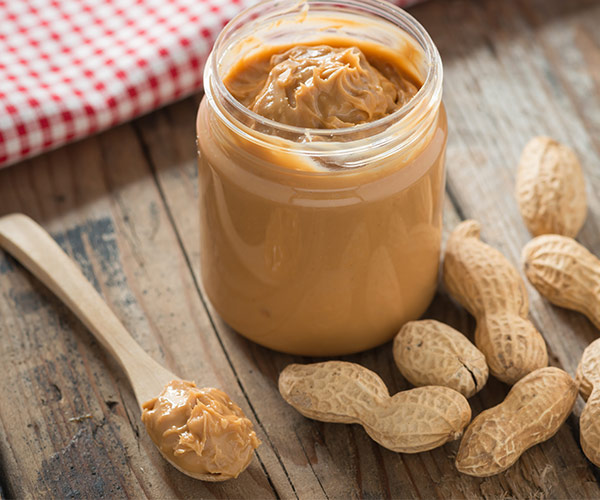 Peanut Butter & Jelly Date Smoothie, Minimalist Baker
Feel like a kid again when you drink this take on the classic peanut butter and jelly sandwich. Nut butters provide protein but we're often warned to stay away from them. Why? Some people (yes, us) can't help eating the entire jar in one sitting. This smoothie is a good way to have your nut butter without going overboard. The sweetness comes from pitted dates and anti-inflammatory blueberries (we love the frozen wild variety). Sub in any berry that reminds you of your fave jelly. And don't leave out the flax seeds. They have a high concentration of plant-based omega-3s that have been shown to increase good cholesterol and decease the bad. It also reduces inflammation and in turn reduces storage of fat. Flax doesn't have a potent taste so you won't compromise the flavor of your smoothie.
Hide Your Kale Smoothie, Minimalist Baker
The name says it all. We have no desire to drink liquefied kale even though we know the health benefits are tremendous. Omega-3 fatty acids are healthy fats that directly inhibit inflammation and they're found in many plant-based sources. One of the best is leafy greens in deep shades of emerald like kale. It's high in antioxidants, vitamins A, K and C, plus minerals. Now how to hide the kale? Berries are an excellent choice for smoothies because they are bursting with natural sweetness and you can eat way more of them without worrying about the scale. For example, ¼-cup of raspberries is 15 calories, ¼-cup of blueberries is 20 calories and a ½-cup of strawberries is 25 calories. All berries are high in polyphenols, micronutrients that combat cellular stress by slowing down and blocking the inflammatory response in the body. Pomegranate juice and protein- and fiber-packed hemp seeds round out the recipe. Enjoy!
[Photos: Shutterstock]