Sometimes extra pounds are a result of this equation: eating processed foods=chronic inflammation=insulin resistance= weight gain. You can reduce inflammation by eating healthy foods that give you energy to exercise, boost metabolism and keep you feeling full so you don't give into sugary snacks. Anti-inflammatory foods also control and stabilize blood sugar. A great way to expand your anti-inflammatory food repertoire is by using them to create delicious smoothies. Try these for breakfast or an afternoon snack.
Peanut Banana Cinnamon Smoothie, The Spruce Eats
We are cinnamon devotees. It's sweet and spicy at the same time and we loathe drinking a cup of coffee that's devoid of cinnamon. Studies show that the antioxidants in cinnamon have potent anti-inflammatory activity. Eating spicy foods like cinnamon can reduce inflammation and kick start your metabolism because it causes a rise in your body's temperature. It's formally called thermogenesis – the way your body's cells convert the energy from the foods you eat into heat. "Cinnamon also slows the rate at which the stomach empties after meals, reducing the rise in blood sugar after eating," says nutritionist Alex Caspero of Delish Knowledge. Combine that with frozen banana and fresh (as in no preservatives) nut butter. You don't have to stick with peanuts. Try almonds or cashews.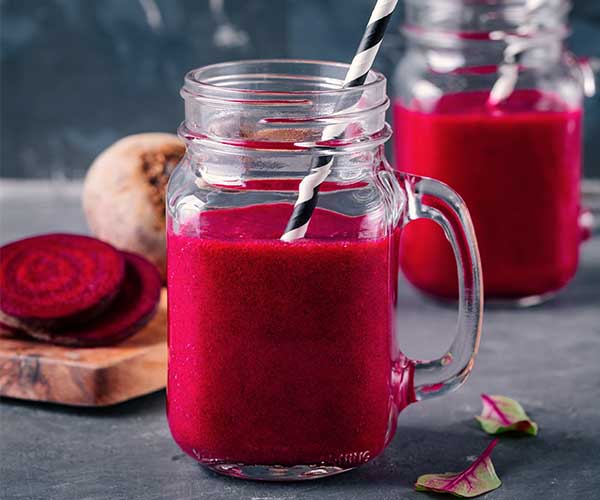 Ginger Beet Smoothie, The Roasted Root
Beets are gorgeous! The striking deep red pigment comes from the betalains in this root veggie. And just like other richly hued fruits and veggies, the beet is loaded with antioxidants that reduce inflammation and stave off diseases. Beets join fiber-filled strawberries in this smoothie along with a top anti-inflammatory supplement: ginger. This sweet and spicy food aids digestion and helps metabolize excess adipose tissue (that's a fancy word for fat). Ginger also decreases hunger and bloating. And don't leave out the flax seeds. They have a high concentration of plant-based omega-3s that have been shown to increase good cholesterol and decease the bad. It also reduces inflammation and in turn reduces storage of fat. Flax doesn't have a potent taste so you won't compromise the flavor of your smoothie.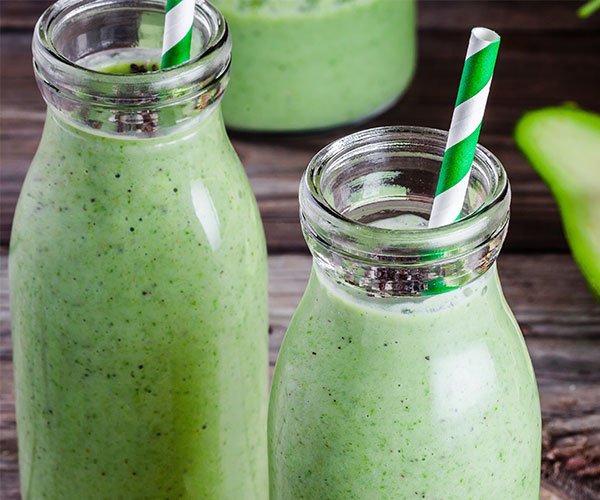 Pineapple Paradise Spinach Smoothie, Culinary Hill
The three main ingredients in this smoothie are not ones we'd normally want to combine. And the idea of liquid spinach is kind of nasty but the positive effects on our bellies has us convinced. Avocados are loaded with potassium, magnesium and heart-healthy fats. "Avocados help decrease your appetite by making you feel fuller for longer," says Michelle Alley, a nutritionist at iFit. They've also been linked with blood sugar and weight control. Researchers found that people who ate avocados on the regular had smaller waistlines than those who didn't. Omega-3 fatty acids are healthy fats that directly inhibit inflammation and they're found in many leafy greens like spinach. Pineapple adds a punch with all of its potassium – the number one enemy of belly bloat– plus lots of enzymes to ease digestion.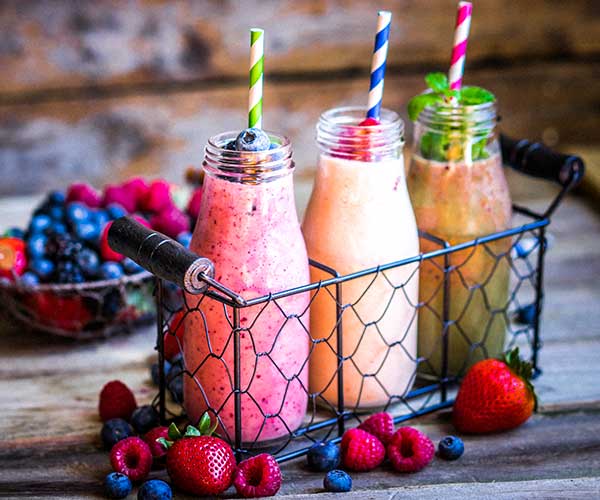 Matcha, what? It's green tea: A super potent, specially harvested, purest of pure version of green tea that comes in a powder This smoothie will get you the health benefits often associated with sipping a hot cup. A clinical study of more than 100 women with excess belly fat who drank green tea for 12 weeks had significant reductions in waist circumference and their BMI without any adverse effects. "Green tea is naturally high in catechins which inhibit body fat from accumulating," says nutritionist Violet Santana of My Wellness Solutions. "The tea also contains caffeine that works with the catechins to further increase the fat burn."
Lemon Ginger Detox Smoothie, Nutrition In The Kitch
The lemon and ginger combo is pure belly gold. "The more lemon water you drink the better for you since it helps food break down easily in your digestive system," says Suzanne Jezek-Arriaga, nutrition and holistic health coach. The lemon not only makes the water more palatable, it provides a boost of vitamin C to help with weight loss. And in this smoothie it's the star! "Ginger decreases hunger and bloating," says Dr. Marizelle Arce, a naturopathic physician. It stimulates your GI system so it's ready to work. Food won't linger in your gut and cause cramps and bloating when ginger is on the job. Chia seeds have a high concentration of plant-based omega-3s that have been shown to increase good cholesterol and decease the bad. They also reduce inflammation, which in turn reduces storage of fat.
[Photos: Shutterstock]