Celebrity beauty collections are officially taking over the industry. Whether they're starting a whole beauty line from scratch, or teaming up with a top-name brand, celebs can't seem to get enough of crafting their own lipsticks and bronzers for the rest of the world to enjoy. And don't get us wrong, we're definitely not complaining. Some of these products have become beauty Godsends that we'll never get enough of. That's why we're more than ready to get our hands on the hottest beauty collab of the summer: The BECCA x Chrissy Teigen Endless Summer Glow Collection!
BECCA x Chrissy Teigen Endless Summer Glow Collection
"Hyped" is just a fraction of all of the emotion we felt when we heard about this latest collaboration project, especially after realizing how amazing Teigen's last limited-edition product release with the brand—the cult-favorite BECCA x Chrissy Teigen Glow Face Palette ($46)—was (which is still available, BTW). And it seems like the latest launches are staying on par with Teigen's laidback, SoCal vibe because these products all have one thing in common: They'll make you radiate like the summer goddess you truly are.
We're calling this collaboration project the summer beauty picks of the season for their luminous shimmers that will have you gleaming like an Amazonian model as you walk across the beach. These Insta-worthy products will take your summer tan (or burn) to the next level by working with your natural glow, and elevating it to create a striking, but not overwhelming, illuminance. And for those of you low-key, matte lovers out there, we dare you to give these luminous products a try, because we guarantee that they'll convince you to join the glimmering side of life.
Here's Everything You Need To Know About The BECCA x Chrissy Teigen Endless Summer Glow Collection
Want to know more about the latest launches from the BECCA x Chrissy Teigen Summer Glow Collection? You're in luck because we have all the information on EVERYTHING you need to know about each of these shimmering summer staples. 
What's In The BECCA x Chrissy Teigen Endless Summer Glow Collection?
First off, let's start with the BECCA x Chrissy Teigen Glow Lip Glosses. These lip glosses have the same formula as the regular BECCA Glow Lip Glosses ($22) and come in three exclusive summertime shades. "Beach Nectar" has a neutral berry shade that works wonders on any skin tone, and is infused with a light-catching pearl iridescence to give your gloss a naturally glowing sheen. The shade "Malibu Soleil" has a mauvy rose tone that every aesthetically nude-obsessed woman will fall head over heels for.
And last, but definitely not least, our favorite shade from the collection: "Beach Bum," which has a warm sandy pink hue that subtly enhances your natural lip color. For just $22 each, you can stock up on all of these limited-edition colors, which we'll be doing ASAP.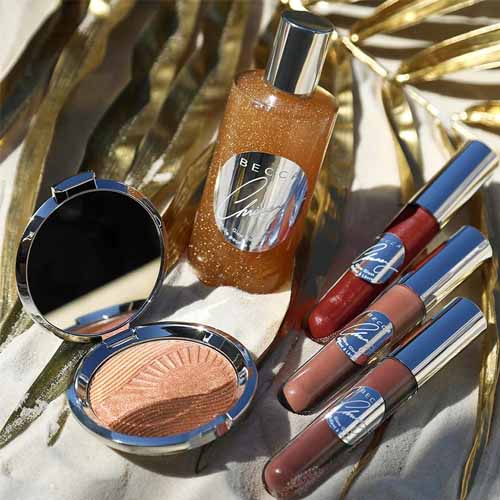 Next up, we have the BECCA X Chrissy Teigen Endless Bronze & Glow ($38). This compact has everything you need to give you a sunkissed glow while adding definition and structure to your face. It's a 3-in-1 product that will have you emptying out your makeup drawers because you won't need any other product after getting your hands on this beauty Swiss army knife.
It contains shades of BECCA Cosmetics' top contouring products: the Sunlit Bronzer ($38) and not one, but two shades of the best-selling Shimmering Skin Perfector Pressed Highlighter ($38). Using all three of these shades together will create the summertime glow of your dreams, and that's a promise.
And lastly, we have the collection's most sought-after product: the BECCA X Chrissy Teigen Glow Body Oil ($42). One of the biggest top-trending products on the beauty market this season has been glistening body oils, and who can blame everyone for wanting a photo-ready glow at all times? And this body oil stands out from the rest on the market for its lightweight, subtle formula. We're not going to lie: where Fenty Beauty's now-defunct Body Lava failed (RIP), this product thrives.
This product can be used both on your skin and hair because of its surprisingly weightless feel, and it gives your skin a refreshing glow that no other body oil could achieve. And it leaves your skin silky smooth to the touch, so what else could you possibly need?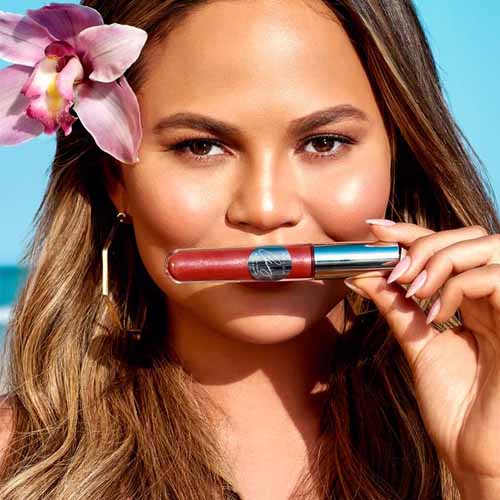 Now that we have you convinced, you can grab all of these products at Sephora.com or any Sephora store, right now. So, what are you waiting for? Create the glow of the season before summer ends by stocking up on the BECCA X Chrissy Teigen Endless Summer Glow Collection!
SheFinds receives commissions for purchases made through the links in this post.