Dull, uneven skin is most commonly experienced in the winter as a result of skin being dehydrated due to dropping temperatures and exposure to dry air from indoor heating. Thankfully, a good skin-brightening moisturizer can help reverse dullness and dryness and deliver glowing, radiant skin. Looking for the best all-natural anti-aging moisturizer to help save your winter skin? FREEDOM Naturals' new Brightening Moisturizer is fortified with skin-healthy ingredients that promote younger-looking skin.
"FREEDOM Naturals Brightening Moisturizer is your secret skincare step for healthy, glowing skin that everyone will be asking you about. Formulated with natural anti-oxidants & brightening botanicals, this concentrated daily moisturizer helps reveal a more radiant complexion," FREEDOM Naturals Chief Operations Officer, Tess Fox tells SheFinds.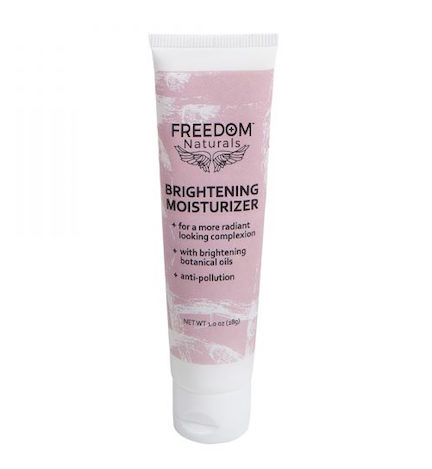 TRY IT: FREEDOM Naturals Brightening Moisturizer ($24)
Shutterstock
Key Skin-Brightening Moisturizer Benefits
FREEDOM Naturals Brightening Moisturizer Highlights:
-Infused with novel botanicals that help soothe & balance skin against urban pollution.
-Helps improve cell function, increase collagen production and boost elasticity using a blend of antioxidants.
-Provides essential emollients that promote a healthy and strengthened skin barrier.
Shutterstock
Ingredient Breakdown:
Kojic Acid, Alpha Arbutin, Rosemary Leaf Extract: Restore skin's brightness and promote a glowing complexion.
Glycerin, Shea Butter & Fatty Acids: Offer anti-pollution relief and protection to reduce any signs of damage.
Vitamins C & E from Botanical Oils: Powerful antioxidants that reduce free radical and environmental pollution damage on the skin.
Meadowfoam Seed Oil: A moisturizing agent that provides lasting hydration.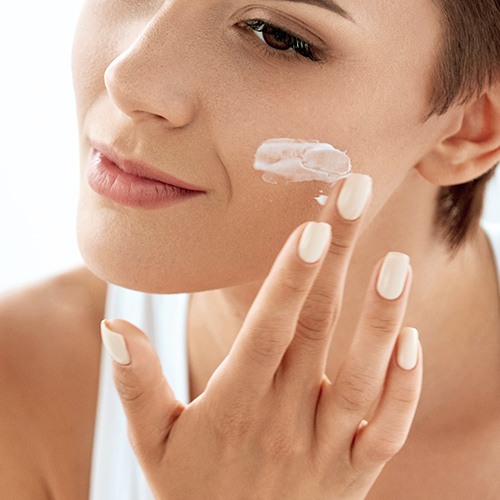 Shutterstock
Suggested Usage:
Apply dime size amount onto entire face or directly on concern areas.
Use all over the face or onto specific areas to help reduce skin dullness for a more radiant looking complexion.
This moisturizer makes an excellent addition to any morning and nighttime skincare routines. Experts recommend using it twice daily for the best results.
Shutterstock
Does Moisturizer Keep Skin Younger?
-Reduces inflammation in the skin.
-Prevents collagen breakdown.
-Hides fine lines and wrinkles by plumping skin.
-Restores protective layer for skin and supports stronger, healthier skin.
-Improves makeup application.
So, how does a moisturizer help keep your skin looking younger? dermatologist Dr. Whitney Bowe says it all starts with its hydrating properties, which help combat inflammation in the skin. "When the skin barrier is compromised, which is what we see when it becomes dry, there's actually a low-grade chronic inflammation that occurs in the skin," she explains. "Low levels of ongoing inflammation ultimately lead to a breakdown of collagen and accelerated aging."
Dr. Bowe also points out that moisturizer makes your skin look younger by reducing the appearance of fine lines and wrinkles using anti-aging ingredients like hyaluronic acid and more to plump skin. "Dehydrated skin shows all the lines," she adds.
Using a moisturizer also promotes healthier skin by providing a protective layer for skin, which is essential in the wintertime. "In the winter, humidity levels plummet, and the dry air can dehydrate your skin and strip it of lipids, which are part of its protective outer layer — so irritants can enter more easily and cause redness and flaking," says Debra Jaliman, M.D., a dermatologist in New York City and author of Skin Rules.
Plus, hydrated, freshly-moisturized skin is ideal for flawless makeup application. Dr. Bowe says that applying moisturizer should be your first step before you start your makeup for optimum, seamless coverage. "Makeup sticks to dry areas on the skin and even seeps into fine lines," Dr. Bowe notes.
SheFinds receives commissions for purchases made through the links in this post.