Leave it to Amazon for having an amazing review section on their website and leading us to find the best leggings, according to happy customers. Is there anything Amazon isn't amazing at? If there is, we haven't found it yet.
Purchasing leggings can easily be a hit or miss. Some brands charge an astonishingly high price tag for the basic black stretch pants, while other brands offer them for dirt cheap. If you find a pair at an affordable price, you risk them being too see-through to wear out in public. The struggle is real.
But lucky for us, Amazon has the best customer reviews on the planet. From their 5-star rating system to their in-depth user comments, they make it easy to find exactly what you're looking for.
That's how we found the best leggings on Amazon, as rated and reviewed by thousands of customers, so you know you're purchasing a quality pair of pants. You're welcome.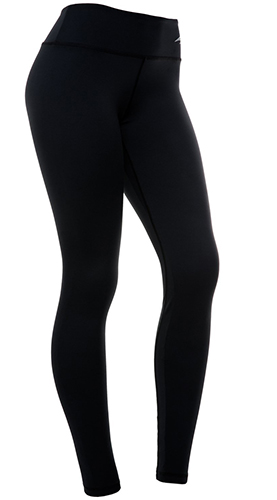 CompressionZ Women's Leggings ($24.98 )
Rated 4.6 out of 5 stars by over 1,400 customers
Promising reviews:
"AMAZZZIIINGGGGG. Thank you, fellow reviewers, for steering me in the right direction. Well worth the $32 bucks I spent! I normally wear a size medium in other yoga leggings and a size 6 jean and decided to go up one size so I bought a large it is perfect! I am 5'8 165lbs. The waist is tight but not too tight these will help me accomplish a lot! And when I start losing weight I can always size down. THESE ARE NOT SEE THROUGH! OH MY LORD how it is hard to find any leggings IN GENERAL that are not see through! I mean I held these up to the light and pulled the fabric and you can barely see light! THEY PASSED THE SQUAT TEST GIRLS! These are amazing and I will be buying more colors! Perfect length to for a tall person. Totally recommend!"
"These are AMAZING. They look like they are children's sized but MAN DO THEY STRETCH lol. They are soft, extremely comfortable, they hold you in and don't stretch out. People keep leaving reviews commenting they are too small. I am a big medium, possibly a large in denial and these are perfect. They are compression pants, not lounge pants folks, if you don't want them tight then buy yourself a pair of Hanes sweatpants. As far as I am stretching them they are still opaque which is just magic to me. Can not beat it for the price, I want 2 of every color."
Sport-It Women's Yoga Pants ($32.34)
Rated 4.7 out of 5 stars by over 115 customers
Promising reviews:
"I got these leggings because I wanted to be able to carry my phone with me through Harry Potter World to take pictures and then be able to put them in my pants when I got on the ride. They are amazing! My phone did not budge on the ride and the quality of the leggings are incredible. I love Lululemon and athleta leggings and these leggings are easily on the same level of quality as those of lulus and athleta and at a quarter of the price. I have told all of my friends about them and will buy more."
"I cannot say enough good things about here. I have the calf length ones, too, and liked them so much I got the full length. They're my go-to on weekends for working out or wearing with boots. They are nice and tight, high waist holds in the tummy and they don't snag, pill or lose their shape. Perfect!"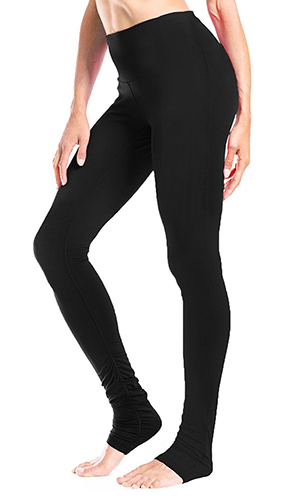 Yogipace Yoga Over the Heel Legging ($28.99)
Rated 4.7 out of 5 stars by over 189 customers
Promising reviews:
"Love, love, love these leggings! I'm 5'11" and a size 2 and these are a perfect fit in the size small. Good quality, great feel, and SUPER LONG! There's is some ruching at the ankle allowing for the perfect scrunched look when not wearing them over the heel, but they are plenty long enough to wear over the heel as well. Super stretchy, and the high waist is not binding. The tech pocket in the back is the perfect size to fit my iPhone 6. I have found my perfect legging!"
"I have a hard time finding yoga pants that are long enough, but these are perfect. The material is nice and thick. These will be perfect for a trip that we are planning. There is a pocket in the back, but it has no zipper so I am not sure that I will put anything valuable in there such as my license, credit card, or key...just in case they can work out of the pocket. The high waistband is very comfortable and a great style design. The ability to bunch the legs at the ankle give the pants a more upscale look than the normal yoga pants. The pants do fit tight down to the ankles, but they are not binding. They do not move when walking, bending, or sitting. I recommended these yoga pants to my sister who is 5'11". These will fit her perfectly. I will definitely order another pair sometime in the future."
Krralinlin Women High Waist Inner Pocket Yoga Pants ($9.99)
Rated 4.8 out of 5 stars by over 50 customers
Promising reviews:
"These leggings are very soft. The high and wide waistband is very comfortable and makes these easy to wear all day. A great addition to my usual casual "Uniform" of leggings over a short skirt. Great for Yoga and Pilates but also great for looking "workout chic" while running errands or just hanging out at the house."
"These are probably my favorite legging by far. They are extremely comfortable and flattering. The fabric is soft and resilient even when you sweat. I actually enjoy the high waisted part because I can wear a sports bra with it comfortably. The design is actually very attractive as well. It is very sexy to wear it to do sport because of fitting well. I am satisfied."
For more fashion news on SHEfinds, check out the best yoga pants on Amazon, under $10 and the best wireless bra, according to reviews on Amazon.
SheFinds receives commissions for purchases made through the links in this post.