A little serum never hurt anyone, especially when it's formulated with quality ingredients that work hard to improve your skin's texture and tone. That's why dermatologists say it's best to opt for products that are formulated with powerful antioxidants and nourishing ingredients that repair and moisturize the cells. Need help finding a good, top-rated antioxidant serum? Skincare fanatics say that the Drunk Elephant Virgin Marula Luxury Facial Oil is not only the best anti-aging serum at Sephora, but that it helps takes 10 years off your face!
What People Are Saying About The Best Anti-Aging Serum At Sephora
TRY IT: Drunk Elephant Virgin Marula Luxury Facial Oil ($40)
Shutterstock
Drunk Elephant Marula Oil Serum Reviews
Promising Reviews from Sephora Shoppers:
"i have been using this morning and night for over a month now and my skin looks great! i did a complete overhaul of my skin care routine and switched completely to drink elephant and my skin has never looked better. i did break out a bit at first but it went away and now i really think my skin looks clearer, more radiant, and my pores look smaller. also, i have normal combo skin in a fairly humid climate and can use the serum with the oil and sunscreen with my foundation and its fine!" - jenning1919


"Used this oil under my eyes at night for a week. - almost completely faded wrinkles - dark circles SIGNIFICANTLY reduced - NO BREAKOUTS, oiliness, enlarged pores the morning after. *** I recommend to get the mini size and use only 1 drop on each eye ***" - CamilaZoe28
"I use this oil under my eyes at night and it is visibly reduced the fine lines and keeps my under eyes so moisturized I love it! I have extremely sensitive skin (eczema) around my eyes that reacts to a lot of make up and skin care products but after a month of use this oil has not caused a reaction. I would recommend to someone with sensitive dry under eyes as a great alternative to creams." - britter578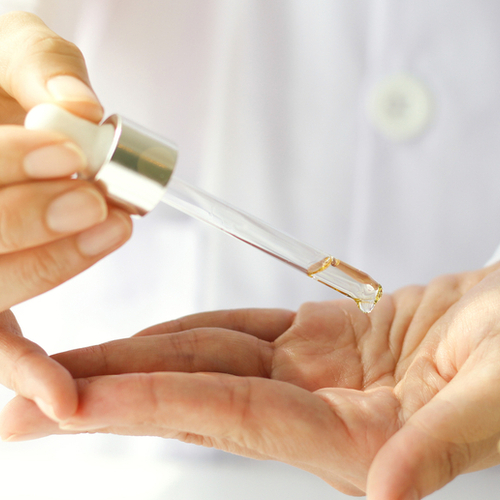 Shutterstock
Top-Rated Antioxidant Serum Benefits
Key Serum Benefits For Aging Skin:
-Reverses the signs of aging with a blend of antioxidant-rich and moisturizing ingredients.
-Keeps skin protected against environmental stressors and free radicals.
-Reduces the appearance of fine lines, wrinkles, redness, and blotchiness, with improvement in skin's elastic feel.
"Your skin will drink in this nutrient-rich oil leaving no residue behind. Straight from the 'pip' of the marula fruit, this Marula Oil is virtually untouched by any chemical or fragrance, natural or synthetic, remains in its purest form, and is naturally anti-microbial and appropriate for all skin," according to the brand.
SheFinds receives commissions for purchases made through the links in this post.