Fine lines and wrinkles may be inevitable, but there are plenty of products available that can help reduce their appearance. One of the best ways to combat wrinkles and the signs of aging in the skin is by using a serum as they're designed to penetrate deep into the cells for intensive repair and nourishment, especially when formulated with a retinoid. Need help finding the best anti-wrinkle serum? Nothing compares to the effectiveness–or price tag–of The Ordinary's Granactive Retinoid 2% in Squalane Serum. Get all the details on this best-selling anti-wrinkle serum and learn how retinol benefits the skin: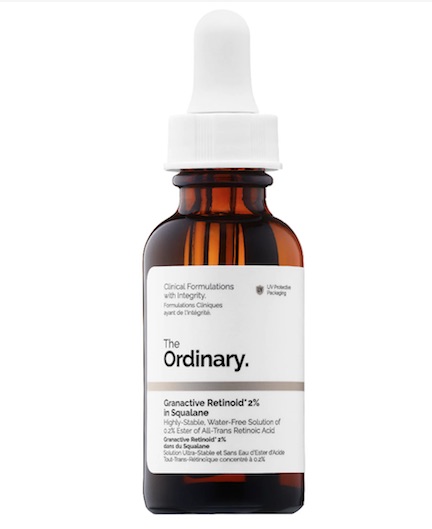 The Ordinary Granactive Retinoid 2% in Squalane ($9.60)
Shutterstock
Best Anti-Wrinkle Serum Highlights
-Works as a solution for fine lines and wrinkles, dryness, dullness, and uneven texture.
-Contains two percent concentration of an advanced retinoid active complex called Granactive Retinol as well as squalane, jojoba oil, and other nourishing ingredients.
-Granactive Retinoid helps fight against multiple signs of aging without any of the irritation and drawbacks common with retinol.
The Ordinary Granactive Retinoid 2% In Squalane Reviews:
"I just bought this for my mom as she has very sensitive skin but we want to get her on high dose retinoic acid to treat signs of aging. She has been using it with great results and absolutely no irritation! We are thrilled with this product and wish the higher dose of this type of retinol was also in this nice milky (quickly absorbing) format." - bemelda
"Im Impressed with these products ! I used this the toner and the mandelic acid at night. My pores were smaller, skin smoother and tighter, acne bumps gone down, brighter skin and acne marks. I have hormonal acne At the moment plus I'm moving from the south to the west and needed something that was not expensive to clear it up bc I have a lot of products from Sephora smh I have the zinc one but didn't use it yet. Can't believe these results in one night my skin should've been clear in a month if it does this every time" - vixbeauty
Shutterstock
Key Retinol Benefits In Skincare
Retinol is one of the most effective anti-aging skincare ingredients and it can help transform your skin. "Everyone and their mother should be on retinoid," board-certified dermatologist Adam Friedman tells SELF. Between its wrinkle-reducing properties and its ability to stop dark spots and acne in its tracks, retinol can benefit everyone.
"Retinol, a derivative of vitamin A, does a lot. It minimizes fine lines and wrinkles, diminishes hyperpigmentation, blackheads and dark spots and reduces inflammation, pore size and the appearance of blemishes," Dr. Kim Nichols, M.D., a Connecticut-based dermatologist, says.
But despite being an effective agent for reducing wrinkles, Dr. Nichols warns that retinol needs to be carefully introduced into your regimen. "The only issue is that it can be harsh on the skin, leaving it dry and irritated," she explains. "Two things to remember when using a retinol: 1) Always use with a moisturizer and 2) less is more. You only need a penny size for your whole face at night."
SheFinds receives commissions for purchases made through the links in this post.