Sephora is filled with hundreds of products that cater to mature skin, but shoppers say that there's one product that works better than the rest at fading dark spots and reducing the appearance of fine lines and wrinkles–it's the Drunk Elephant C-Firma™ Day Serum. This serum is SO good that it's being hailed the best brightening serum at Sephora, which is due to its vitamin C-rich formula. There are countless benefits to using a vitamin C serum, but dermatologists list is antioxidant protection from free radicals as its biggest one for those with aging skin. Here's how the C-Firma™ Day Serum works:
Shop The Best Brightening Serum At Sephora
TRY IT: Drunk Elephant C-Firma™ Day Serum ($80)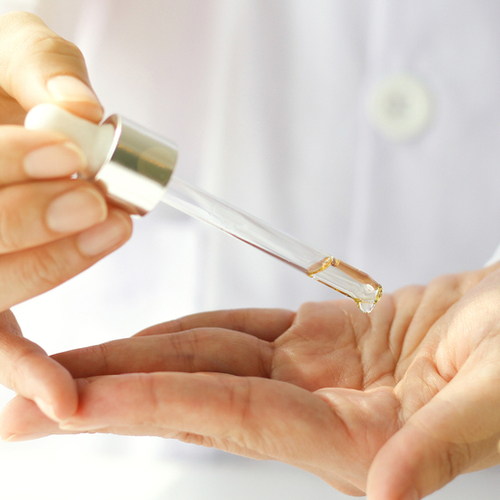 Shutterstock
Key Benefits To Using A Vitamin C Serum
-Helps neutralize pollution, environmental stressors, and the damaging effects of free radicals over time.
-Replenishes lipids and visibly reduce the appearance of dark spots and wrinkles after applying regularly.
-Noticeably diminishes the appearance of photodamage and enhances the skin's radiance and luminosity.
Important Ingredients at Work:
-Antioxidant complex of 15 percent l-ascorbic acid, one-half percent ferulic acid, and one percent vitamin E combat free radical damage.
-Pumpkin ferment extract and pomegranate enzyme work together to dissolve dead surface skin cells and promote new cell growth.
-Sodium hyaluronate crosspolymer quickly sinks into skin and provides ultimate hydration.
Shutterstock
Drunk Elephant C-Firma Serum Reviews
"I have tried other vitamin C products and this one is the cat's meow. In just a few short months I have seen a significant difference in my facial lines, tonality, and smoothness. Bless you, DE for this product." - jodv8
"When I first started using this serum, I absolutely hated it. Not gonna lie, I had tiny bumps from this serum at first, but I think my skin just needed some time to get used to the potent amount of Vitamin C in this product. Now, after about 2 months of consistent use, I can confidently say this serum has not only helped minimize some of the redness from my past acne marks, it has also helped lighten my dark circles slightly. There is no perfect cure for dark circles, but this serum has definitely helped my undereye area look more rejuvenated over time!! This has become a staple product, which I layer under moisturizer and sunscreen every 2-3 days." - Mystique123
"After several trips to the dermatologist only to be told that significantly fading melasma on Black skin is virtually impossible and spending hundreds of dollars on Triluma only to have my melasma patches look DARKER because the skin around the patches was the only thing affected by the cream, C-Firma did the trick! I've used this for about 3 months to astonishing results, melasma is nearly gone completely and overall skin tone is even and radiant! Gentle on my sensitive skin. You can see it working in the first week...HIGHLY recommend!" - jaebirdee
SheFinds receives commissions for purchases made through the links in this post.