I'm always on the hunt for the safest, most effective antiperspirants and deodorants. And now you can add "least likely to stain shirts" to that list of superlatives.
It's an aspect that's often overlooked in reviews–but after an exhaustive search, I can say that I have officially found one that does NOT cause them.
If you're a pit-stain sufferer like me, you know all about the struggle. You wear deodorant or antiperspirant so you don't have pit stains, and then lo and behold, you pull your favorite tee out of the wash one day and discover them there.
How does that happen? The short answer is that aluminum is to blame–but it's actually more complicated than that. It's the aluminum, but it's also how much you're wearing (aka, if you're over-applying) and the formula of the deodorant/anti-perspirant itself.
And cutting out aluminum altogether isn't for everyone (ie. heavy sweaters). Antiperspirant doesn't just stop odor like deodorant, it also prevents sweat. I've been going back and forth between aluminum-free natural deodorants that don't have the efficacy I need, to borrowing antiperspirants from my husband that are cake-y and result in ruined shirts and blouses.
Doesn't Stain Shirts: Gel Antiperspirant
So, what is the answer? Well, my friend, it's not blowing in the wind–it's gel antiperspirant. Or specifically, Mitchum's.
And I'll tell you why (let's not beat around the bush here): it does contain aluminum, but because of the gel formula you only apply the exact amount that you need, which is absorbed into the skin. The more that is absorbed into the skin, the more effective it is to prevent sweating, and the less that transfers to the t-shirt via cake-y flakes.
Mitchum Gel Antiperspirant
Mitchum Women's Advanced Control Shower Fresh Gel Antiperspirant & Deodorant Twin Pack ($4.99)
When a tube of the green stuff landed on my desk a couple months ago, I was quick to disregard it because I was really trying to go the all-natural route. But as the temps rose and the need for a more, um, serious anti-sweat option increased, I decided to give it a try.
The results have been amazing. Because of the gel formula, it applies on to skin and is absorbed immediately. There's no cake-y white paste sort of residue left on the surface. My t-shirts have been saved!
Triple Odor Defense
The brand just relaunched their full line with NEW Triple Odor Defense technology, which lasts even longer: 48 hours to be exact. They also make stick, aerosol, roll on and clinical versions.
Shop now:
Mitchum Advanced Invisible Solid Anti Perspirant Deodorant ($4.96)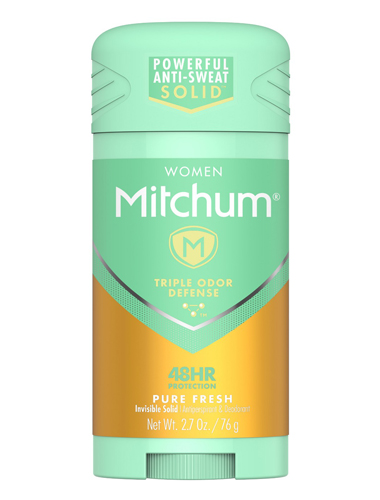 Mitchum Women's Advanced Control Antiperspirant & Deodorant Stick ($2.99)
SheFinds receives commissions for purchases made through the links in this post.