It's not uncommon for skin to experience some dryness and dullness in the winter time. That's why it's important to follow a skincare routine that includes hydrating and radiance-boosting products–starting with a brightening moisturizer. When formulated with the right ingredients, your moisturizer can even your skin tone, neutralize redness, fade dark spots, reduce the appearance of fine lines and wrinkles, and leave your skin with a youthful glow. Need help finding the best drugstore moisturizer for glowing skin? We've been hearing nothing but good things about the new Olay Whip Total Effects Moisturizer. This best-selling drugstore moisturizer was just relaunched using a fragrance-free formula that has everything your skin has been missing.
Learn More About The Best Drugstore Moisturizer For Glowing Skin: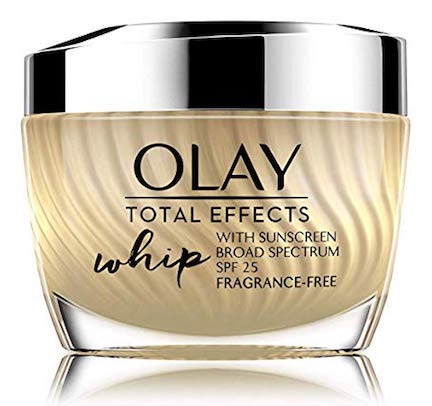 TRY IT: Olay Total Effects Whip SPF 25 Fragrance-Free ($24.28)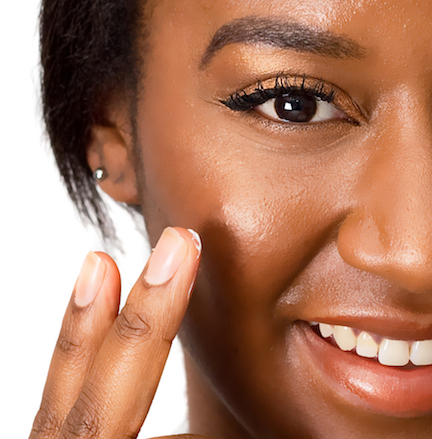 Shutterstock
Key Benefits Of Using The Olay Whip Moisturizer:
-Formulated with skin-healthy vitamins (C, E, and B3) for visibly healthy, glowing skin.
-Offers broad-spectrum SPF 25 protection.
-Made with the brand's Active Rush Technology to transform from cream to liquid on skin for instant absorption.
-Leaves skin feeling soft and smooth with a matte finish.
Shutterstock
Important Brightening Moisturizer Ingredients To Look Out For
-Vitamin B3
-Glycerin
-Peptides
-SPF Protection
Dr. Frauke Neuser, Olay's Principle Scientist, walked us through the powerful anti-aging ingredients at work in the Olay Whip Moisturizer, noting that the formula "delivers visible results in 28 days or less."
Here's how each ingredient helps promote younger-looking skin:
Vitamin B3
"Vitamin B3 strengthens skin's natural moisture barrier, helping to lock in moisture while also accelerating surface cell turnover and evening skin tone, for bright & radiant skin," Dr. Neuser explains. "It has also been proven to smooth skin and reduce the appearance of pores and fine lines."
Glycerin
"Glycerin is a key moisture binding ingredient that penetrates skin and locks hydration in, helping to keep skin dewy and plump," he says.
Peptides
"Peptides are great if you are looking to improve skin elasticity and firmness as they boosts collagen production," notes Dr. Neuser.
SPF Protection
"SPF protection is a must-have year round," Dr. Neuser stresses. "Research has shown time and time again that the two worst factors for skin are unprotected UV exposure and dryness!"
Shutterstock
Promising Olay Whip Moisturizer Reviews:
"I really like the way this moisturizer goes on nice and light. It really is weightless, unlike other moisturizers I have tried that felt like I was wearing a greasy mask. Olay whips absorb quickly and greaslessly. It has lots of nutrients for my skin. I have only been using it for a short time, but I have already noticed a difference. I am also getting my husband to use it too, And since it doesn't feel greasy and it absorbs quickly he will use it and it really makes a difference on his fine lines near his eyes and on his forehead." - Carla Carlson
"Loving this so far. Like the way it feels and my face doesn't look greasy. After a week, my complexion is smoother and my pores are more 'blurred' like I'm using my phone filter haha. Too soon to tell if it'll help with my fine lines around my eyes but am happy so far." - Amanda
"Love it! Love Olay products. This by far my favorite. Leaves my skin smooth and supple when I wake up in the morning." - Rosalie R.
SheFinds receives commissions for purchases made through the links in this post.