Everyone can benefit from a night cream. These products are designed to be used during your skin's regeneration period, which is the reparative sequence your skin enters while you're asleep. Each night cream is formulated with different ingredients and can help improve the common signs of aging by stimulating collagen production and delivering lasting hydration and nourishing ingredients. If you're stuck on where to find the best drugstore night cream for wrinkles, then we've got you covered! Amazon is loaded with tons of affordable anti-aging skincare products, including CeraVe's Skin Renewing Night Cream! This night cream is SO good that some say it's better than Botox!
What You Need To Know About The Best Drugstore Night Cream For Wrinkles
TRY IT: CeraVe Skin Renewing Night Cream ($11.97) 
Shutterstock
The Best Drugstore Night Cream For Wrinkles At Glance
-Helps soften and renew the look of tired skin overnight using the brand's unique peptide complex.
-Formulated with three essential ceramides (1, 3, 6-II) help to restore the protective skin barrier.
-Utilizes patented MVE controlled-release technology to help replenish ceramides and deliver long-lasting moisturization.
-Fragrance-free, non-greasy formula that's gentle on skin.
-Rich texture is ideal for normal to oily skin.
-Key ingredients: ceramides 1, 3 and 6-II, hyaluronic acid, and niacinamide.

"Developed with dermatologists, CeraVe Skin Renewing Night Cream is designed to work with your natural circadian rhythm to help restore your skin barrier overnight when it's most receptive. Wake up to skin that looks refreshed and renewed," according to the brand.
Shutterstock
CeraVe Night Cream Reviews
"I used to work in cosmetics. Two big name brands. The CeraVe line is an excellent product. No perfumes. Simple and effective ingredients. My dermatologist recommended this line to me recently. I'm thrilled with it. It's a perfect night cream. Spending a lot of money on the high priced lines is 100% unnecessary. They do not work any better. You are just getting duped by deceitful marketing ploys." - ClaudyLA
"Ok, I almost never write reviews. But I have to give this cream 5 starts and I have try countless expensive creams and with CEraVe my I could see the change next day. Note to say my face was very dry and you could see it as sometimes skin would just peel off my face. I put hundreds of this and hydrating creams and nothing. And with CeraVe night time cream my face changed. I have no dryness anti gets smother every day. Definitively recommend it." - Maydet Serrano
"Thick, creamy, moisturizing, and lovely! My new go-to night cream. I LATHER this stuff on at night on top of a few other motions I use every day/night. My skin soaks it in by morning and it's so nice to wake up with a fresh, hydrated face." - AnaT

Find More Products Like The Best Drugstore Night Cream For Wrinkles
LilyAna Naturals Retinol Cream Moisturizer ($19.99)
Body Merry Breakthrough Night Cream ($16.14)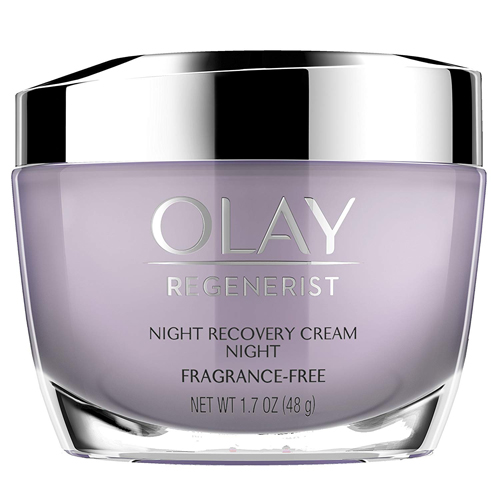 Night Cream by Olay, Regenerist Night Recovery Anti-Aging Face Moisturizer  ($19.99 )
SheFinds receives commissions for purchases made through the links in this post.