We all know that getting enough sleep is so important—but it's also a daily struggle thanks to distractions like Instagram, Netflix and of course, your own racing thoughts.
"Sleep helps our brain and body recharge and has a hand in optimizing nearly every body function," New York-based internist Dr. Niket Sonpal tells says. "Without proper sleep, our health and mental state can easily decline."
Even though most of us know we need to turn off our phones and crawl into bed for that crucial 6-8 hours of sleep, it's easier said than done, right?
Luckily, there are healthy, natural sleep aids available in the drugstore aisle to make it a little bit easier.
Best Drugstore Sleep Aids & Remedies
Drugstores like CVS Pharmacy are adding many new self-care products to shelves that are centered around helping you get a more restful sleep. We asked Dr. Sonpal to speak to the efficacy of these drugstore products, many of which have proven benefits, and not to mention that they don't require a prescription, are non-addictive and totally affordable.
We also love the convenience factor. You can run in on your way home from work and grab anything from sleep tea, to pillow sprays, gummies or a weighted blanket.
We reached out to a CVS rep for find out what their top sleep products are. Without further ado:
Be Well Teas Get Some ZZZ's
"Drinking warm tea can help soothe the body and regulate temperature making it easier for the body to soothe tensions," Dr. Sonpal says. "Tea at the end of a long day can be a helpful way to usher in mindfulness and relaxation."

This herbal tea has yummy notes of mint, citrus, chamomile, valerian and passionflower, which have been shown to have calming effects without disrupting REM sleep. Aka, you won't have that morning "hangover" that many over-the-counter sleep aids can cause.

Shop now: Be Well Teas Tea Bags ($11.99 for 36 count)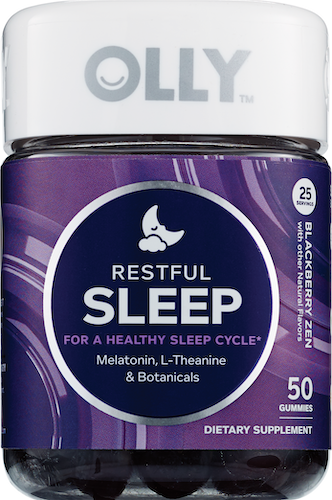 Olly Restful Sleep Gummies
"Olly gummies can be effective for people who just need a small nudge to fall asleep," Dr. Sonpal says. "It is a gummy complex that includes melatonin, amino acids and other plant extracts like chamomile."

The chamomile helps people relax before bed, and melatonin is a hormone that is naturally produced in our body to regulate the sleep-wake cycle, he says.

So, what do customers say? "Two of these and I am out for the night," one site review reads. "It is just wonderful to get some rest for a change."

Shop now: Olly Restful Sleep Gummies ($14.99 for 50 count)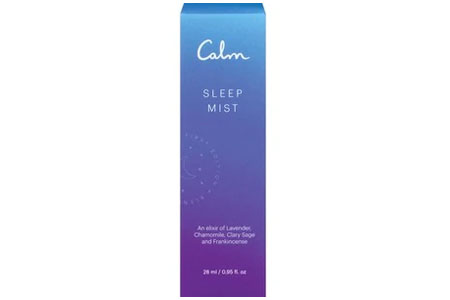 Calm Sleep Mist
A natural mix of essential oils such as lavender, frankincense, chamomile and clary sage create a relaxing environment conducive to better sleep.
"I love this Sleep Mist... makes my bedroom a sanctuary!" writes one reviewer.
Shop now: Calm Sleep Mist Pillow Spray with Essential Oils ($19.99)
Gaiam Relax Neck/Shoulder Wrap Purple
If you hold stress in your neck and shoulders, this reusable wrap is perfect for relaxing muscles and easing tension before bed. Warm it up in the microwave for added benefits.

"I need one of these for every member of my household! " writes one 5-star reviewer. "After a stressful day, it was really wonderful to relax and watch TV with this product." Said another.

Shop now: Gaiam Relax Neck/Shoulder Wrap Purple ($19.99, plus buy one get one 50% off)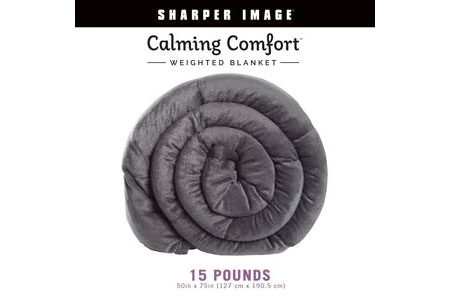 Calming Comfort Weighted Blanket
"People who have tried these blanket compare them to being 'held' or 'hugged,' which can lead to reduced levels of stress and anxiety and better sleep," Dr. Sonpal says.
This 15 lb. blanket is hypoallergenic, breathable and super soft. Worth the splurge for those of us who are chronically restless when we crawl in bed.
Shop now: Calming Comfort Weighted Blanket ($129.99)
Radiance Dream Blend Essential Oil
Add a few drops of this pure essential oil to a diffuser or mix with water to make a pillow spray or air mist. The warm, earthy blend contains lavender and other natural botanicals.

Shop now: Radiance Essential Oil in Dream ($9.99)
Ellia Lavender Essential Oil Roll On
"Lavender is also a well-regarded sleep aid," Dr. Sonpal says. "If used topically, or diffused as a scent for your bedroom, the essential oil can de=stress the body and aid in meditation prior to bed. This can help the body overcome the adrenaline of a long day." Need that!
Apply this lavender roll-on to your pulse points, temples, back of your neck or soles of feet to get the instant calming effects.
Shop now: Ellia Lavender Essential Oil Roll On ($11.24, down from $14.99)
SheFinds receives commissions for purchases made through the links in this post.