No skincare routine is complete without a quality eye cream. When formulated with the right ingredients, an eye cream is your best defense against dryness, puffiness, and dark circles. Plus, some even strengthen the sensitive skin around the eye, making concerns like fine lines and wrinkles a thing of the past. Looking for the best eye cream for wrinkles over 40? It looks like Body Merry's Age Defense Eye Cream is one of Amazon's best-selling formulas for its restorative and rejuvenating ingredients, like CoQ10! Keep scrolling to find out how this eye cream will transform your under-eyes and how CoQ10 works to deliver younger-looking skin!
Shop The Best Eye Cream For Wrinkles Over 40
TRY IT: Body Merry Age Defense Eye Cream ($16.14)
Shutterstock
Key Benefits
-Combats dark circles, wrinkles, fine lines, under-eye bags, and puffiness.
-Firms and tightens the delicate skin around your eyes for younger-looking under-eyes.
-Addresses wrinkles and crows feet with hydrating, plumping soothing ingredients like CoQ10, squalane, aloe, and botanical oils.
-Organic rosehip oil and vitamins B5, C + E come together to brighten dark circles and revitalize the under-eyes.
Shutterstock
"I'm not a review writer usually but I had to on this one. First off as a mom of three, lack of sleep, stress, age etc., had started to take it's toll on my eyes. I was done with dark circles, lines, tired eyes. I've tried other products, no luck. This one I tried by chance and wow I'm never trying anything else. It works! It does not irritate my eyes and in just over a week I got results. I highly recommend trying it. It's affordable and works. Awesome product!!" - sacmom
"My dark circles are not as visible and the skin under my eyes is softer and no longer dry. Also helps when I'm wearing concealer because I noticed it lasting longer during the day which makes me feel like I picked a great product that actually works. I also enjoy the fact that the product is not heavy and it smells nice too. You don't need much so be careful when pumping out the cream." - Amazon_junky
"I will start by saying I have been using it for a month, applying once or twice daily. Mostly twice.This has improved my dark circles a lot. I can actually say it improved my eyes, and the look of my face. I don't look like a zombie or mad anymore. It has lighten my dark circles to the point that is almost fully covered by makeup. I started getting this ugly dark circles since I was 5 years old. My mother has pretty bad ones, and my brother. Maybe is inherited, but all I know is they will start using this cream because of my results. Nothing worked in the past. I have used nadinola bleaching cream and other eye creams, but the effect didn't last a month. This one is making it even better after a month of use. I also will say that my eyes looked deeper before, but this cream it like filled some layers of skin. I don't even know if that's possible. All I know is that this are my results. I'm 23 I don't have eye bags or something like that just had really bad dark circles. I recommend this cream to anyone who thinks it can help them." - leidy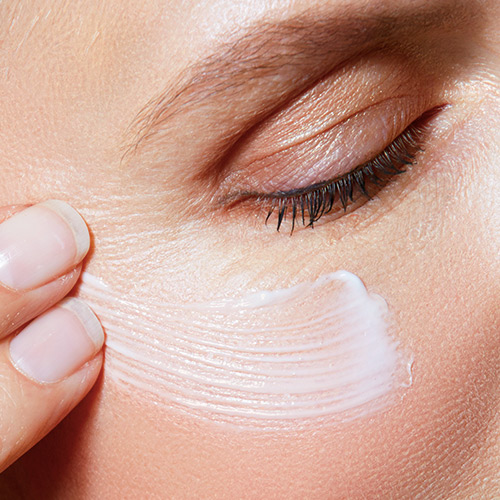 Shutterstock
How CoQ10 Works
So, what is CoQ10 exactly? It's an enzyme produced naturally in the human body that is found in our cells and tissues. CoQ10 is essential for several biological functions and helps to produce energy, neutralize free radicals, and keep the cells healthy.
Despite its profound role in the body, CoQ10 production naturally declines as we age and impacts the appearance of our skin. "The lack of CoQ10 results in an impeded ability to produce collagen and elastin," according to the experts at Perricone MD, who also note that this then results in a lack of firmness in the skin and causes wrinkles and sagging to occur.
CoQ10 is also renowned for its antioxidant properties, which allows for it to help combat the premature aging effects of free radical and environmental damage.
"Using topical anti-aging creams that contain CoQ10 can effectively help fight the signs of aging," the experts at Perricone MD continue. "The CoQ10 in the treatment can penetrate deeply to provide antioxidants and help create collagen and elastin."
SheFinds receives commissions for purchases made through the links in this post.