Your 20s were spent chasing breakouts around your face and controlling oil and shine. Now, you need to bring in the big guns for your 30s. The skin's collagen production naturally declines once you enter the milestone decade, making combating concerns like fine lines and wrinkles, dark spots, and uneven texture your top priority. "I always say that life starts to show up on our face and skin in our 30s," Melissa Kanchanapoomi Levin, M.D., board-certified NYC dermatologist and clinical instructor at NYU Langone and Mount Sinai, tells SELF.
The skin's hydration naturally slows down as well, according to Dr. Levin. "It takes longer for the top layer of the skin to slough off, giving a more dull and dry quality," she adds. "Furthermore, production of hydrating factors in the skin such as hyaluronic acid slows down and break down increases."
That's where your moisturizer comes into play. Using a nourishing moisturizer that's fortified with anti-aging ingredients will not only help replenish your skin's hydration levels, but also strengthen the moisture barrier to create a smoother, more supple complexion. Need help finding the best facial moisturizer for over 30? Dermalogica's Intensive Moisture Balance Moisturizer is formulated to increase cellular turnover and slow the signs of aging, making it a quality moisturizer for younger-looking skin.
Shop The Best Facial Moisturizer For Over 30
TRY IT: Dermalogica Intensive Moisture Balance Moisturizer ($80)
Shutterstock
Benefits Of Using Face Moisturizer
-Improves skin's texture by locking in hydration.
-Increases skin's firmness and reduces the appearance of fine lines.
-Restores balance to dry skin to give a clean, healthy appearance.
Promising Dermalogica Intensive Moisture Balance Moisturizer Reviews:
"OMG YALL! This is so moisturizing! It is a non-oily finish and leaves your skin so soft and full! My fingers were dry after rubbing it in! This is the first time I have ever tried Dermalogica and I received it for free for testing purposes and no lie best moisturizer I have ever used! Will definitely purchase." - MLSNOW
"I very much enjoyed this product! I felt a difference in my skin within ten minutes. This product applies nicely and doesn't leave a heavy, oily feeling on your face either. The smell is sort of off-putting, but not in a bad way! I would definitely recommend this to my friends looking for a good moisturizer!" lilmommahibs
"The name of this product really says it all, highly moisturizing without overdoing it...It balances out my dry patches and more oily patches. It's a medium consistency, so I was pleasantly surprised by how easily it absorbed into my skin. As there are no added fragrances, it takes on a slightly strange, but subtle smell. I favor my citrus scented products in this regard. I received this product complimentary from Influenster for testing." - mm2490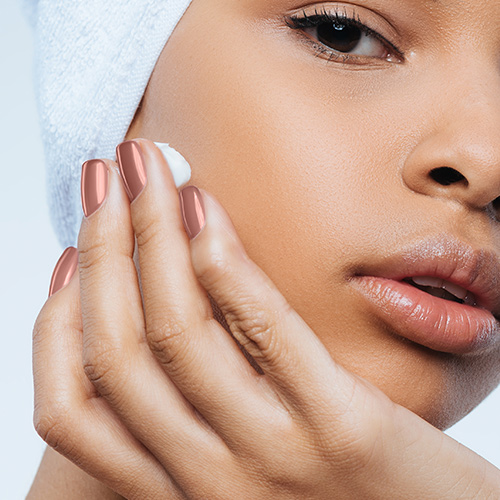 Shutterstock
Important Ingredients For Skin
Your moisturizer is only as good as the ingredients that it's made with. If you're stuck on which moisturizer is the best for your skin, dermatologists say that you need to make sure that your go-to formula contains a combination of hydrating and nourishing ingredients. Here are some of the biggest ingredients that are at work in Dermalogica's new Intensive Moisture Balance Moisturizer and how they work to transform your skin:
Hyaluronic Acid For Skin:
Hyaluronic acid is the main ingredient at work in the Intensive Moisture Balance Moisturizer and it's got quite the reputation in the skincare world. It's naturally found in the skin and is needed for healthy, hydrated skin. "Because of its ability to draw and hold water, it can be used as a humectant in your skincare regimen," says Dr. Rachel Nazarian, a dermatologist at the Schweiger Dermatology Group in New York City. "It continually keeps skin moisturized throughout the day." Dr. Kavita Mariwalla, a dermatologist in New York City and the founder of Mariwalla Dermatology, notes that hyaluronic acid also plays a role in the suppleness of your skin as well. "As a topical [product], as long as it is in the right formulation, it will make the skin appear more dewy and younger because it improves skin elasticity," she explains.
Lactic Acid For Skin:
Dr. Julie RussakThis ingredient rare and doubles a moisturizing exfoliant, making it great for combating dryness and promoting smoother skin by stimulating cellular turnover. "Dead cells absorb light rather than reflect it, resulting in dull-looking skin," Dr. Julie Russak explains.
Green Tea For Skin:
Green tea is loaded with antioxidants, which means that it can help reverse any skin damage caused by photoaging and unprotected sun exposure. This nutrient-rich ingredient also contains anti-inflammatory properties and has a soothing effect on the skin. "It can improve inflamed skin, it's good for exfoliation, and protects skin from free radical damage," board-certified dermatologist and assistant professor of dermatology at Icahn School of Medicine at Mount Sinai Debra Jaliman tells Dermstore. "Matcha also helps rejuvenate skin that lacks oxygen, as a result of sleepless nights, smoking and toxicities in the air."
SheFinds receives commissions for purchases made through the links in this post.