The afternoon is usually when your energy may seem to slowly drain from your body. It's also when you may be craving a snack and looking for ways to give yourself a boost to help you focus and concentrate better on whatever tasks you need to complete before you can go home and relax.
Or, perhaps your focus is lacking in the morning and the only way to get yourself moving is with a strong latte and a lot of complaining.
No matter when in the day you face a dip in your energy levels, there's one food that's way better than pretzels, gummy bears, and even coffee — and it's easier to whip up into different snack recipes than you might think: Beets!
They may be one of the last veggies you think of when you're prepping your salad, but beets totally deserve more consideration. Not only are they incredibly healthy, sweet, and delicious, they're also excellent for focus and concentration.
"This dark red root may be the new kid on the block for promoting better memory, focused concentration, and overall cognition," professional health coach Lori Shemek tells Health.com. "Beets contain nitrates that can dilate blood vessels, increase blood flow and oxygen to the brain, thereby improving mental performance. Add beets to salads, roast them or add to juices for optimal brain health."
Not only are beets amazing for concentration, but they're no slacker when it comes to nutritional content. One cup of beets has 59 calories and is a good source of vitamin C, fiber, folate, and protein.
If you're not keen on snacking on raw beets at your desk, we understand. Fortunately, there are more than a few snacking options when it comes to beets: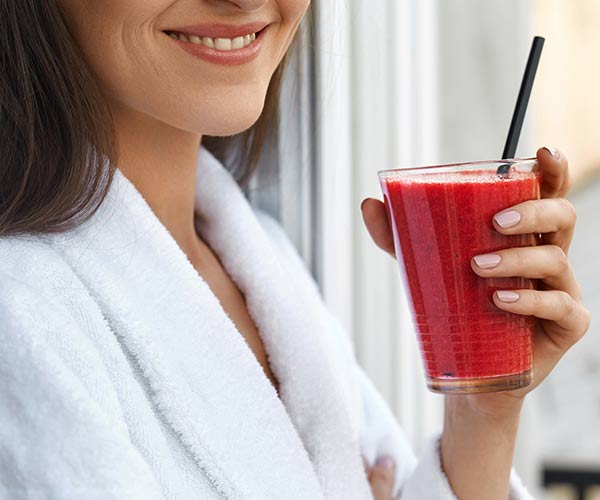 Ways To Snack On Beets
A few slivers of beets in an arugula, goat cheese, and walnut salad is heaven, but may not be the easiest way to enjoy beets during the day. The deep-red veggie makes a great beverage and this red beet power smoothie recipe proves that celery, carrots, almond milk, and apples pair amazingly well with beets.
For an on-the-go snack that you store at your desk, try whipping up these easy baked rosemary beet chips, which take just 30 minutes to cook and require four ingredients: beets, oil, salt, pepper, and rosemary.
Optimum focus and concentration are just a few sips or bites of beet away.
For more snack tips, check out 4 Low Carb Snacks To Keep At Work and 6 Low-Calorie Snacks To Help Keep You Full Between Meals on SHEFinds.com.
Photos: Shutterstock