A good, full-coverage concealer is an essential for every woman, especially on days where your skin might need a little extra brightening after sleepless nights or unpredicted breakouts and flare-ups. And if you're over 30, you're probably using a concealer to mask dark circles, sun spots, and wrinkles. There are a lot of great concealers out there, but none deliver the same age-defying results as Fenty Beauty's new Pro Filt'r Instant Retouch Concealer, which is the latest product to join the famous Fenty family. This creamy, long-wear formula is buildable and will restore your skin's radiance regardless of your skin tone, type, or concern, which is why it's being called the best full-coverage concealer at Sephora! Keep scrolling to learn more about this best-selling product and read promising Fenty Beauty concealer reviews. 
Shop The Best Full-Coverage Concealer At Sephora:
TRY IT: Fenty Beauty Pro Filt'r Instant Retouch Concealer ($26)
Shutterstock
Benefits Of Using The Fenty Beauty Pro Filt'r Concealer:
-Offers buildable, crease-proof medium-to-full coverage.
-Brightens under-eyes and conceals blemishes and redness.
-Sweat-resistant formula comes in a groundbreaking range of 50 easy-to-shop, soft-matte shades.
Shutterstock
Promising Fenty Beauty Concealer Reviews
"Finally found a concealer that lives up to its name. Easy to blend and nice creamy thick consistency. I have fine lines and normally with la girl pro, tarte, & makeup revolution creasing happened immediately. It took almost 8 hours for this one. Now I need a contour shade." - lanibadass
"I ABSOLUTELY LOVE THIS CONCEALER!!!! Definitely the best concealer on the market now. I do have normal skin and am just as in love with the foundation my shade is 420. And this shade (360) gives me the perfect brightness. I do notice that if I don't bake underneath my eyes it will crease easier but I bake everyday and have no issues with it not creasing. Worn it for 13 hours and no creases!!!!!" - Lexiexb
"Okay, so this is my first time every trying out the fenty products. I decided that this time around that I was going to order. I got the foundation in 420 and the matching concealer. The concealer in 420 is my exact shade if it were a foundation if that makes sense. Its not too thick and not runny. I would say the consistency is just right. I applied my foundation first and let the concealer sit and blended it with a damp sonia kashuk sponge instead of my beauty blender and it blended perfectly. I set it with the banana powder and it was good. I have two more shades but I am going to exchange those and get a darker shade to contour with and a lighter shade to highlight more with. Over all it pretty good." - MichelleRene84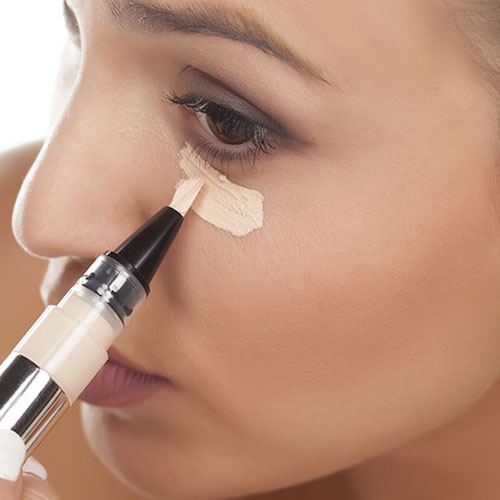 Shutterstock
Where To Put Concealer
How To Use:
-Apply directly under the eyes or over blemishes, and blend.
-Start with a very thin layer, and build as needed—a little goes a long way.
Rihanna's Way: When brightening under eyes, let Pro Filt'r concealer dry completely before setting with Pro Filt'r Instant Retouch Setting Powder (sold separately). Rihanna likes to set as the very last step in her makeup routine for the best results.
SheFinds receives commissions for purchases made through the links in this post.