There are a lot of good moisturizers for fine lines out there, but dermatologists say that none will work unless they're formulated with the right ingredients. In fact, one of the best dermatologist tips for younger skin is to use a product that's enriched with hyaluronic acid. "I've been applying hyaluronic acid to my skin for years. It's a substance naturally found in the skin and works to maintain water for a fuller, more youthful look," Dr. Rachel Nazarian, M.D., assistant clinical professor at The Mount Sinai Hospital Department of Dermatology, says. That's why Dr. Nazarian recommends giving Neutrogena's Hydro Boost Gel-Cream a try for a more radiant and rejuvenated complexion. Not only is it one of the many moisturizers dermatologists use to combat wrinkles, but it's also considered to be the best hyaluronic acid moisturizer in the drugstore. Here's how it works:
Everything You Need To Know About The Best Hyaluronic Acid Moisturizer
TRY IT: Neutrogena Hydro Boost Gel-Cream ($16.17)
Product at a Glance:
-Quenches extra-dry skin with hydrating hyaluronic acid.
-Gel formula provides rapid hydration to skin, leaving it looking smooth and supple by restoring skin's natural barrier against moisture loss.
-Relieves intense dryness by providing long-lasting moisturizing power.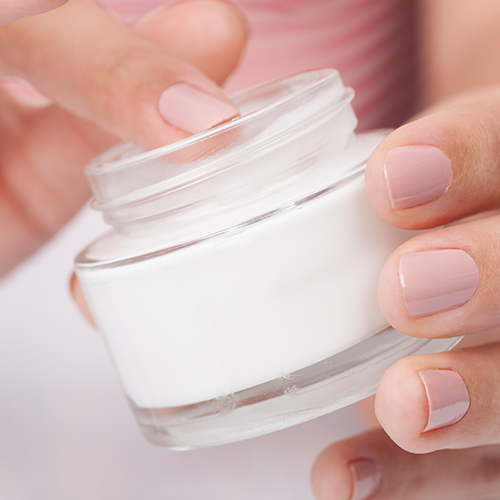 Shutterstock
Key Hyaluronic Acid Benefits
Dr. Nazarian says that hyaluronic acid is your best defense against wrinkles because of its plumping properties, noting that the powerful molecule's "unique, moisture-binding feature allows it to hold many times its own weight in water."
In addition to plumping the skin and filling wrinkles, Dr. Nazarian points out that the Neutrogena Hydro Boost Gel-Cream is an excellent solution for those who suffer from dryness, especially from other anti-aging ingredients like retinol.
"Today, smaller molecules of high-grade hyaluronic acid with better topical absorption capabilities can be found in over-the-counter products, including this gel cream that I apply nightly. Bonus: Its hydrating properties curb the irritation caused by retinols," she continues.
Shutterstock
More Dermatologist Tips For Younger Skin
Using an anti-aging moisturizer that is fortified hyaluronic acid is a great place to start when it comes to erasing fine lines and wrinkles. Here are some more tips from Dr. Nazarian to help the Neutrogena Hydro Boost Gel-Cream absorb into the skin better for faster results:
"I still use a few tricks to enhance absorption, such as applying it after I shower while my skin is still damp or using it after an exfoliating wash," she explains.
SheFinds receives commissions for purchases made through the links in this post.