Makeup lovers know that no glam look is complete without mascara. This classic product not only helps add intensity to your eyes by adding a sweep of color, but it also creates a lifting effect on the eyes and can increase the thickness, shape, and length of your lashes. Not happy with your go-to mascara? There's a new product in town that's making waves for its high-impact and conditioning formula–it's Grande Cosmetics' GrandeDRAMA Intense Thickening Mascara! Not convinced? Well, did we mention that the GrandeDRAMA Intense Thickening Mascara already has a 5-star rating on Sephora.com and over 1,000 Sephora loves? Some reviewers are even saying that it's the best mascara that makes eyelashes look fake…
Shop The Best Mascara That Makes Eyelashes Look Fake
TRY IT: Grande Cosmetics GrandeDRAMA Intense Thickening Mascara ($25)
Shutterstock
What Does The GrandeDRAMA Intense Thickening Mascara:
GrandeDRAMA's buildable formula lifts, lengthens, and adds volume to your lash look like never before. Plus, it's infused with castor oil—a tried and true favorite that is also a popular DIY ingredient for thicker, healthy-looking lashes.
Highlighted Ingredients:
Castor Oil: Rich in omega-9 fatty acids and vitamin E to support stronger-, thicker-, bolder-looking lashes while preventing breakage.
Natural Wax Blend: For a buildable formula.
Hemispherical Powders: Provide reflective qualities to promote natural brilliance, shine, and glossiness.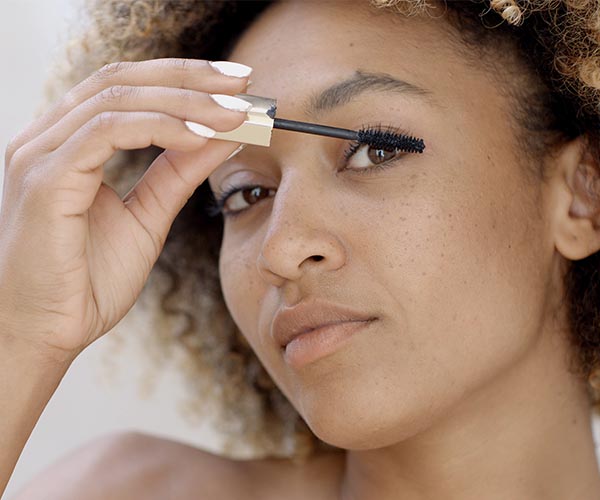 Shutterstock
Promising GrandeDRAMA Intense Thickening Mascara Reviews From Sephora Shoppers:
"Love love love! Best mascara ever and trust me I've tried them all. Black dramatic lashes with no clumping!" - melbarone
"I usually don't write reviews, but I must admit, this mascara impressed me. I'm usually a Maxilash or Hypnose Custom girl, but this ranks up there with them and is actually nourishing. I will be ordering this again!" - varn
"Beyond thick lashes with one stoke - DRAMA!!! I love that it has castor oil as well. My lashes are now beyond thick and now have DRAMA." - MariyaNY
Shutterstock
How To Apply Mascara Without Clumps
The way you apply your mascara can make or break your glam. Most makeup wearers struggle with figuring out the perfect balance of length and thickness without getting unsightly clumps or affecting the curl of your lashes. Here's how makeup artists recommend applying your mascara to prevent clumps:
Wipe The Brush First
Most mascara brushes pick up a lot more product than needed. After you remove your brush from the tube, gently wipe the excess mascara off on a tissue to prevent the excess formula from clumping your lashes or causing spider lashes.
Curl Your Lashes
"An eyelash curler goes hand in hand with mascara," makeup artist Sonia Kashuk says, who recommends curling your lashes with an eyelash curler before applying mascara, not after. "The main thing when applying mascara is definitely beginning with opening up the eyes." Place the curler at the base of your upper lashes, close the curler and hold it in place for a few seconds.
Coat Your Lashes From The Root
Now, it's time to actually apply your mascara. Starting at the root of your lashes, apply the mascara with a wriggling motion. This technique helps prevent your lashes from looking and feeling weighed down. Don't forget to do the same for your lower lashes!
Wait For Your Lashes To Dry Before Applying A Second Coat
Most lash looks require several coats of mascara in order to improve your lashes thickness and volume, but you have to wait for your first coat to be completely dry before moving on to the next. This helps prevent clumping and lashes from sticking together.
SheFinds receives commissions for purchases made through the links in this post.