We know that there's no cure for cellulite, but thankfully, there are plenty of effective treatments out there that can help reduce it. "[Cellulite] is a common complaint among my patients. Everyone wants an easy answer for it…but there is no magic cream," Dr. Francesca Fusco, of Wexler Dermatology in New York City, tells E! News. But, that doesn't mean that using a moisturizer won't help diminish cellulite. In fact, there's one body moisturizer that Dr. Fusco and other dermatologists are calling the best moisturizer for cellulite–it's Sol De Janeiro Brazilian Bum Bum Cream! Not only is Bum Bum Cream a good moisturizer for cellulite, but it's also renowned for its hydrating, firming, and preventative formula. "Brazilian Bum Bum Cream contains guarana, which smooths and supports circulation," advises Dr. Fusco. Keep scrolling to learn more about this best-selling moisturizer and find more dermatologist-recommended ways to get rid of cellulite!
Shop The Best Moisturizer For Cellulite: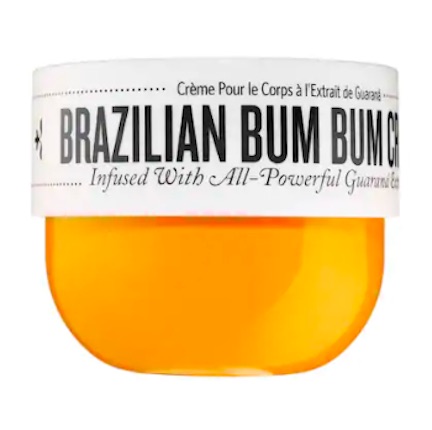 TRY IT: Sol De Janeiro Brazilian Bum Bum Cream ($45)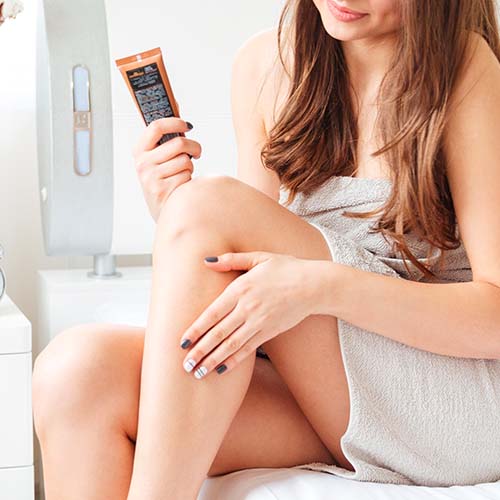 Shutterstock
Key Benefits:
-Fast-absorbing formula helps tighten and smooth the look of skin.
-Powered by a Brazilian blend of caffeine-rich guaraná, nourishing cupuaçu butter, antioxidant powerhouse açaí, and super-conditioning coconut oil for glowing, hydrated skin.
-Works as a solution for dry skin that suffers from dullness, uneven skin tone, and loss of firmness and elasticity.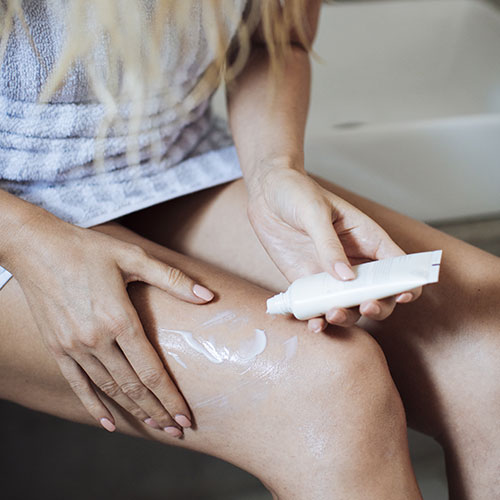 Shutterstock
Promising Reviews Of This Good Moisturizer For Cellulite
See What Sephora Shoppers Are Saying About Brazilian Bum Bum Cream:
"Besides the amazing smell this cream really tightened my skin and reduced the cellulite on my legs and butt." - Nicolina26
"Honestly, I only bought this stuff because I tried it in the store, and loved the way it smelled. I had no idea about all the hype surrounding this stuff. So from someone who had no idea there was any hype to be buying into: I LOVE THIS!!!! It obviously smells great, but I also love that it's a thick cream that soaks into skin so well. This might just be me, but I really don't like feeling my skin and having that feeling of a thin layer of greasy lotion on me. With this stuff it just feels like my skin, only more quenched than usual. Added bonus: the cellulite on my inner thighs and weird bra bulge area (I use this on my whole body) is practically vanished! I didn't even know it was a cellulite cream. I LOVE ITTTT" - blablablavia
"I purchased this after reading the description and was blown away. I used the product the same day it arrived, and i will say it did everything! My legs are smoother and firmer. The scent reminds me of Viva La Juic and had a shimmer to mute imperfections as it works to repair the skin. You have to use this consistently to reap the benefits. I love this product!!!" - militaryangel
Shutterstock
More Ways To Get Rid Of Cellulite
In addition to using a daily firming moisturizer like Brazilian Bum Bum Cream, experts say that your skin will benefit from some weekly exfoliation.
"By exfoliating, you're showcasing your skin at its smoothest and the caffeine is adding some actual shrinkage to the fat cells," Dendy Engelman, M.D, says.
It's recommended to exfoliate by dry brushing, which is a technique that focuses on brushing cellulite-ridden areas with a special, stiff-bristled brush. "[Dry brushing] is helpful and it sort of works similarly to the other modalities that combine improvement of the tissue circulation as well as massage for improved lymphatic drainage," Dr. Franziska Huettner, a board-certified plastic surgeon at Plastic Surgery Group of NYC, explains.
Thinking about incorporating dry brushing into your skincare routine? Experts warn that the practice can potentially cause irritation and infection in the skin, so make sure you're careful and doing it correctly.
SheFinds receives commissions for purchases made through the links in this post.