Botox is renowned for its ability to tighten the skin and diminish the look of fine lines, but it can be a pricey procedure for some. Thankfully, there are skincare products that can deliver the same skin-firming results as Botox without breaking the bank. In fact, there's one moisturizer that Sephora shoppers are calling the best moisturizer to smooth skin for its ability to revitalize skin and restore firmness and elasticity–it's the Confidence In A Cream Rosy Tone Moisturizer from IT Cosmetics!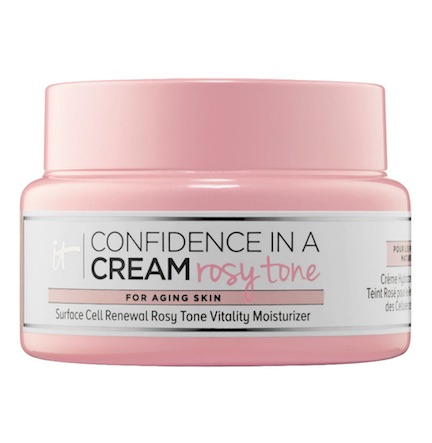 Shop The Best Moisturizer To Smooth Skin
TRY IT: IT Cosmetics Confidence In A Cream Rosy Tone ($48)
Shutterstock
What Does The Moisturizer Do?
-Revitalizes the skin with the look of instant vitality using rosy tone pigments.
-Smooths and revives the complexion by immersing the skin in lasting hydration.
-Gently exfoliates the skin and boosts its natural cell rejuvenation to reduce the appearance of fine lines and wrinkles.
Clinical Results:
In a 4-week consumer study:
98% say skin has a healthy blush
93% say skin looks less tired
93% say skin feels softer
91% say skin looks rejuvenated
87% say skin looks younger
Promising Review:
"Smells lightly of roses and gives your skin this glowy awake sheen! I really like this and use this as a base under my makeup for a lit from within look!" - jayyangg

Shutterstock
Lipohydroxy Acid Benefits
The Confidence In A Cream Rosy Tone Moisturizer gets its skin-smoothing goodness from lipohydroxy acid (LHA), a derivative of salicylic acid that is known for its effective exfoliating abilities. This powerful acid is a gentler chemical exfoliation agent and can improve several skincare concerns.
Lipohydroxy Acid For Wrinkles
LHA can help reduce the appearance of fine lines and wrinkles thanks to its ability to promote cellular turnover. "Skin will be thicker as a result of the new cell growth," Dendy Engelman, MD, a New York City dermatologist says. The deep exfoliation will also restore your skin's brightness by promoting a healthier, youthful-looking glow. "Moreover, decreased cell turnover means that an accumulation of dead skin cells can further block nutrient absorption," Dr. Neil Sadick, a dermatologist with Sadick Dermatology, adds.
Lipohydroxy Acid For Acne
LHA works like salicylic acid to help lift dead skin cells and clear acne-causing agents like excess sebum, dirt, and makeup from clogging your pores. "LHA gently exfoliates to minimize the appearance of blemishes, large pores, and shine," Joel Schlessinger, MD, tells SELF. It also helps prevent new pimples from forming, making it excellent for those who experience breakouts that are looking for a preventative solution to their acne.
Lipohydroxy Acid For Dark Spots
Since LHA is such a great exfoliant, it possesses the power to lighten and fade dark spots to ultimately create a brighter, more even complexion. "All dark spot treatments work by peeling to reveal lighter skin, or shrinking or de-clumping the pigment cells," Francesca Fusco, MD, a dermatologist at Wexler Dermatology in New York City.
SheFinds receives commissions for purchases made through the links in this post.