If there's one thing I am consistently diligent about, it's my hair. I've spent countless hours, not to mention money, in attempts to achieve that perfect cut, color and style. Considering pretty much anything you do to your hair can damage it, ensuring the products you use are in line with restoring your hair's health and vibrancy is a major concern. One of the key steps to keeping your hair healthy and happy is incorporating a moisturizing shampoo into your routine. I rarely ever miss my color appointments (every three or so months) and keeping up with the maintenance to ensure my hair stays soft and luminous can be difficult. That's why swapping out my regular shampoo for a moisturizing shampoo has saved my strands.
While learning the cardinal rules of hair care, it's important to note that shampoo shouldn't be an afterthought.  In order to reverse and combat dry damage, you need to start at the root of the problem (no pun intended). If you're consistently coloring your hair, you want to keep it luscious and vibrant as long as possible in between coloring sessions. With highlights or dyeing your hair comes the risk of drying out of your locks and dreaded split ends. Shampooing your tresses is your first line of defense against dry, brittle hair. However, bottled blondes, brunettes and redheads aren't the only ones who should use hydrating shampoo. Anyone can have dry hair prone to breakage but identifying when your hair is lacking the moisture it needs is the key.
You can easily identify when you feel a lack of moisture on your skin. It feels like your skin is thinly stretched across your body like you would stretch saran wrap across leftovers. It's tight, uncomfortable and begins to cause tons of other issues (we're looking at you, flaky skin). Not sure when your locks need some extra moisture? My expert hairstylist and colorist, Madison Garrett of Spoke and Weal, has some advice.
"When trying to decipher if you have dry hair or not, there are a few factors to consider. How long has it been since your last haircut? What kind of color services have you been getting (highlights, double process)? How often are you using heat styling? What type of heat protection products are you using? If your hair is dry it will generally be frizzy, brittle, feel straw-like, more tangled than normal and puffy," Garrett said.
Luckily, these moisturizing shampoos come in all shapes, sizes and prices to fit everyone's particular needs. The key is knowing what to look out for. This easy list will help you decide if your shampoo is a good moisturizing shampoo to invest in: 
1. Coconut Oil
If your shampoo lists coconut oil as an ingredient, there's a good chance it will help moisturize your hair. It helps prevent dryness and flakiness and can be used for things like cooking to moisturizing your body.
2. Babassu Oil
This oil, which is native to palm trees in the northeastern part of Brazil, is known for its multi-purpose use. It can help seal up split ends while also combat dryness by restoring the elasticity to your hair.
3. Argan Oil
Because it's extremely rich in Vitamin E, fatty acids and antioxidants, this essential oil helps to nourish hair that's been damaged by color, chemical processing or heat styling.
4. Buriti Oil
This particular oil is known for helping aid damaged skin – think burns, cuts and scars. It also helps soothe dry and cracked skin so you can only imagine what it does for your tresses.
5. Keratin
Keratin is actually a type of protective protein that makes up your hair, skin and nails. Because keratin is a building block of your hair, keratin supplements, treatments and products can help strengthen your hair and make it appear healthier.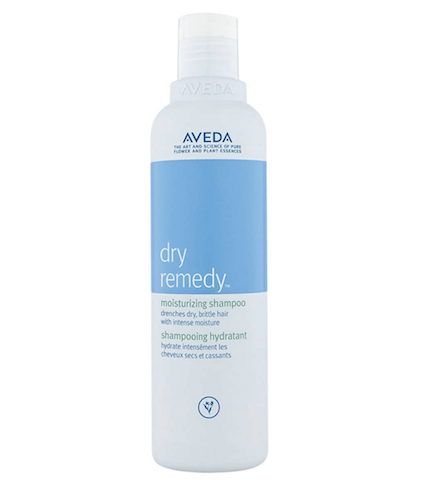 Aveda Dry Remedy Moisturizing shampoo ($30)
Garrett recommends Aveda as the best moisturizing shampoo and conditioner to use when it comes to dealing with dry hair. "The Aveda Dry Remedy Moisturizing line is wonderful because it comes with a shampoo and conditioner that can be used for every wash," says Garrett. Because this is an entire regimen, you can really use all the products to target your lack of moisture. Garrett also added that this duo "works from the inside out" thanks to the fact that the dry remedy treatment "is liquid based so it actually penetrates the hair and seals down the cuticle which locks in all that protein and moisture."
Briogeo Scalp Revival Charcoal + Coconut Oil Micro-Exfoliating Shampoo ($42)
I've never had scalp issues before, but recently I've noticed more flakes on my black blouses. I immediately set off to help soothe my scalp by using this Briogeo clarifying shampoo. It's the coolest/most interesting shampoo I've ever tried. It not only smells like a thin mint cookie (thanks to the spearmint, peppermint and tea tree oil), but it also comes in a thick mask-like formula that makes it suds-less when you massage it into your hair. The best part? It's moisturized and revitalized my scalp and I have zero issues now.
Moroccan Oil Moisture Repair Shampoo $24
I've been a loyal fan of Moroccan Oil since high school. Not only do their products smell divine, but I've found that the brand is trustworthy to always yield results. It definitely helps heal your hair and gives it an extra boost of shine in the process.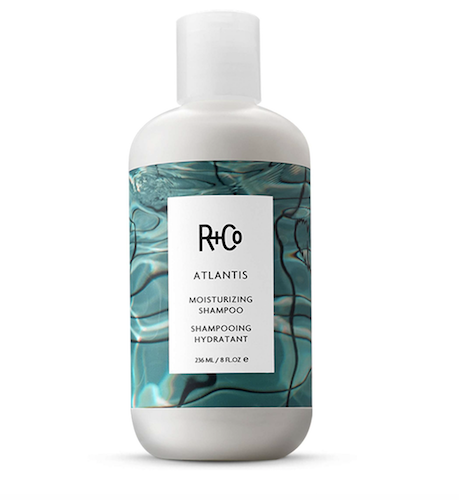 R+Co Atlantis Moisturizing Shampoo $28
Although I have typically straight hair, I find that it gets a little frizzy when I let it air dry without proper products. After trying this moisturizing shampoo, I noticed that I had less frizz after my morning shower and was able to let it air dry. This R + Co shampoo offers a lightweight option to lock in extra moisture while also doubling as an anti-frizz shampoo.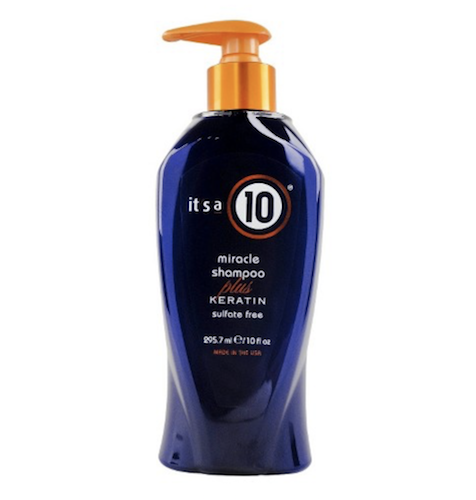 It's a 10 Miracle Shampoo Plus Keratin ($23.67)
When dealing with my hair, I always have a combo of It's a 10 hair products in my beauty arsenal. Their Miracle Leave-In Plus Keratin spray was one of the first beauty products I ever bought myself. However, I found that this shampoo has really made a difference in the split ends I tend to have with heat styling. It helps seal the cuticle so it strengthens my hair to prevent it from splitting so easily. It also works for all hair types so you can use it no matter what you have on your head.
More on SheFinds:
-The Best Layering Tee For Transitioning Your Wardrobe Into Spring Is Only $11
-These Are By Far The BEST Cropped Jeans I've Ever Owned
-We Found The 5 Best Eyeshadows To Give You Crease-Free Lids All Day Long
SheFinds receives commissions for purchases made through the links in this post.