To be honest, I have always been iffy about applying serums into my routine. Even if they're listed as natural serums, I tend to be on the oily side of the skincare spectrum and serums always made me feel like I would instantly have that mortifying middle-school breakout. Luckily, I began using a few of these natural serums and found that they are incredible for helping you achieve supple skin while also combating fine lines and wrinkles. I'm extremely diligent about my routine but the more skincare items I try, the more I realize that although I love to try new things, I'm definitely a brand loyalist. Here are the serums I tested and loved so much, I will continue to buy them for years to come.
If you haven't read about my newfound obsession with the Drunk Elephant brand, then you clearly haven't been reading my articles. Drunk Elephant gets a coveted spot on my list thanks to its commitment to being clean, non-toxic and biocompatible. This non-toxic night serum has changed my skin in ways that usually require a professional dermatologist appointment.
Another fan said:
"This serum is a skincare wonder. It basically does what a chemical peel would do without the extra harsh side effects on the face; like the product suggests, this serum truly exfoliates and brightens the skin. I have noticed a visible difference in my skin quality in just as little as a week. It always leaves my skin with a wonderful glow. It does tingle a little bit but that just shows that the product seems to be working."
To be honest, it took me a good five minutes to figure out how to open this natural serum. Once I did, I was hooked. It's a twist cap that has a push button on the dropper to release the serum effortlessly onto your skin. The formula itself is odorless and silky to the point where I could barely feel it once I put it on. However, in merely a few days I noticed a huge difference in the plumpness and softness of my skin after using it.
A purchaser raved:
" It's like my skin just drank from the fountain of youth! In minutes after application, my skin is PLUMP like I've never seen before. It does everything it claims and I agree with the last review… I WILL BUY THIS ANTI-AGING SERUM FOREVER. Farmacy is skyrocketing to my favorite skincare line. I will try the entire line all because of this product."
I particularly like these Glossier serums because the three-pack go so seamlessly together. They're super lightweight and here is one for every issue you may have and it helps you learn what your skin needs. I like using all three on different days depending on what I think my skin needs. The best part about these natural serums is that they really teach you to understand what your skin is lacking. See below for yourself.
One shopper said:
"My skin absolutely loves these. I bought the pack of three, and basically just choose one to use every day based on how my skin feels. If I can feel a breakout coming, I use the clear. If my skin feels dry, I use the bounce. They absorb quickly and feel really great. I'm a fan!"
The hefty price tag originally gave me pause to test out this serum but curiosity got the best of me and now I'm obsessed. It's best to use this at night after cleansing. While your sleeping, it works to resurface wrinkles, repair, hydrate and strengthen your skin. I noticed a major difference in my pesky fine lines and even though it's pricey, a little goes a long way. You only need a pea-sized drop of product to get the job done.
One purchaser said:
"Such an amazing product!!!!! As we age our cell turnover is not as quick as it used to be resulting in dull skin. This product helps to speed up cell turnover resulting in younger, fresher looking skin. Thank You!!!!!"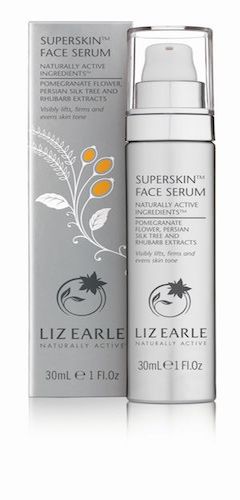 This British cult favorite brand has recently launched in the U.S. and PRAISE BE. When someone recommended this natural serum to me, I was skeptical because like I said, I'm usually a brand loyalist and stick with what I know. Luckily, I decided to take a chance on it and my skin is exceptionally luminous thanks to it. I especially love that this serum is thick yet it doesn't leave me greasy where I feel like its clogging my pores. I got to chat with Sarah Carr, Liz Earle Beauty Co. Ambassador & Facialist to ask her all my burning questions about serums and why this one is so great.
Q. When looking for a natural serum, what key ingredients should you be looking for?
A. Powerful plant-based ingredients that are going to brighten, firm and plump the skin from within. We use extracts of Persian silk tree to even skin tone, pomegranate flower to lift and firm, and rhubarb root to plump and smooth.
Q. How often should you apply a serum? Should you apply before/with/after your moisturizer?
A. A serum is a daily morning product to use after cleansing and toning and before your moisturizer and SPF.  Coming into summer months I'll often use serum alone minus moisturizer before SPF if my skin feels oiler. When my skin needs an extra boost I'll use it in the evening as well under night treatments.
Q. Why are serums so important in your skincare routine?
A. In short, they're a potent blend of easily absorbed ingredients to boost your skincare routine and target specific concerns that face creams won't.
Q. What makes the Liz Earle Superskin™ Face Serum stand out from others?
A. I love that our serum was designed to target three different skin concerns − hydration and the appearance of fine lines and skin tone. The concentrated blend of plant ingredients is hardworking and the formulation is quickly absorbed to give skin an almost instantaneous glow.
Q. Do you have any insider tips or tricks for incorporating a serum into your skincare regimen? 
A. A serum will work even harder for you when the skin is properly prepared and hydrated. By first cleansing – I'd recommend our classic Cleanse & Polish™ − and toning with Instant Boost™ Skin Tonic you are buffing the skin to remove dead skin cells and then hydrating it, providing an ideal base for your serum to sink into. I recommend applying and smoothing serum over the face and neck, then pressing into the skin to help aid absorption.
More on SheFinds: 
-Your Guide To The Best Leggings Ever Starting At Just $29
–These 5 Best Eye Brighteners Will Revitalize Your Eyes -& They Have The Reviews To Back It Up
-The Best Layering Tee For Transitioning Your Wardrobe Into Spring Is Only $11
SheFinds receives commissions for purchases made through the links in this post.