It's not uncommon for those with mature skin to experience dryness. If you're noticing that your skin is more dry than usual, dermatologists recommend switching to hydrating products that will help restore the skin's moisture and strengthen the moisture barrier. But, this doesn't only apply to your skincare products; your skin can also benefit from switching to hydrating makeup products as well–starting with a tinted moisturizer. Need help finding the best tinted moisturizer for dry skin? Target shoppers can't stop raving about W3LL People's Bio Tint Moisturizing Foundation, a natural, oil-free tinted moisturizer that helps keep the skin hydrated, healthy, and radiant.
READ MORE: This $16 Foundation Is Selling Out At Target Because It Makes You Look 10 Years Younger
How To Apply Tinted Moisturizer Flawlessly
Celebrity makeup artist Sir John, who works with stars like Beyoncé, Gabrielle Union, and Joan Smalls, says that you need to moisturize your skin before applying your tinted moisturizer of choice. If you don't, then the product will dry on top of your skin instead of absorbing seamlessly, causing a "disconnect between how the foundation cements onto your complexion."
Then, he recommends applying your tinted moisturizer with a damp makeup sponge to create a flawless glow. But, he doesn't suggest putting it all over your face. Instead, he says it's best to apply it only where you need coverage. Not only will this give you a natural makeup look, but it will also help the foundation blend out perfectly.
Keep scrolling to learn more about W3LL People's Bio-Tint Moisturizing Foundation and how it will transform your skin: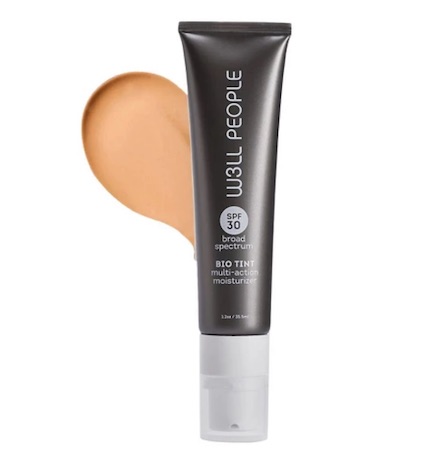 TRY IT: W3LL People Bio Tint Moisturizing Foundation ($28.99)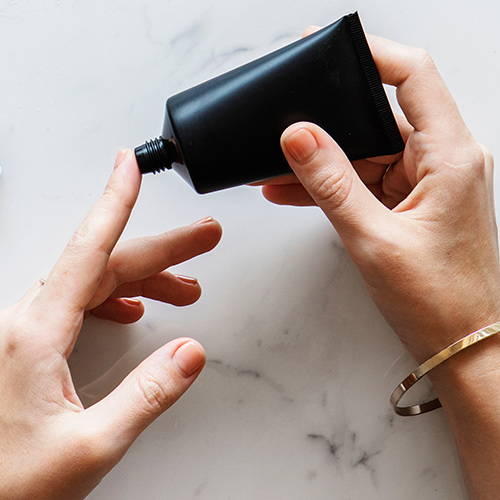 Shutterstock
Key Oil-Free Tinted Moisturizer
-Promotes collagen production and hydration for younger-looking skin.
-Corrects imperfections, brightens, and rejuvenates skin.
-Features SPF 30 broad-spectrum protection with pure zinc.
Notes From the Brand:
"Achieve one-step perfection with this breakthrough natural makeup/skincare hybrid. Active phytonutrients and pure zinc protect, brighten, hydrate and improve skin quality while diminishing imperfections. Enjoy a flawless, natural, more radiant complexion with this luxurious, organic, plant-based wonder."
Shutterstock
Promising Reviews Of The Best Tinted Moisturizer For Dry Skin
"Not greasy. Great coverage. Finally a good tinted moisturizer." - Pz2018
"This product does not sit in fine lines nor emphasize pore size, it actually blurs the looks of lines and pores. It is a true med coverage, most products say med coverage but are too sheer for us aging gals! I set it with the W3ll setting powder the sheer one. Love it!" - malp007
"I purchased a trial size of this tinted moisturizer a while back as I was transitioning to veganism and green beauty. Though I generally prefer a matte finish with my face products, I love the dewy glow this product gives. I just 'tone it down' a bit with powder to set and mattify. It feels good on and, with regular use, I felt the nourishment and that I was giving my skin. I've used my fingers and a beauty sponge to apply; just depends on what I feel like using that morning. The coverage can be built up to a medium-to-full coverage level, in my opinion. (It is, after all, a tinted moisturizer versus a foundation.) I did have to gently squeeze in an upright position every time I used it because the liquid(s) separates a bit - but that's ok as it indicates the product is more natural and doesn't have unnecessary ingredients to bind everything to "make it look good." I recommend this product to anyone looking for a green product that works great and is good for you!" - CourtMess
SheFinds receives commissions for purchases made through the links in this post.