Blake Shelton and Gwen Stefani's relationship is really getting serious. The country singer has been spending more time with Gwen's children, Kingston, 11, Zuma, 9, and Apollo, 4, and he's really enjoying being a father figure to them.
Now, it looks like Blake and Gwen may be thinking about having a baby together!
A source close to the couple revealed that they're at a point in their relationship where having kids has come up and it's something that they're both on board with.
"If Gwen wanted to try having a baby with him, then Blake would be completely on board," the insider tells Hollywood Life. "He is not going to pressure her one bit but if she wants another, he will gladly be the one to try, and his hopes would be to have a boy. But the decisions on all of that are on Gwen and he is going to keep it that way."
But, the source also said that Blake is perfectly fine with being a "stepdad" to the kids and that there's no rush for him.
"Blake has fallen in love with Gwen's kids and has a complete blast with them," the source continues. "He, of course, would love to be a father of his own, but he is also a little scared about doing it as well. He is currently content with being a stepdad and is happy in that role."
In fact, The Voice judge said that he didn't realize how much he'd enjoy being a dad until he met Gwen's kids--and he even thought that he'd missed his chance of being one, too.
"At this point in my life, I kind of put that—well, I guess that wasn't meant to be—and then all of a sudden it happens one way or another, and I'm like, wow, I really missed out on a lot, you know," he told Kathie Lee Gifford and Hoda Kotb last month. "Having them around is, I don't even know how to describe it. It's so much fun."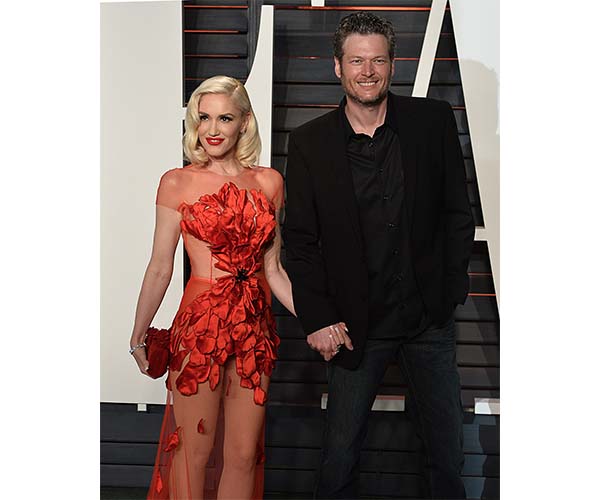 Aw! We hope they start a family soon!
Do you think Gwen & Blake are ready to have kids together? Let us know in the comments below!
[Photos: Splash]