There's nothing worse than waking up bloated in the morning, right? Starting your day with inflammation sets you up for hours of annoying discomfort. When you feel self-conscious about how you look in your clothes due to bloat, it's an instant day ruiner. No one wants a food baby first thing in the morning!
Luckily, there are certain steps you can take to eliminate and try to prevent inflammation altogether. The best thing you can do is make sure your diet contains anti-inflammatory foods. Scroll down to see the one food that is scientifically proven to help with inflammation. It makes a great breakfast food, too!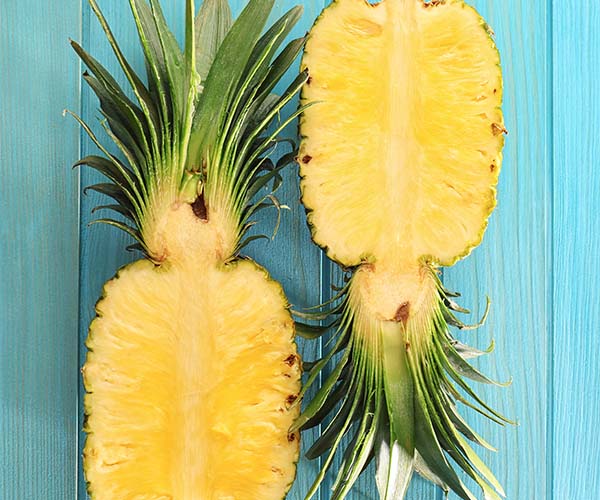 It's pineapple!
Pineapple is the secret ingredient to reduce inflammation in the morning. You probably already eat the fruit without even realizing all of its amazing benefits. The delicious tropical fruit contains enzyme bromelain which is an anti-inflammatory. Consider it like a natural anti-inflammatory supplement!
Bromelain has been proven to eliminate swelling in the body and is used to treat all sorts of inflammation conditions. Not only will it cure your belly bloat, it also helps repair inflamed muscles from a tough workout, and injuries like sprains and strains. For your stomach, pineapple's amazing natural properties break down proteins which enhance digestion.
To benefit the most from your pineapple, eat the fruit raw. When Bromelain is heated, the enzyme is broken down and destroyed. Once pineapple loses this enzyme, it will no longer aid in removing inflammation. But that's not all! Pineapple with inflammation isn't the only health benefit pineapple has. It's full of other essential vitamins and minerals. The fruit is rich in antioxidants, vitamin C, vitamin B1, potassium, and manganese, too!
For breakfast, try adding pineapple into Greek yogurt. Yogurt contains probiotics which aid digestion and will further help eliminate inflammation in your stomach. You can also put pineapple in oatmeal, eat it in chunks as a snack, or blend it into a smoothie. The possibilities for this sweet tropical fruit are endless!