Most people agree that breakfast is the most important meal of the day — or high up on the list, at least. But not everyone actually agrees on which foods they should be eating and cutting out of their breakfast routine when weight loss or fat burning is a priority.
If you're like a lot of people, these are the four breakfast mistakes you're making every morning that are causing stomach rolls. Fortunately, there are simple ways to stop those errors and replace them with better habits.
Shutterstock
You're Loading Up On Refined Carbs

From bagels to muffins to sugary cereals, there are so many breakfast foods marketed to us that are really just desserts in disguise. Refined carbs contain a ton of sugar, but most of their fiber content is missing in action, which means you aren't getting the benefits of a complex carbohydrate that contains B vitamins, minerals, and that all-important fiber.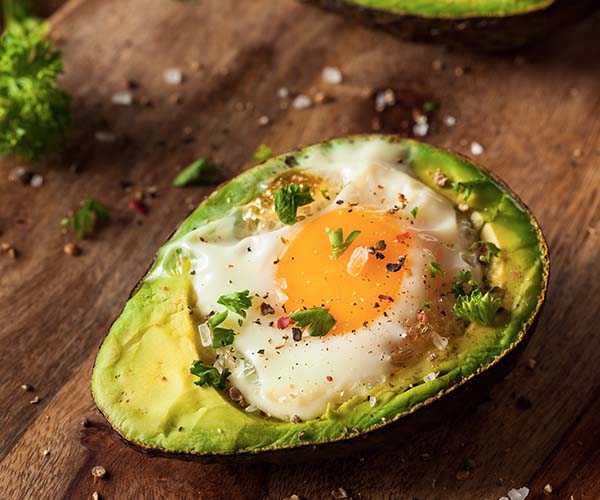 Shutterstock
The solution to this mistake is simple: cut out refined carbs like white bread and replace them with whole-wheat toast, steel-cut oats, and additional ingredients like eggs, fruit, veggies, and healthy fats (avocado is a great choice). These foods will fill you up faster and keep you fuller for longer.
Shutterstock
You're Eating Processed Meats

Another food that can weigh you down? Processed meats like bacon, ham, and sausage. Many people are used to adding these meats to eggs or breakfast sandwiches, unaware that they're also filling up on trans fat and cholesterol, both of which can contribute to health issues and weight gain.
Shutterstock
If you love meaty foods in the morning, try swapping processed meats for leftover grilled chicken, grass-fed beef, or turkey that doesn't contain nitrates. These foods are high in protein, but lower in calories and saturated fat.
Shutterstock
You Use Creamers With Artificial Flavors

Non-dairy creamers are generally a trans fat nightmare — one with a number of artificial ingredients. Lots of people love a rich, creamy cup of coffee, but you're better off using a drop of whole milk or a milk alternative like almond, flax, or oat milk.
Shutterstock
You Skip Breakfast

Skipping breakfast is not a solid option when it comes to weight loss. Not eating meals actually slows your metabolism, making it more difficult for your body to burn fat and calories. Your body will instead try to hold onto that fat for nourishment.

It's always a better idea to eat breakfast — even if that breakfast is a fast bowl of Greek yogurt with nuts and berries.