In 2019, the biggest wedding trend isn't really a trend. It's more of a state of mind: nonconformity!
Millennial brides are non-traditional and therefore their weddings will be. They want their bridal parties to be co-ed, small or even non-existent. They want their bridesmaids to pick their own dresses and hairstyles. (Anything but blush–it's out big time!) They don't want to do the same wedding poses that have been popular for years. They even want to bachelorette differently, opting for healthy, bonding experiences over the traditional booze-fueled fete.
Everything about getting married in 2019 will be different than last year. Wedding experts agree that this year, wedding trends will be turned on their heads. Planning a wedding this year? You can throw all notions of "tradition" or how things are "supposed to be" right out the window. Don't believe us?
Without further ado, the 19 trends that will definitely be OUT for 2019, according to wedding experts:
Blush
Say it ain't so! "Bye bye blush tones and champagne, it's all about drama and romance!" Elizabeth Brook of Wedgewood Weddings tells us. "Of course, this color combo is a beautiful palette, but in 2019 we're seeing a growing popularity of much more deep, rich tones like plum and eggplant, dark reds, olive greens and the like." Thank you, next!
Booze-Fueled Bachelorettes
"Brides and bridesmaids are adding a fitness component to their celebratory weekend for a hangover-free take on the Basic Bachelorette Weekend," Katia Pryce, founder of DanceBody tells us. "A workout will help you look and feel your best before the wedding. Plus, if you opt for something dance-based your squad will have moves to show off at the party and reception!" So true.
Squad Gear
"'Fe-yonce' and squad outfits are cute, but the bride-to-be is eager to gather their girls in floral robes, custom slippers, and personalized tumblers," Elizabeth explains. "They're gifts that last a lifetime and look fantastic in photos!"
Charlotte Hale, founder of Plum Pretty Sugar, agrees. The customization trend will be, "Less monogramming and 'words'" she explains, and more "small and unique details," such as a unique emoji embroidery on a bridesmaid dress lining or shirt pocket.
Female-Only Bridesmaid Parties
"Bridesmaids, by tradition, have typically been the bride's closest girlfriends. But, brides should no longer automatically disregard their best guy friends from the wedding party," photographer Kaitlin Cooper tells us. "Millennials have been shaking up the wedding industry, and there has been a rise in the number of weddings where men are a part of the bride's entourage. They're called bridesmen."
Matching Looks
"More brides are encouraging their bridesmaids to be comfortable and show off their personalities by opting for chic coordinated looks rather than all matching dresses," Liz says of the weddings she's witnessed through her design business, LPF Blooms. "Brides are designating a color palette and length and letting their friends choose styles that suit their personality."

"Gone are the days when every bridesmaid is expected to wear the same exact dress (which is rarely flattering on everyone)," Kaitlin agrees. "In 2019, it's expected that less brides will take the traditional approach when it comes to this, and they'll let their bridesmaids pick out their own mismatched dress for the wedding.

"I think we will start to see fewer bridal parties with the same style dress and more modern dresses with mixed patterns, textures and even two-piece styles," Thumbtack wedding planner Courtney Osborn of Events by Courtney Ann confirms.
Large Bridal Parties
"As weddings get more expensive and couples want more intimate and personal celebrations, the number of bridesmaids is decreasing," floral designer Liz Mally of Detroit-based LPF Blooms tells us. "Brides are asking their closest friends and family to stand by their side rather than their whole sorority."
"A lot of brides are starting to ditch the large bridal party altogether, opting instead for just a MOH, just family or none at all and instead asking those close friends to just wear a similar color for a few photos," wedding planner Kayla Dingman of W Austin tells us.
Uniform Hairstyles
"For 2019 it is more so that everyone has a slightly different style that still looks cohesive, but not everyone is the same (ie. everyone has half-up/half-down hairstyle)," Katelyn McCullough, co-founder of luxury beauty concierge service Elwynn + Cass tells us. "For example, every bridesmaid can choose their own style of hair, but maybe they all have a braid somewhere to keep the look cohesive or it's a bohemian theme, so the looks are all a little tousled and effortless looking."
Big Bouquets
"Many brides are opting for a smaller bouquet themselves and something even more minimal for their bridesmaids, such as a few focal flowers and some greenery," Liz explains.
Dresses They Can't Wear Again
Versatility is big for 2019, Charlotte explains. "Wear it again and in multiple ways--for real," she says of both bridesmaid dresses and robes. "It's a planet-friendly vibe… less clothing in landfills." Amen to that!
Matching Robes
For getting ready, it's less about matching the robes, and more about giving your girls a variety of options that fit her personality, Charlotte says.
The 'Bridesmaids' Pose
"Most of us have seen the movie 'Bridesmaids' and are familiar with the iconic pose [up against the wall]," Kaitlin advises. "That pose needs to go back to 2011, because it is dated, not creative, and unflattering for the bride and bridesmaids!" Rather than trying to force this photo, Kaitlin suggests letting your photographer have the creative freedom to place you in unique and flattering poses.
"Fun, organic poses are still on-trend and a classic addition to a photo album, while 'Bridesmaids' has been done time and time again and are out the door," Elizabeth agrees.
Floral print dresses
"These are no longer happening," Elizabeth warns. "Short lived and gorgeous, but definitely not something that we'll be seeing in 2019."
Plum And Burgundy
"Since Living Coral was announced as the 2019 Pantone color of the year I think we will start to see more peaches, dusty blues and grays. I think this also means we will probably see less bright and bold colors like plum, burgundy, red, etc.," Courtney Ann comments.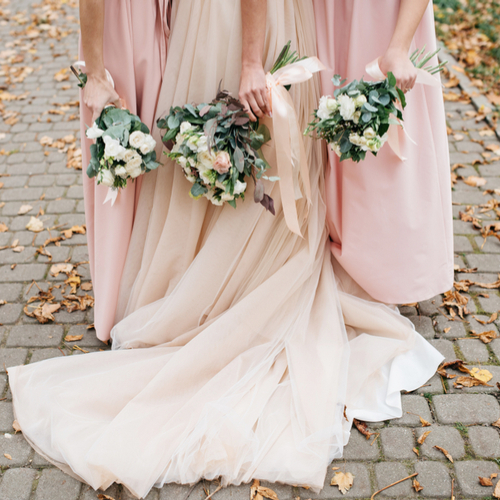 Single Color Palettes
There will be, "Less constraint on color and one color," Charlotte says. "Instead, a complimentary palette that includes thoughtful hues, patterns and tones and allows the bridal party to select an expression that works for them," will be in.
Physical Bridesmaid Gifts
"We are seeing brides get away from traditional gifts for their bridesmaids and now creating experiences," Keri Macanas of JW Marriott Las Vegas Resort & Spa tells us. "Some of our bridal parties come in early for group spa treatments, yoga classes and hiking. It's about spending time together."
Basic Bridesmaids
"The trends seem to be heading in a more whimsical, almost regal direction, a la Meghan Markle," Kayla explains. Expect to see bridesmaids trading out "the cheesy, cheap jewelry and monotone dress palette," for "velvet dresses or even jumpsuits in deep jewel tones with fresh flowers or simple headpieces." Stunning!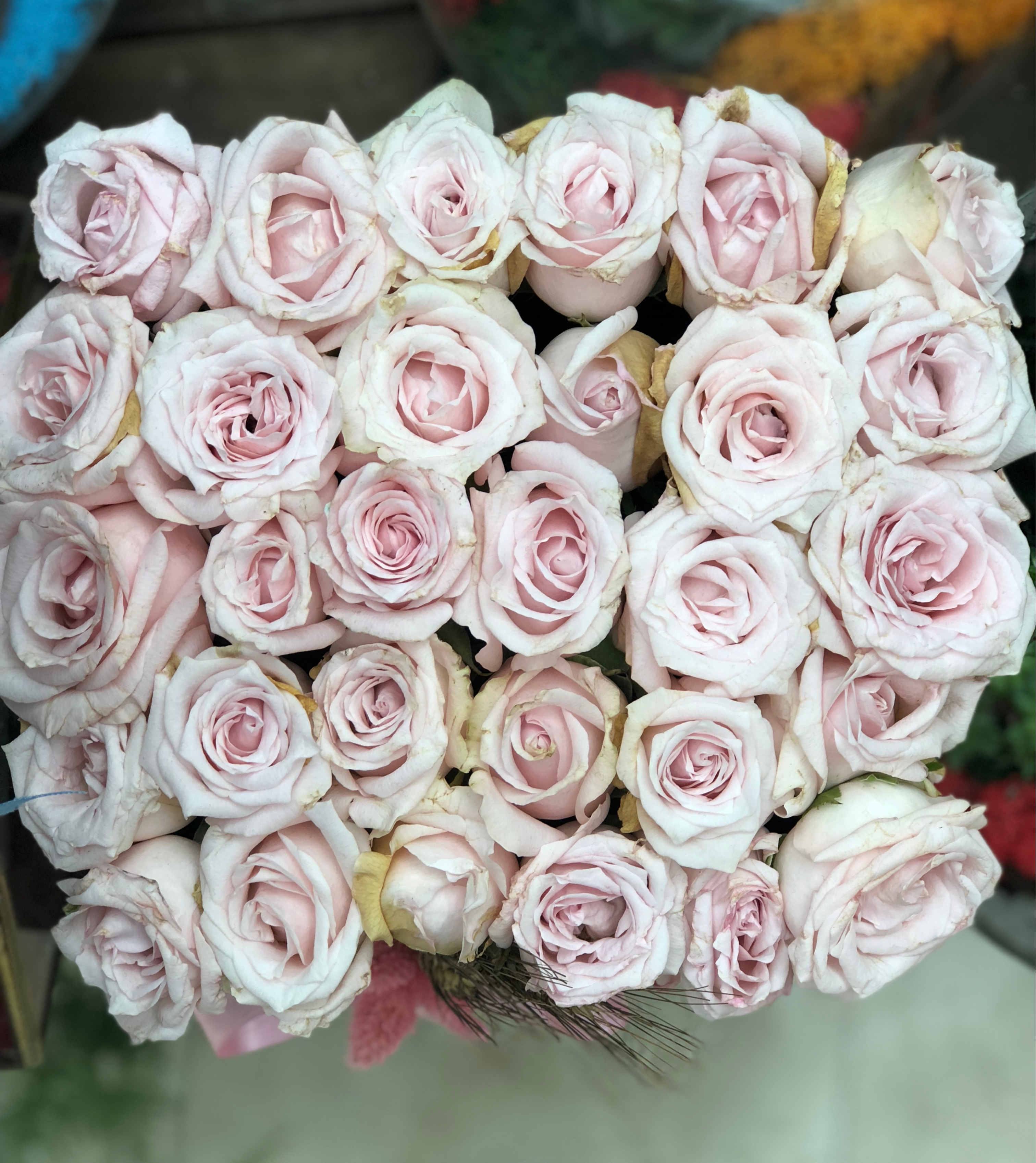 Traditional Bouquets
"We are seeing couples move away from the traditional bouquets," Joan Wyndrum of Blooms by the Box tells us, opting instead for "embroidery hoops and lanterns donned with florals." Wow!