Breakfast is a meal that is notorious for introducing carbs into our day — but because not all carbohydrates are created equal, that isn't always a good thing.
There are two categories of carbs: refined and unrefined carbs. Refined carbs are stripped of fiber content and other nutrients and are higher in sugar, which means they spike your blood sugar levels and send you crashing hours later. Unrefined carbs have the opposite effect: they boast fiber, protein, and vitamins and minerals and provide long-term energy to kickstart your morning the right way.
Here are four carb mistakes you're making every morning that are slowing your weight loss.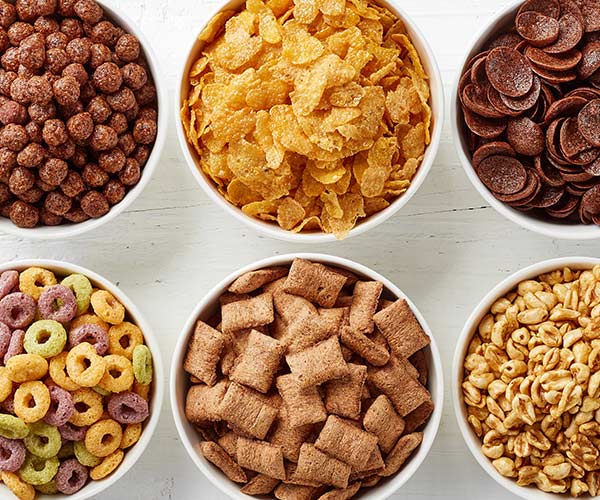 Shutterstock
You're Eating Sugary Cereals

Cereals are a fast, convenient breakfast food and we totally get why they'd be on the top of your breakfast list. But this is one case where it's important to read labels carefully. Some cereals, including brand of Raisin Bran (believe it or not) have as much as 18 grams of sugar, which is more sugar than a doughnut.
Shutterstock
You Aren't Balancing Carbs With Other Nutrients

That jumbo bagel with strawberry jam is delicious and feels satisfying when you eat it, but it's also packed with carbs, sugar, and not enough fiber and other nutrients to sustain you for hours. A better way to enjoy that bagel is to eat half of the bagel with a filling protein source like eggs.
Shutterstock
Your Smoothie Is A Sugar-Packed Dessert Treat

Smoothies can be a healthy breakfast alternative — as long as the ingredients that you use are healthy and low in sugar. There's a huge difference between drinking a sugar smoothie filled with some fruit and fruit juice and frozen yogurt and whipping up a smoothie with whole foods like green leafy vegetables, chia seeds, nuts, and Greek yogurt.
Shutterstock
You Use Non-Dairy Creamer In Your Coffee

A cup of coffee often tastes better with rich, sweet ingredients added to it, but many non-dairy creamers are high in sugar and trans fats, which are linked to belly fat, weight gain, and diseases like cardiovascular disease.

Skip the creamer and add a dash of milk or almond milk instead.