Carbohydrates are an important part of your diet — really. Despite all of the bad, terrible, no-good press carbs constantly receive, it's worth making a distinction between good carbs and bad carbs. Because there truly are "good" carbs that can actually help you lose weight and keep you on the right path toward meeting your health goals.
Unfortunately, refined carbs that aren't doing us any favors often steal the show when it comes to how we think about carbs. This is the one carb you should stop buying at the grocery store in 2019, according to experts.
Shutterstock
Refined carbs is the category of carbohydrates that people are thinking of when they think "bad" carbs. In this group you'll find the usual suspects — white bread, cereals stripped of their nutrients, white rice, pastries, cookies, and other starchy foods that are high in sugar and low in fiber and all of the other amazing nutrients that you can actually find in unrefined whole grains (a.k.a. the carb keepers).
Shutterstock
A good way to remember the difference between bad and good carbs is to think about which foods you can find in nature versus which have been processed and stripped of their natural nutrients. Examples include potatoes versus French fries; barley and oats versus Raisin Bran cereal; and raw nuts and seeds versus sugary granola bars.
Shutterstock
When it comes to choosing one of the worst carbs you should wipe right off of your grocery list this year, we turned to expert David Zinczenko, creator of Eat This, Not That!, who listed 22 of the worst carbs in America.

There were quite a few common carb offenders on this list — no one will be shocked to learn that foods like bagels, jelly, and crackers are not going to add much more than sugar to your diet. But one food type stood out above the rest.
Shutterstock
Sugary Coffee Drinks

In many cases, you can make an excuse for why eating a bagel or white rice complements certain dishes. And celebrating with a piece of cake or a breakfast party muffin makes life worth living.

But the number one bad carb choice on the list is sugary coffee drinks for a valid reason — it takes an otherwise healthy beverage and sweetens it up to the point where it becomes unidentifiable — and not recommended as something to drink on a daily basis.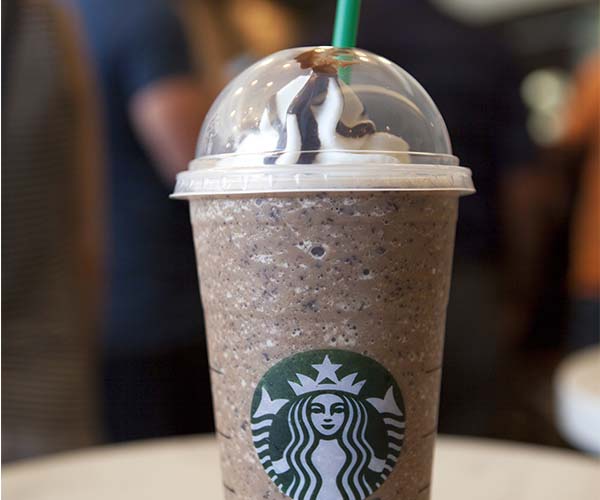 Shutterstock
According to Eat This, Not That: "Coffee is great news for your health and weight loss goals: It packs a virtually calorie-free boost to your metabolism, it's rich in disease-fighting antioxidants and it reduces the risk of Type 2 diabetes, colon cancer, liver cancer, gallstones, cirrhosis of the liver and Parkinson's disease. But those benefits are offset when you dump fatty and caloric additives into this amazing stuff — or worse, order a coffee chain's drink that has the same calorie and carb profile as a dessert."
Shutterstock
Just to give you some idea of how bad those sugary cups of coffee can get: even two pumps of your average flavored syrup (which baristas love to liberally add to coffee drinks) can pack in as much as 40 calories and 10 grams of added sugar.

The next time you have a craving for coffee with a hint of sweetness, you'd be better off adding a drop or two of almond milk and a teaspoon of sugar.