If you want to start your day off with a bang – and a great deal of long-lasting energy that powers you through the morning — grapefruit and coffee isn't going to cut it. This one carb you should have right after you wake up is the opposite of everything you've probably been told about carbohydrates. It doesn't contain simple sugars, won't spike your blood sugar levels and cause you to crave more sugar, and it's rich in fiber, protein, and vitamins and minerals.
Did we mention it complements so many other healthy and delicious foods that you can, literally, fill your bowl with a wealth of goodies? Meet your new favorite breakfast carb.
Oats
They've been around as a popular breakfast since before your grandmother, but old-fashioned oats are a timeless food choice for two simple reasons: they're really filling and are loaded with nutrients.
One cup of oats (which is probably more than you'll eat in one sitting) has 104 grams of carbs and 17 grams of fiber. Its fiber content is key to stabilizing blood sugar levels, slowing digestion so that you remain full and content for longer, and regulating your bowel movements. But that's not all. Oats have a sort-of super fiber called beta-glucan that actually lowers your cholesterol, according to Men's Journal.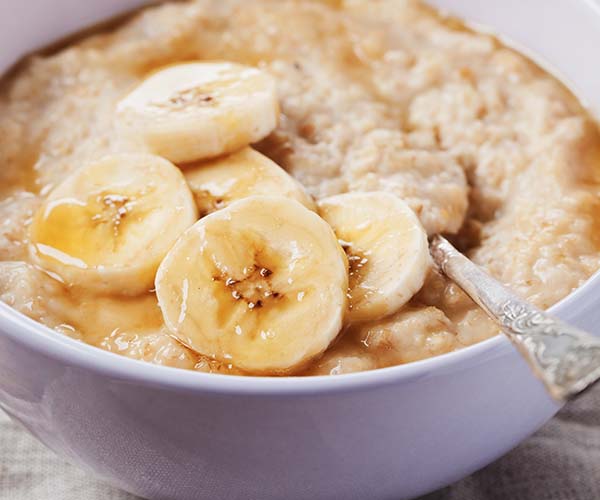 Try Steel-Cut Oats For More Fiber
There are three oat varieties: rolled oats, instant oats, and steel-cut oats. Instant oats, which usually come in a little package and are often flavored and contain more sugar, are the most processed of the three, according to Kitchn. Rolled oats have more texture than instant oars and take slightly longer to cook, and steel-cut oats are the least processed of all, but take the longest to cook.
In terms of nutrition, steel-cut oats have more fiber and fewer calories than rolled oats, but contain the same amount of protein and carbs.
Top Oatmeal With Blueberries
One of the best toppings you can add to oatmeal to jazz it up is blueberries, which are rich in antioxidants that combat cell-damaging free radicals. Blueberries are also a healthy carb source, one that contains two grams of fiber for every cup.
Add Almonds To Your Oatmeal
Adding a healthy fat source to your oatmeal like almonds, which have omega-3 fatty acids and vitamin E, lowers blood sugar levels even more by slowing the release of sugar into the bloodstream. Oatmeal with a handful of berries and nuts is all you need to set yourself up to have the healthiest, most energetic day possible.
For more breakfast tips, check out 4 On-The-Go Breakfast Recipes You Should Make This Week For Weight Loss and 4 Breakfast Bars That Are Actually Good For You on SHEFinds.com.
Photos: Shutterstock