Carrie Underwood has always kept it real when it came to motherhood. Now, the country star is opening up about being a new mom to two-month-old Jacob Bryan Fisher and the unrealistic expectations that are placed on moms in Hollywood.
READ MORE: Carrie Underwood's Been Struggling With Anxiety Following Her Scary Fall
The mom of two got real on Instagram, where she shared a candid post about her struggle to "bounce back" after welcoming her second son.
"I'm going to be honest, 'bouncing back' after having Jacob has been much more difficult than after I had Isaiah and I've been pretty hard on myself lately," the singer captioned her picture, where she can be seen taking a post-workout mirror selfie rocking her CALIA by Carrie athletic apparel and sneakers.
Splash
Underwood went on to explain that she's been having difficulty keeping up with the workouts that she was crushing before getting pregnant, noting that it's been weighing heavy on her self-esteem.
"I go into the gym and I can't run as fast or as far. I can't lift as much weight or do as many reps as I could a year ago. I just want to feel like myself again...for my body to feel the way that I know it can," she continued.
Splash
But, she did acknowledge that her body just underwent a pretty amazing thing and that she's proud of herself for how far she's come. "As I was working out today, I realized that for the past 11(ish) months, my body has not belonged to me. It was a perfect home for Jacob. And even now it belongs to him every time he drinks his milk," Underwood wrote.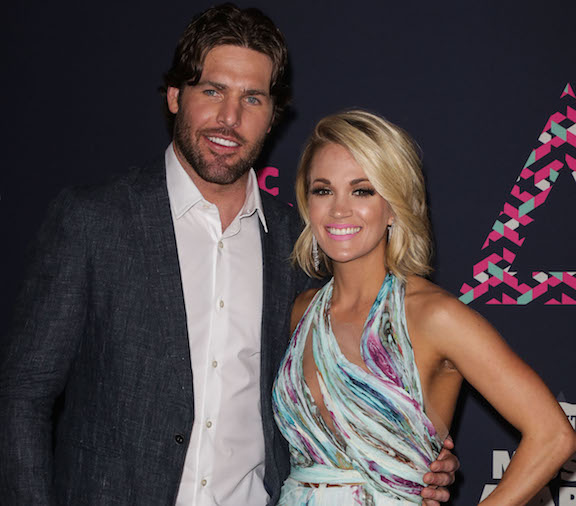 Splash
She concluded her post with a vow to appreciate the body she has now and to try not to fall into a spiral of obsessing over what it can't do. "As I prepare for red carpets and for life on tour, right now I make a promise to myself to start appreciating what my body CAN do and stop focusing on what it can't. I promise to stop analyzing every angle and every curve and every pound and every meal," she explained.
Splash
"I'm going to keep staying the path because it is a journey and as long as I'm always working towards my goals, one day I'll reach them. I'm going to take it day by day, smile at the girl in the mirror, and work out because I love this body and all it has done and will continue to do," Underwood said.
Splash
Carrie's post definitely serves as inspiration for all new moms everywhere and is helping erase the stigma surrounding "bouncing back." We're happy to see the singer use her platform to empower others!