Aww!
Anne Hathaway just shared the first photo of her son, Jonathan, 10 months after giving birth!
The actress posted a sweet snap of her baby boy watching a video of his famous mama speaking at the United Nations about paid parental leave. "JRS watching Mommy give her speech at the UN yesterday #forourboys #forourgirls #forthefuture #loveislove #parentsareparents #paidparental #iwd #ppl @unwomen," the actress captioned the pic. How cute are his lion jammies??
Hathaway and her husband Adam Shulman welcomed their son on May 24, 2016.
Rob Kardashian wasted no time getting a photo up on Instagram of his and Blac Chyna's newborn daughter, Dream Kardashian! He posted this adorable shot just five hours after she was delivered via C-section.
Rob also shared a second image of Dream side-by-side with his late father Robert Kardashian and they really look so much alike!
[Photo: Instagram]
Here she is! Behati Prinsloo shared the first photo of her daughter, Dusty Rose on Instagram. The newborn looks adorable resting on dad Adam Levine's chest (we'd recognize those tats anywhere). Can't wait to see more pic of this cutie!
[Photo: Instagram]
Kelly Clarkson welcomed her second child, Remington Alexander Blackstock, on April 12, 2016. The singer just shared the first photo of her newborn son and (shocker) he's adorable! "Meet Remy, our newest [addition] to the family! #charmfordays #watchoutladies," she tweeted. He looks so happy in mom and dad's hands!
[Photo: Twitter]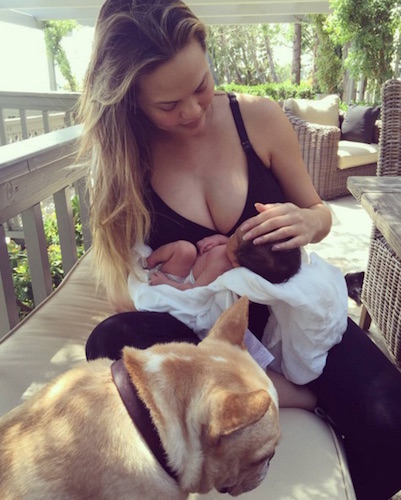 This is adorable! Chrissy Teigen shared the first photo of her newborn daughter, Luna Simone Stephens, on Instagram. "Hi my lulu!" she captioned the sweet snap. Can't wait to see more from Chrissy, Luna and dad John Legend!
[Photo: Instagram]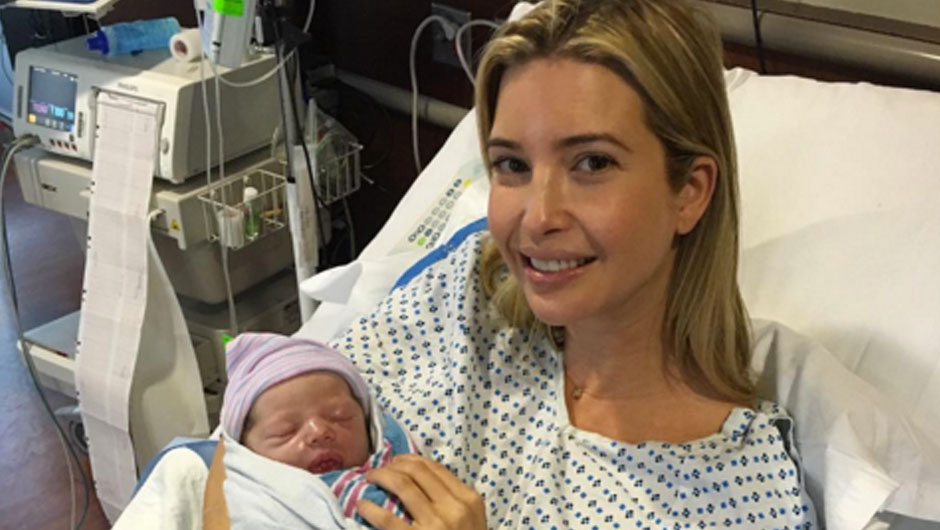 Ivanka Trump and husband Jared Kushner announced the birth of their baby boy, Theodore James, yesterday on Instagram. "Jared and I feel incredibly blessed to announce the arrival of Theodore James Kushner. Jared, Arabella, Joseph and I are so excited to welcome this sweet little boy to our family!" the announcement read. A few hours later, the new mom-of-three posted a picture cradling her newborn. "Baby Theodore. My heart is full #grateful," she captioned the snap. Congrats!
[Photo: Instagram]
Tyra Banks showed off the first picture of her newborn baby boy on Instagram! "This is the Happiest Valentine's Day of my life. York, Daddy @erikasla and I send you so much love," she captioned the picture of baby York snuggling against her chest. Banks welcomed York via surrogate with her boyfriend Erik Asla. So cute!
[Photo: Instagram]
Louis Tomlinson took to Instagram to debut his newborn son! "Meet my little lad, Freddie," he captioned the sweet black and white photo. Tomlinson welcomed baby Freddie with his ex-fling, Briana Jungwirth, on January 22. So cute!
[Photo: Instagram]
Kim Kardashian finally shared the first glimpse of her baby boy Saint West! She shared this adorable picture with fans via Instagram featuring big sister North West. Kim captioned the picture "She said, 'He's my best friend.'" Umm...can this be any cuter?! Although the world is dying to see Saint's face, this picture is good enough for now.
[Photo: Instagram, Splash News]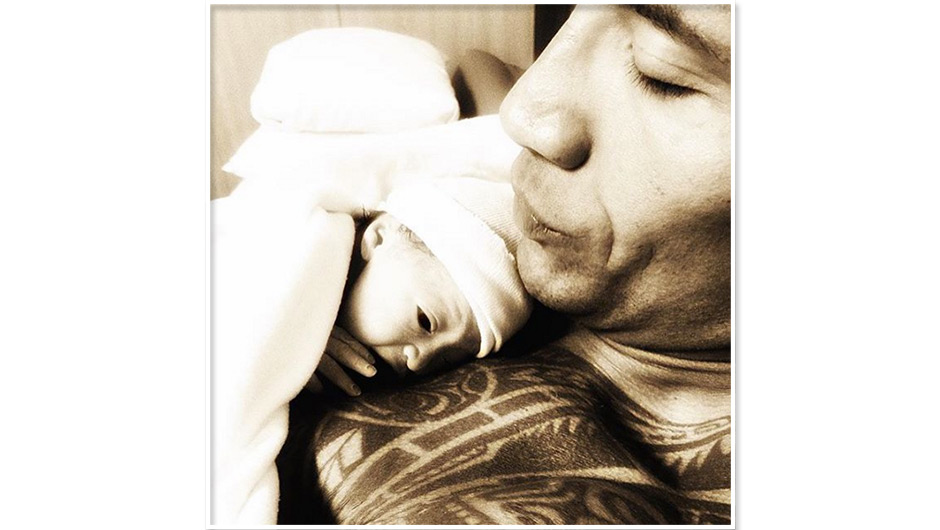 Dwayne Johnson and his girlfriend Lauren Hashian welcomed a baby girl last week. He just posted the first picture of her to Instagram and revealed her name is Jasmine! How cute?! The Rock wrote an extremely heartfelt message to go with this precious photo, "Christmas came early! Within minutes of being born she was laying on daddy's chest. And being a grateful man takes on a whole new meaning... Thank you guys so much for the awesome congratulatory wishes and love you've been sending @laurenhashianofficial and myself." He continued, "We're extremely grateful. Kinda crazy but in this cool and powerful skin to skin bonding moment with my newborn baby Jasmine, I had just one wish I asked the universe... Give me the strength to be a better man today than I was yesterday."
[Photo: Instagram]
Kristin Cavallari posted the first picture of her new baby girl, Saylor James, to Instagram a few days after her birth! She captioned the picture, "Really sad about missing my 10 year high school reunion last night...so many people I wanted to see...but at least I have a good excuse." Mommy and baby snuggle time...so cute!
[Photo: Instagram]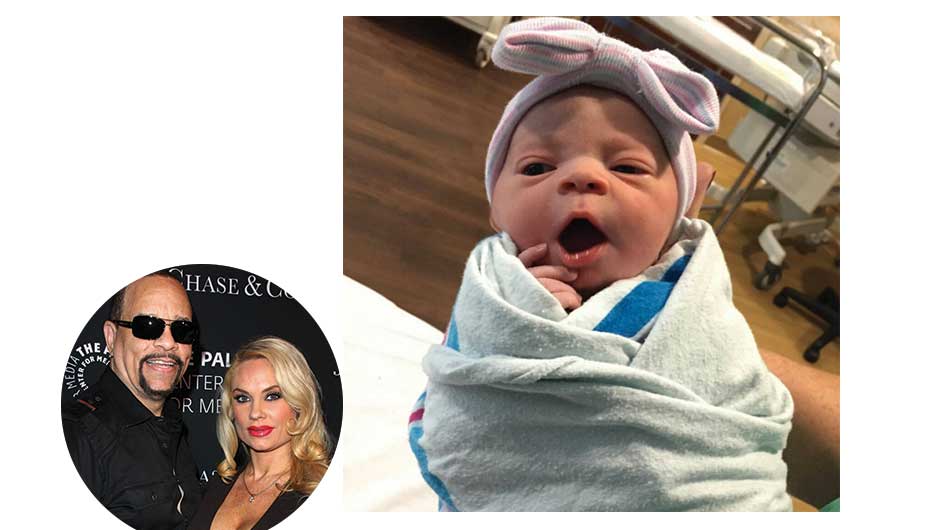 Ice-T and Coco shared this adorable picture of their new bundle of joy. "Surprise!!! Look who came early!! Welcome the new arrival of Chanel Nicole.. A beautiful healthy 5.7 pound and 18 inch baby girl .Ice and I are so proud! I cried while she was coming out I was so excited to meet her!" Coco captioned the picture. Seriously though, how cute is she?!
[Photo: Instagram]
Naya Rivera showed off the first picture of her baby boy Josey Hollis in an adorable skeleton onesie. She captioned the picture "Trick or treat!" Rivera and her husband Ryan Dorsey welcomed Josey in September. Ahh, how cute is his first Halloween costume?!
[Photo: Instagram]
Ashlee Simpson posted this beautiful family portrait to Instagram showing off her daughter Jagger Snow Ross. She captioned the photo "Jagger Snow Ross !! We love her so much!!! She is beyond everything!!! I have the best baby daddy @realevanross In the world. Love you" Simpson gave birth to little Jagger on July 30.
[Photo: Instagram]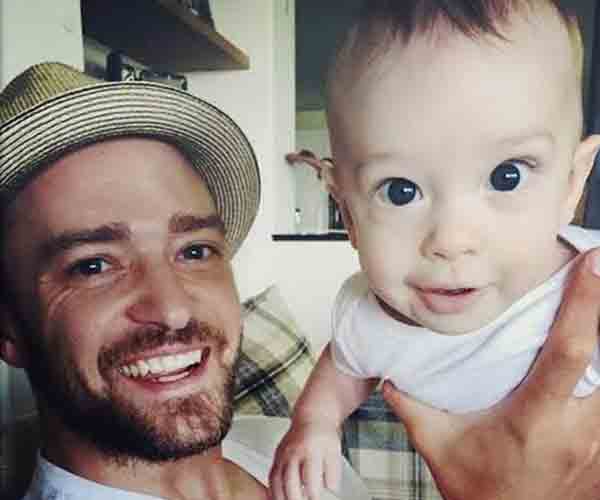 Justin Timberlake showed off his son Silas when he stopped by The Tonight Show to chat with his pal Jimmy Fallon. Look at those eyes! What a cutie.
[Photo: Twitter]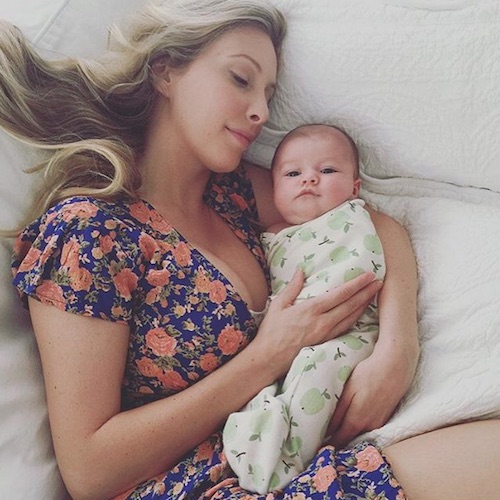 Leah Jenner finally shared the first picture of her daughter Eva James Jenner! Leah and Brandon Jenner became proud parents on July 22 to their adorable baby girl. She simply captioned the photo "It's an honor, little one."
[Photo: Instagram]