Usually, celebrities use the red carpet as a way to get straight-off-the-runway designer and rented jewelry in the tens of millions.
But not so is the case with Australian brand Luxe Fashion Line that we just discovered.
READ MORE: Your Jaw Is Going To Drop When You See The TINY Outfits Celebrities Are Wearing This Winter–They're SO Exposed!
It turns out that they are Hollywood's best-kept secret: countless celebs from Carrie Underwood to Gabrielle Union and more wear the brand's under $200 dresses, jumpsuits and robes. They are SO pretty and extremely affordable. Yas!
Charlie XCX posted a BTS photo of herself wearing the brand's Nicolette Tulle Robe:
Carrie Underwood wore their Enchanted gown ($149) to the CMA Awards.
Carly Rae Jepsen wore the Nala Glitter gown ($149) on Instagram on New Year's Eve:
Natasha Bedingfield wore the Primrose jumpsuit ($110), also on Instagram.
Gabrielle Union wore the Majorca dress ($55) in California.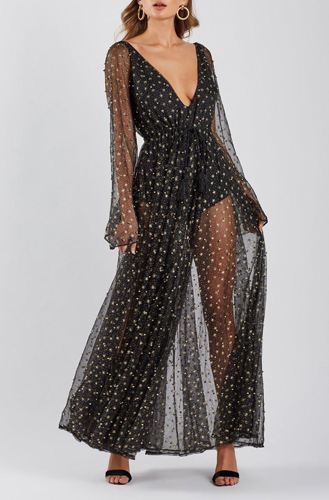 Luxe Enchanted Gown ($149)
Luxe Nala Glitter Gown ($149)
Luxe Primrose Jumpsuit ($110)
Luxe Majorca Dress ($55)
SheFinds receives commissions for purchases made through the links in this post.