A really great under-eye cream can prevent fine lines and wrinkles, lovingly known as crow's feet, and keep your skin healthy, hydrated, and protected. While many quality eye products cost more than cleansers, toners, and sunscreen, you don't have to spend a fortune. These 5 cheap under-eye products have effective ingredients and are so reasonably priced you may be tempted to stock up on them.
Photos: Shutterstock
Olay Eyes Ultimate Eye Cream
A 3-in-1 skincare solution, Olay Eyes Ultimate Eye Cream helps fade dark circles, reduce the appearance of fine lines, and soothe and reduce puffy eyes. It even contains a touch of concealer in a universal shade to hide circles and brighten your eyes (Ulta, $30).
Neutrogena Hydro Boost Gel Cream
A fragrance-free, light gel eye cream that's perfect for sensitive skin and oily skin types, this winner by Neutrogena contains hyaluronic acid and olive extract that help lock in moisture and makes skin look and feel smoother. (Ulta, $20).
RoC Retinol Correxion Eye Cream
Retinol is still one of the gold standards when it comes to anti-aging ingredients. And this eye cream by RoC, which can be found in your local drugstore, contains both wrinkle-smoothing retinol and moisture-boosting hyaluronic acid (Amazon, $15).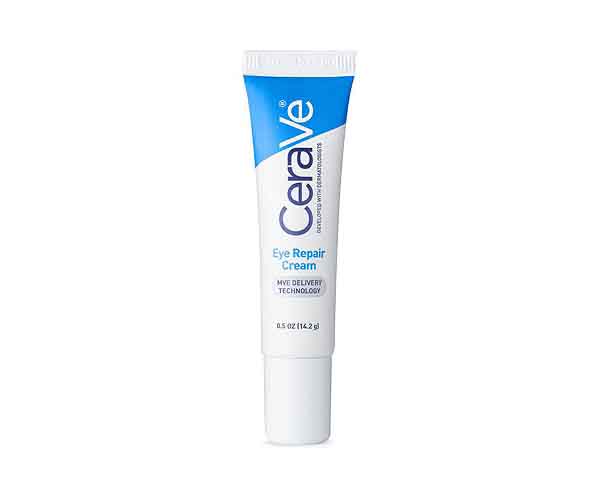 CeraVe Repair Cream
You know an eye cream is safe and effective when it was developed with dermatologists. CeraVe Repair Cream has ceramides that repair the skin barrier, and a marine botanical complex that reduces puffiness and the appearance of dark circles (Ulta, $15).
Mario Badescu Hyaluronic Eye Cream
It's not greasy, it's loaded with moisturizing hyaluronic acid, it absorbs within seconds. and one jar will last you months. There's so much to love about Mario Badescu Hyaluronic Acid Eye Cream — it's price, wihch clocks in at less than $20, is just the cherry on top (Nordstrom, $18).