2017 was the year of Kaia Gerber. The 16-year-old model made her debut at this year's Fashion Week and walked the runway for some of fashion's biggest names, becoming an instant overnight sensation. But, it looks like her famous mom Cindy Crawford wishes that her little girl didn't get her start so soon. In fact, she says she would have liked to have delayed it a couple of years!
[Photo: Instagram]
"In some ways, I wish I could have pushed it off a year or two," Crawford tells the Associated Press about Kaia's Fashion Week debut, according to Entertainment Tonight. "But she's 16. That's how old I was when I started, which is young, but in fashion, that's kind of the normal age when people start. I'm a lot more concerned about her driving by herself than her entering the world of modeling. "
[Photo: Instagram]
Though Crawford was a little hesitant to let Gerber walk the runway, she's more than happy to give her advice when it comes to the modeling biz. "The great thing for my kids is that I know a lot about that world," Crawford adds, whose son Presley, 18, is also a model. "I feel like, who better to help guide them than me?"
We can definitely see where Crawford's reservations are coming from, but we're so happy this year was Gerber's big fashion week debut. The mother-daughter duo got to share the runway at the Versace show during Milan Fashion Week and it was amazing. The show celebrated Gianni Versace's legacy and iconic designs, and even brought together supermodels Carla Bruni, Claudia Schiffer, Naomi Campbell and Helena Christensen for an epic fashion week moment.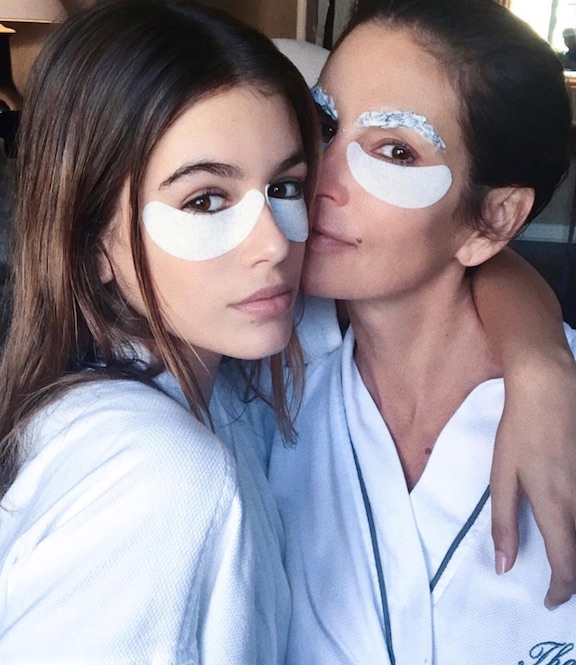 Now that Gerber isn't a stranger to the runway and has Crawford's blessing, we can't wait to see what's in store for the young model. Hopefully there are more adorable mother-daughter moments we can look forward too!
[Photo: Instagram]