For some of us, coffee is a cornerstone of our morning routine we rely on to function throughout the day. The act of crafting your own cup of morning coffee, or stopping at your favorite shop to grab one, can be an act of self-care and a way to mindfully start your day. However, if you're looking to lose weight, there may be some coffee habits you'll need to kick in order to get there. Here are four to keep in mind: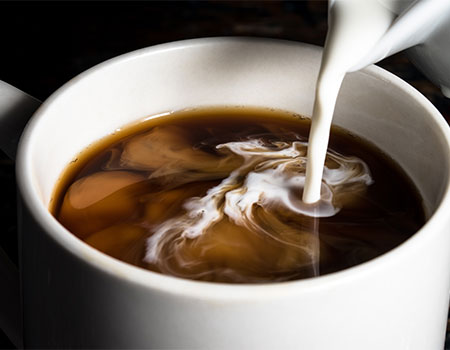 Shutterstock
1. You're Adding Too Much Creamer
Adding too much dairy creamer to your morning brew could be a reason for weight gain. Many blends are formulated with additives and artificial flavors that may make your coffee taste like candy but aren't great for you long term. When it comes to choosing creamer for your coffee, opt for alternatives such as oat milk, almond milk, or low-fat milk. It's best to just stay away from flavored creamers unless the ingredients are limited and the sugar content is low.
READ MORE: The One Thing You're Doing To Your Coffee That Makes It Slow Down Your Metabolism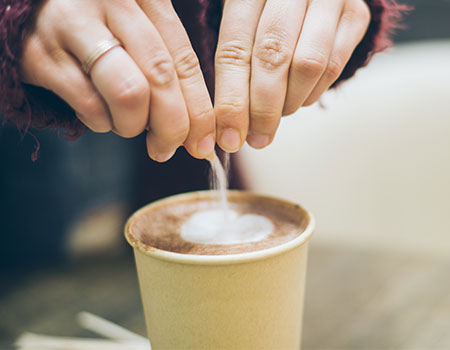 Shutterstock
2. Too Much Sugar
Just like the previous point about creamer, too much added sugar is a leading cause of weight gain in coffee drinkers. Black coffee alone is low in calories and has a metabolism boosting-effect, but when it's overpowered by added sugars, it doesn't quite balance out. A great alternative to your morning spoonful of sugar, is to opt for Stevia or other natural sweeteners.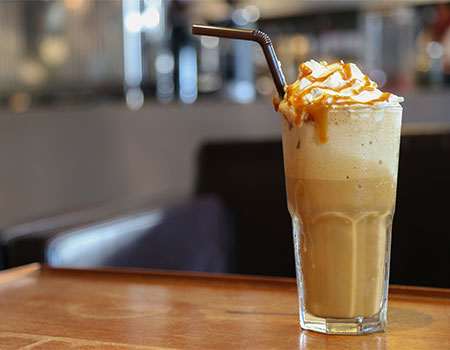 Shutterstock
3. Choosing Frappes
This isn't to say you shouldn't treat yourself to a whipped-cream topped coffee beverage every now and then, but when if it's your morning coffee go-to, it's best to reevaluate. Most "fancy" coffee beverages are packed with added sugar that will have you surpassing your daily suggested intake before the day has really started. Instead, save these for a special treat or dessert, and not your daily coffee run!
READ MORE: The One Thing You Should Add To Your Coffee To Speed Up Your Metabolism & Burn Calories
Shutterstock
4. Coffee Is Your Breakfast
Mornings can be hectic, but that's no excuse to skip breakfast entirely. Coffee is great for a caffeine-boost, but it doesn't have the nutritional value needed to start your day off right. If you're someone who drinks coffee and calls it your breakfast, then you may be familiar with the afternoon crash that leads you reaching for all foods in sight. Grab a granola bar, a piece of fruit, or a yogurt to pair with your morning coffee to fuel your body and keep your cravings in check.