It's common knowledge that everyone over 40 should invest in a quality anti-aging moisturizer or serum, but dermatologists say that these essential skincare products tend to neglect an important area of the skin: your lips. That's why it's best to use lip care products that help promote the nourishment and overall health of this sensitive skin area–like NudeStix's new Nude Plumping Lip Glace, a lip oil that doubles as a collagen lip plumper to improve your pout by promoting collagen synthesis. 
Shop The Best Collagen Lip Plumper:
TRY IT: NudeStix Nude Plumping Lip Glace ($28)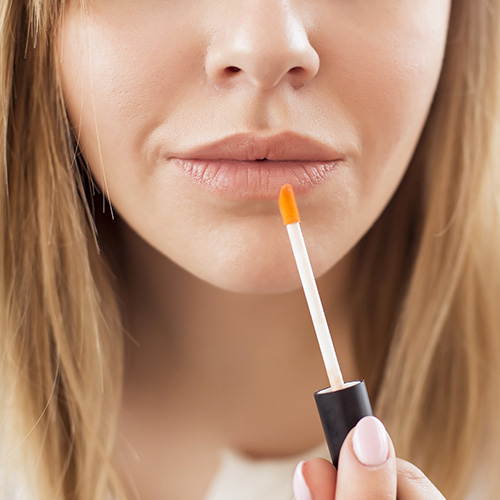 Shutterstock
"A number of key changes occur in lips with age," says Dr. Macrene Alexiades, a dermatologist in New York City, who notes that they're prone to dryness and loss of firmness and plumpness over time due to unprotected sun exposure. Opting for this collagen lip gloss will not only help increase the volume of your lips, but its hydrating formula will also ensure that it's getting the proper moisture they need as well.
Shutterstock
Benefits Of Using A Collagen Lip Gloss
-Supports natural collagen production in the lips for a smoother, fuller pout.
-Infused with moisturizing ingredients to deliver necessary nourishment.
-Prevents signs of premature aging in the lips.
Highlighted Ingredients In The NudeStix Nude Plumping Lip Glace:
Natural butters (Shea, Avocado, and Astrocaryum Murumuru Seed): Create a balm base to naturally hydrate and condition lips.
Vitamins A and E: Provides antioxidant benefits to address premature signs of lip aging.
One-Percent Palmitoyl Tripeptide-38 Complex: Supports natural collagen and hyaluronic peptides for moisturization, a look of volume, and softening lip texture.
Shutterstock
Other Ways To Get Younger-Looking Lips
Using a collagen lip gloss is just one of the many ways that you can get a younger-looking pout. Here's how dermatologists recommend maintaining the overall health and quality of your lips:
How To Anti-Age Lips
Try A Lip Serum
Dr. Alexiades notes that there are plenty of products designed to restore the collagen in the lips. She suggests using a lip serum for their powerful formulas that contain effective anti-aging ingredients like retinol and hyaluronic acid. "Within days your lips get gradually plumper, and without a needle," Dr. Alexiades explains.
Always Wear Sunscreen
Regardless of your skincare products, using a lip sunscreen should be your top priority. "Just as you would treat skin in other areas, the skin around the mouth should be protected every morning with sunscreen and topical antioxidants to prevent damage from daily UV light," says Dr. Joshua Zeichner, director of cosmetic and clinical research at Mount Sinai's Department of Dermatology in New York. Regular usage of a lip sunscreen will help combat premature aging in the lips by preventing free radical damage and the breakdown of existing collagen and also lower your risks of getting skin cancer in this vulnerable area.
Schedule A Laser Or Peel
There are several in-office treatments that can help reduce the appearance of fine lines on the lips. "Lasers and peels can help improve skin tone and texture and minimize the appearance of lines," says Zeichner. Talk with your dermatologist to find out which method is the best for your lips. Dr. Neil Sadick, a dermatologist in New York, recommends chemical peel with alpha-hydroxy acids or microneedling to help restore your pout's youthful plump.
SheFinds receives commissions for purchases made through the links in this post.