It's officially sandal weather–hurray! We seriously thought winter would NEVER end. With sandal season comes some good and some not-so-good realities about wearing the strappy summer footwear style.
First, the good: the latest sandal trends include everything from espadrille wedges, block heel sandals, and platform sandals. The easy, breezy slides and mule-style sandals have adorable embellishments that can jazz up any simple summer outfit. Sandals are our favorite throw-them-on-and-go spring and summer shoe. They make us look put together with minimal effort–and we get to show off cute pedicures, so that's a score.
Now, the bad: blisters and straps that dig into your skin. Sandals usually aren't very practical for actually walking in–especially for long distances.
Fortunately, that doesn't have to be your spring and summer vacation reality. Just in time for your next tropical vacation, we found eight of the best comfy and cute sandals for walking. You can rock these sandals to a nice dinner or on a scenic tour around town, all while feeling completely comfortable with every step.
Remember no matter what sandal you purchase or how comfortable they feel, there are always steps you can take to make your sandals even comfier and avoid blisters. Pain from your shoes is often caused by friction. Avoiding sandals that don't have a back (like flip-flops) may seem like a great option but these sandals put a lot of pressure on your toes and heels. Over time, they can cause pain, wrote Podiatrist Dr. Steve Rosenberg for Huffington Post. It's one thing to wear flip-flops to the beach, and quite another to wear them to walk long distances on vacation.
Rosenberg also recommends finding sandals that have arch support (Birkenstocks are a classic example), which eliminates the pain you can experience in your feet and muscles when you walk around in flat shoes.
Try lining the inside straps of strappy sandals with soft and inexpensive, moleskin tape to prevent friction and blisters from occurring, or applying a thin layer of transparent deodorant to the sandal to provide a barrier between your skin and the shoe.
The Best, Most Comfortable Sandals For Walking In On Vacation:
Lauren by Ralph Lauren Charla Wedge Sandal ($40-$69)
You don't have to sacrifice height for comfort when it comes to sandals, but it helps to choose a wedge sandal over a stiletto high heel. This one scores points for its quality leather sole, closed round toe, and wide elastic band at the ankle that ensures a perfect fit. The 2.5-inch heel is balanced by a platform that makes it more comfy to walk in. And it comes in four cute neutral colors: black, navy, light clove, and blue denim.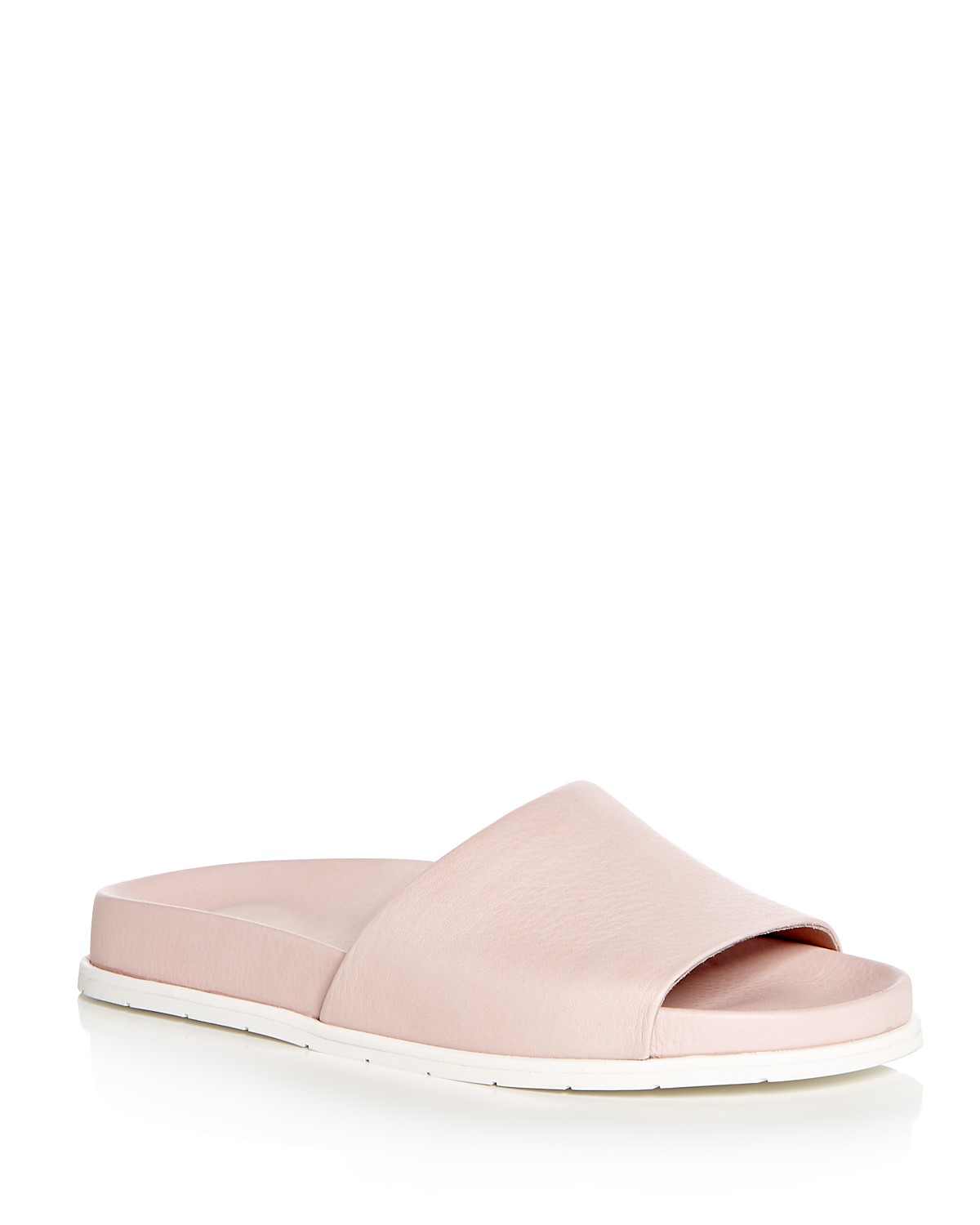 Gentle Souls Iona Leather Slide Sandals ($129)
Designed with memory foam, arch support, and trademark Poron performance cushioning, these slide sandals are simple to slip on and make for easy-breezy summer and vacation styling. Their patented cushioned footbed actually features flax seeds in elastic pouches that are made to mimic the feeling you get walking on sand. They come in rose, pale blue, or black.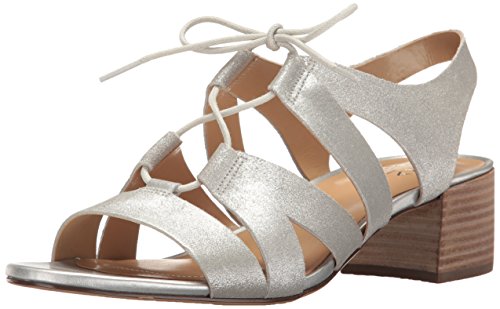 Naturalizer Felicity Gladiator Sandal ($19.98-$100.08)
These gladiator sandals have a stacked block two-inch heel for height without discomfort. They're made from leather and come in silver metallic, ginger, blue suede, porcelain, and black. Not only are they cute, they have arch support and are so supportive that one Amazon review who says she has high arches and needs orthopedic shoe reports that these are just perfect.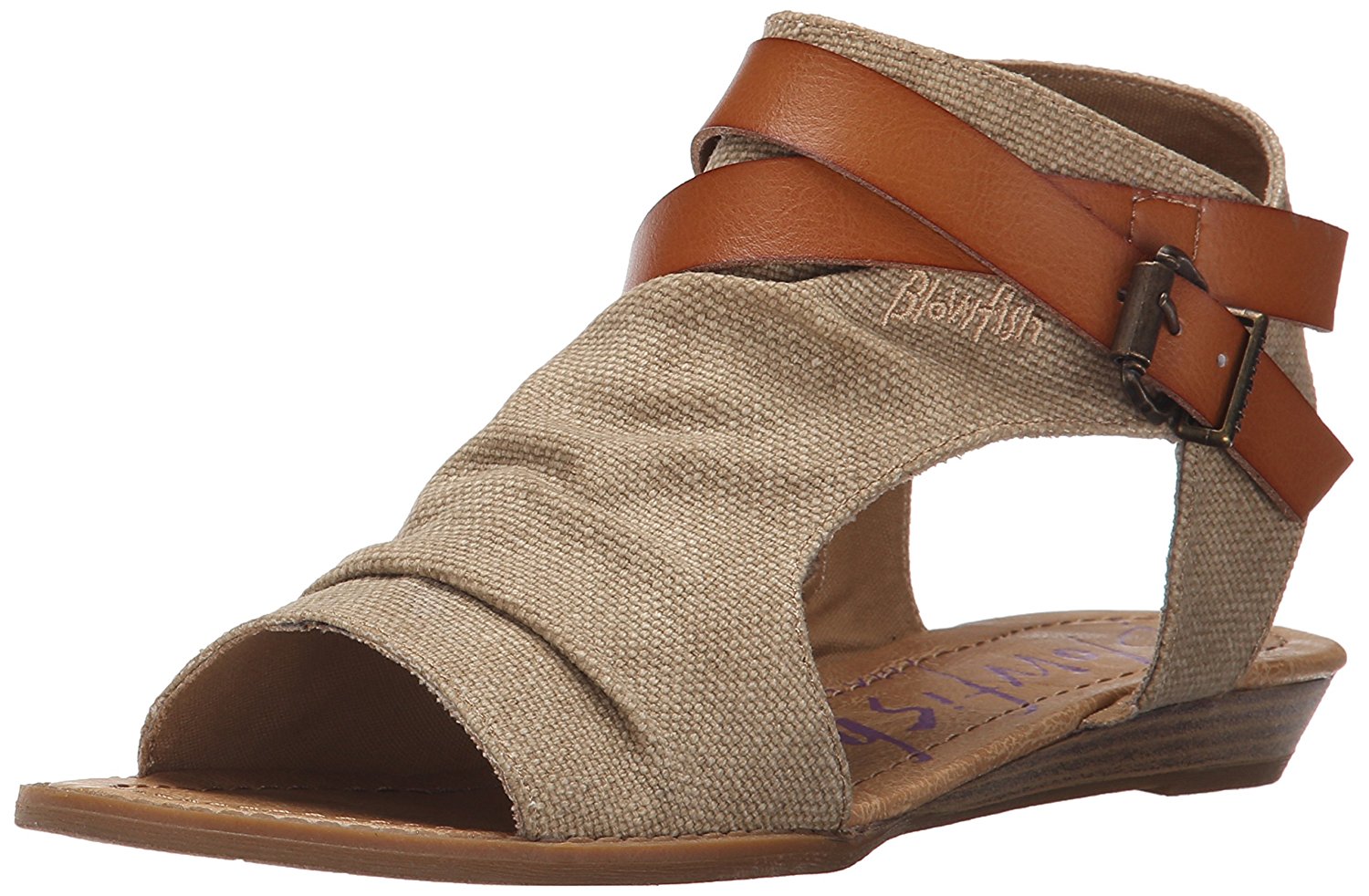 Blowfish Balla Wedge Sandal ($23.21-$64.99)
If you'd rather invest in a sandal that has you covered, this wedge sandal features a small stacked heel, crisscross faux leather straps, and a fabric upper and fabric sole. It comes in more than 20 colors, has a side zipper, and is the perfect walking sandal.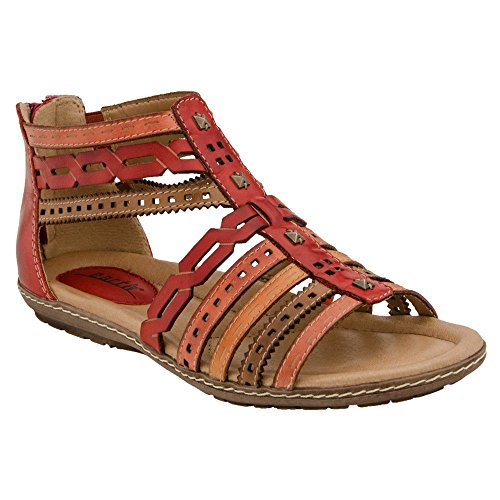 Earth Women's Bay Gladiator Sandal ($39.95-$115.50)
Gladiator sandals have morphed from trend to classic summer footwear that isn't going anywhere anytime soon. These calf leather gladiator sandals are soft and have both arch support and multi-density cushioning so that your foot feels supported no matter how far you have to walk. The lining is made from breathable PU and they come in a variety of colors like scarlet multi-colored (shown here), sand, and sapphire.
Aquatalia Enid Calf/Suede Combo Heeled Sandal ($395)
When you're searching for a high-end dressy sandal you can wear to weddings and events that won't make you reach for your flip flops after 10 minutes, this one fits the bill. It has a flexible sole, a rounded block leather stacked heel, and it's covered with a calf and suede panel—no thin straps to worry about.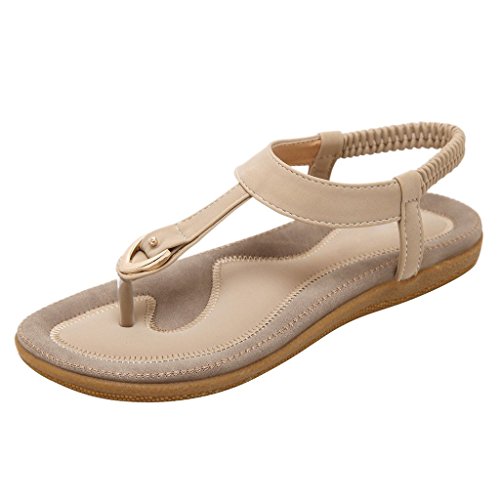 Dear Time Slingback T-Strap Flip Flop ($14.99-$20.99)
If you can't quit your love of flip-flops, don't despair. The key to finding a comfortable pair that won't kill your feet when you're talking is to look for details like padding on straps and rubber sole—and these flip flops pass that tests. They come in beige, blue, or pink.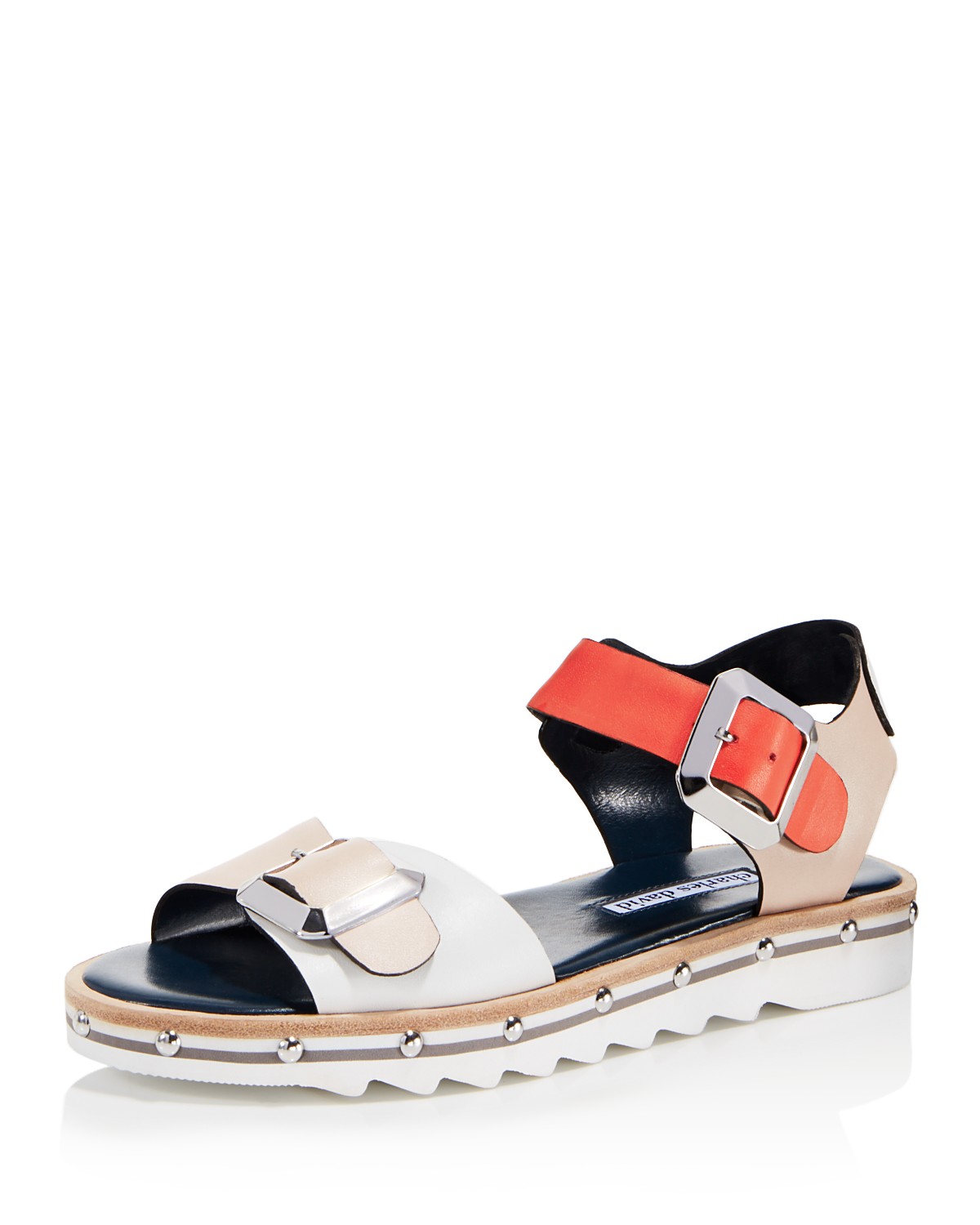 Charles David Spy Leather Ankle Strap Sandals ($219)
With large buckled straps, a genuine leather upper and lining, and serious rubber soles that absorb traction well, these leather ankle strap sandals are both fashion-forward and extremely comfortable for walking.
For more, check out:
--4 Pairs Of Shoes That Always Come Back In Style
--The Pair Of Mules Everyone Is Already Buying For Spring
SheFinds receives commissions for purchases made through the links in this post.