CVS Pharmacy has become everyone's go-to for all things beauty and skincare, and now the beloved company is making a MAJOR change to its beauty department. 2018 marks the beginning of The CVS Beauty Mark, the brand's new initiative to only produce and promote imagery that hasn't been edited in its beauty sections. Go, CVS!
[Photos: CVS Pharmacy]
"We're making a commitment to not materially alter the beauty imagery we create for our stores, marketing materials, websites, apps or social media. We will not digitally alter or change a person's shape, size, proportion, skin or eye color or enhance or alter lines, wrinkles or other individual characteristics. We want our beauty aisle to be a place where our customers can always come to feel good, while representing and celebrating the authenticity and diversity of the communities we serve," according to a press release by CVS.
[Photos: Shutterstock]
To uphold its commitment, CVS vows to feature the CVS Beauty Mark watermark on all of its beauty imagery, which will act as the brand's authentication that it has NOT been materially altered. CVS will also be working with its partners to produce imagery that is free of Photoshop and editing, too! The CVS Beauty Mark initiative is already in effect, and the brand hopes to have it used on all of its beauty imagery in all of its beauty sections by 2020.
"The CVS Beauty Mark supports a more positive self image in women and girls by promoting more realistic beauty imagery. #RealisBeautiful#CVSBeauty," the brand shared on Instagram, along with this image of the official CVS Beauty Mark.
Not only will you see #NoFilter images in your local CVS, but the brand promises that the CVS Beauty Mark will also apply to its social media, website and marketing materials, too!
[Photo: Instagram]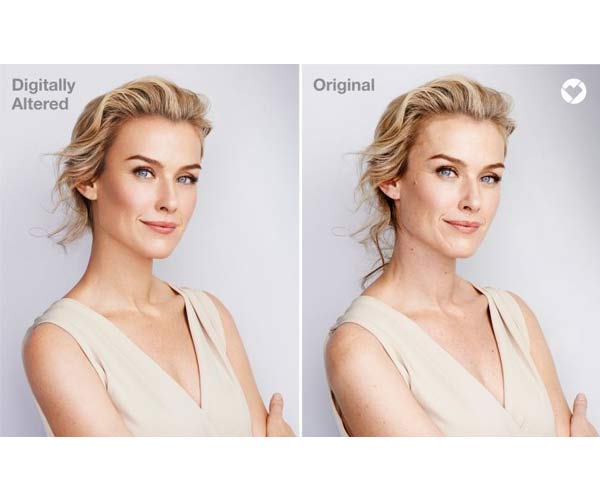 "As a woman, mother and president of a retail business whose customers predominantly are women, I realize we have a responsibility to think about the messages we send to the customers we reach each day," said Helena Foulkes, President of CVS Pharmacy and Executive Vice President, CVS Health. "The connection between the propagation of unrealistic body images and negative health effects, especially in girls and young women, has been established. As a purpose-led company, we strive to do our best to assure all of the messages we are sending to our customers reflect our purpose of helping people on their path to better health."
We're happy to see brands like CVS are starting to feature NATURAL and UNEDITED models in their campaigns and aisles.
Are you excited about the CVS Beauty Mark? Let us know your thoughts on the brand's new initiative in the comments below!