Acne is a pesky skin condition that many people face at some point in their lives. Anyone who has ever experienced breakouts knows just how hard it can be to achieve clear skin. There are many factors that contribute to acne and genetics is a big part of it. However, for most acne sufferers, the problem lies in their diet.
Acne has been linked to a high glycemic diet. Foods that are processed, high in sugar and fat, and made with white flour cause your blood sugar to spike which leads to breakouts. It "triggers a cascade of events that increases hormones and increases sebum, and all this together actually causes acne to flare up," said dermatologist Dr. Linda Stein Gold.
To combat this, try incorporating these four foods into your diet every day for clear skin!
The Best Acne-Fighting Foods To Eat For Clear Skin
Shutterstock
1. Berries
Antioxidants are needed to help fight moderate acne and blueberries are loaded with them. They lower chronic inflammation and reduce oxidative stress, too! When it comes to eating berries every day, all you have to do is add them into your yogurt, oatmeal, smoothies, or salads and you're all set!
Shutterstock
2. Leafy Greens
Leafy greens are rich in chlorophyll which helps cleanse bacteria and toxins from the digestive tract and bloodstream. Studies suggest that build up of bad bacteria in your gut can lead to acne flare-ups. Leafy greens are also high in vitamin A, a natural anti-acne agent.
Shutterstock
3. Bell Peppers
Colorful bell peppers contain a large amount of dietary fiber and vitamin B6. They're also rich in carotenoids which are important for fighting acne. Working this vegetable into your diet will prevent wrinkles and increase blood circulation for more youthful skin.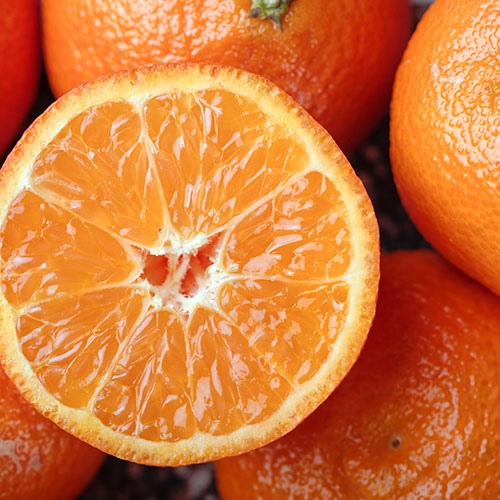 Shutterstock
4. Citrus Fruits
Fruits like oranges are loaded with vitamin C and antioxidants that target inflammation. There is a reason so many skincare products contain vitamin C--it's necessary for collagen production and can help reduce redness in breakouts by strengthening the linings of capillaries. It also has a brightening effect on the skin and can help fade acne scars faster.